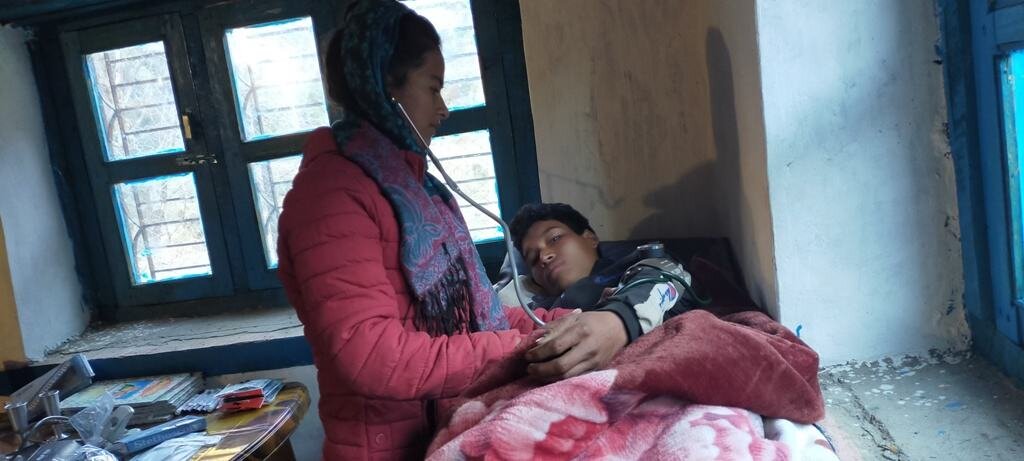 This project is just £10k away from being fully funded: we are almost there - a big, big thank you. This is a fantastic achievement and has made a real impact on improving the quality of life of those living in the "Hidden Himalayas" of the Humla District in Nepal. As a key component of our next 5 year plan, to be agreed with the Nepalese Government, we are already Planning Ahead and identifying a follow up project.
There are many challenges working in such a remote area as Humla, but nothing more than a fact of life for the local inhabitants, who are fully adapted to the many difficulties of surviving in the high mountains.We are lucky to have an excellent delivery partner in SHIP-Nepal who, working in partnership with the District Health team are delivering healthcare across the 8 health posts constructed and supplied by the Nepal Trust.
Before the Healthcare and Opportunity programme was implemented, the Government of Nepal provided health services on a very limited basis in Humla district. When a person was sick and if they were lucky, they would be carried many miles to the district hospital. Some died on the way and some died without treatment. But this was not possible for the poor people: they had no choice but to resort to using herbal medicine according to local custom. It was customary to give birth to a child at home, putting many mothers and children at risk of life and death. People suffered from many types of diseases and there was little or no information about medical treatments. For example, before 2019 when they were sick, the people of Maspur used to walk for one day to the Maila health post and the Bajura district hospital for treatment. Since 2020, Maspur residents have started receiving health services free of cost from the Maspur health post constructed and operated with the support of this project. The accompanying pictures are all from Maspur.
More broadly regular health services are now provided in partnership with the Government of Nepal across Humla. With the financial support of this project, medicine, health equipment and health awareness programs are regularly provided through the 8 health posts from Limi to Maspur; these posts were also core to the Government's reponse in Humla to the covid-19 pandemic.
The results are clear: through the provision of regular health services, the number of patients and disease-related deaths at the community level has decreased. Overall, with the increased awareness of health and sanitation issues at community level, outbreaks of diseases and the numbers of infected people have decreased. Earlier, when everyone gave birth at home, infant mortality rates were unacceptably high. Now all mothers have the opportunity to give birth at one of the Birthing Centres developed by the Nepal Trust. With this development the health of mothers and new borns has improved with no death of mother or child reported at any of the centres.
Humla is a beautiful but very harsh and remote environment. The people, Buddhist and Hindu, have adapted over centuries but face major changes to their way of life. They have successfully managed to curb the spread of Covid but must remain alert.
Thank you for all your help and support; we hope you can continue to support our work and spread the news to all your friends and colleagues. Every penny you send will go to helping these beautiful people adapt to modern day life.