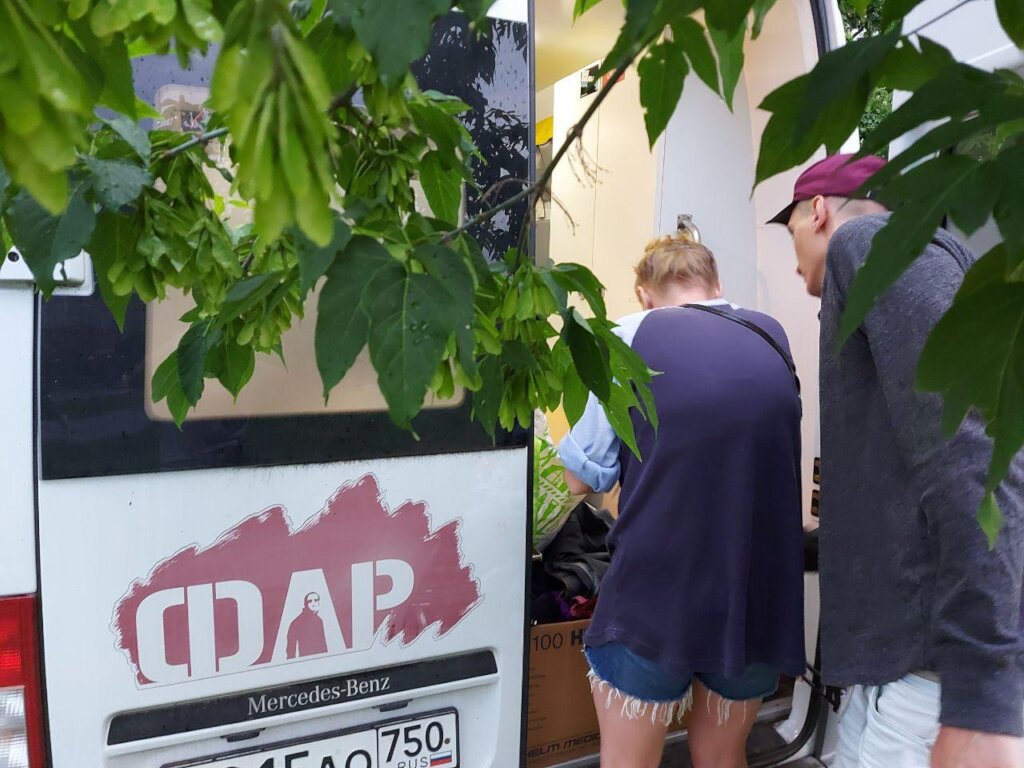 Despite the continuous escalation of the internal aggression of the Russian government toward NGOs providing support and services to the marginalized populations in country, and especially toward those who do not support the war against the Ukraine and is already being labeled with the "foreign agent" status, like ARF – we try to do our best to continue the provision of harm reduction services to people who use drugs in Moscow.
The situation is further complicated by the fact that due to the financial sanctions against Russian we are now almost unable to receive any funding from abroad and the Russian government never supported our work even before the war. Just recently we managed to figure out how to continue receiving your donations through the GlobalGiving platform and now this is one of the very few sources of funding being left we still could rely on to support our work.
In May - September 2022 the Andrey Rylkov Foundation (ARF), no matter what, continued his daily outreach social work on the streets of Moscow to prevent HIV, hepatitis, overdoses, and provide medical, social and legal assistance to those in need. In addition to providing preventive and informational materials, counseling and testing for HIV and hepatitis C, the the ARF team refer people to other social services they are in need of, assist in finding shelters, put them in hospitals, and help restore documents. We also provide naloxone for overdose prevention, saving lives every day.
During the reporting period, services were provided to 2,918 participants (total number of contacts 4,920) and 53,169 clean syringes of various sizes were distributed, as well as 87,233 condoms. Our outreach team conducted 5,189 consultations on various health related issues and performed 921 rapid HIV tests (of which 27 were positive), as well as 726 tests for hepatitis C (of which 124 were positive). We held 462 overdose consultations and distributed 1615 ampoules of naloxone, a drug that prevents death from overdose. During the reporting period, 261 lives were reported saved thanks to the naloxone we distributed.
In addition, during the reporting period, our lawyers provided 243 consultations on legal issues. Also, during the reporting period, 20 people started receiving ARVT thanks to the efforts of our social workers.
And here is a story illustrating our work in the new war related realities:
Participant D came from Sevastopol (Crimea), which limited his options to receive proper treatment in Moscow. In July, the ARF case manager, at the request of D, helped him to get hospitalized on a fee basis in the 19th Narcological Hospital in Moscow, but two days later he was discharged from there due to the poor quality of treatment: D suffered from insomnia, the doctors did not relieve him of withdrawal symptoms caused by the use of opiates.
In September, D decided once again to get treatment for his problematic use of psychoactive substances, but he lost his passport. By that time, military mobilization had already started in Russia, and in all respects D fell under it. However, due to his anti-war position, D was not planning to participate in it. ARF case manager accompanied D to the police department in one of the Moscow districts to report on the loss of his passport and apply for a new one. When coming to the police station, D and the case manager were illegally, without any reason, forcibly detained. A few hours later, D was taken to a separate room by one of the policemans. This man was apparently drunk, he interrogated D about his connections with Ukraine, took away his smartphone, checked personal correspondence, forced D to undress and show tattoos. It turned out that the reason for the detention and pressure was that D had a permanent registration in the Crimea. Employees of the ARF started calling the police department demanding the release of those illegally detained. Eventually, that helped and they were released. ARF case manager filed complaints to the Prosecutor's Office and the Internal Security Service of the Ministry of Internal Affairs about the torture actions of the police officer. At the exit from police station, D was gived a paper confirming the loss of a passport and also was fined for being in Moscow without a temporary Moscow registration.
A few days later, D showed up to one of the relevant governmental facilities to try to apply for a new passport. Employees of this goverment facility ordered him to go to Crimea, restore the document at the place of his registration, and began to threaten him with delivery to the military registration and enlistment office and sending him to the war front. After this incident D, accompanied by ARF case manager, nevertheless successfully applied for a passport renewal at another facility. Now D has a new passport, which allowed him to successfully be hospitalized in a high-quality federal narcological hospital of the National Medical Research Center for Psychiatry and Narcology in Moscow. There he is going to undergo a full course of treatment and rehabilitation.