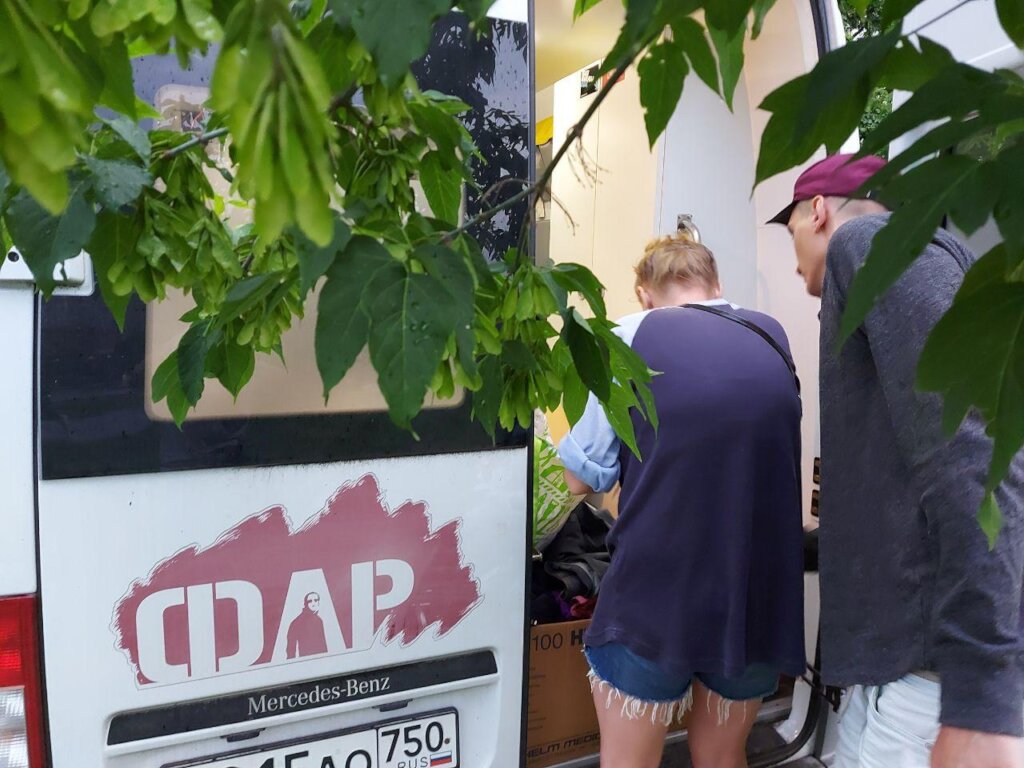 As you may know, ARF has been included in the registry of foreign agents already in 2016, all our funding comes from international organizations and private microdonations. Starting from February 24, as a foreign agent NGO, our team keeps bearing additional risks which spiralled in a new very hostile political environment we have now in country. Although of course our burden is incomparable with those threats experiansing by our friends and colleagues in Ukraine on a daily basis due to the war.
At this moment it is really difficult to estimate the whole financial damage to ARF, as the cost of the ruble has crumbled and international transfers stopped. We were not able to receive an number of approved grants from donors; GlobalGiving and Benevity where we had accounts / ongoing donations have stopped transfers to Russia (although you still may donate to us, we hope to figure out with GlobalGiving how to receive these donations soon). We hope that we will be able to survive but that will be a reall challenge.
Despite the crisis we continue our daily outreach and all service work in Moscow. During the reporting period, the Andrei Rylkov Foundation (ARF) continued to provide direct services to people who use psychoactive substances on the streets of Moscow, aimed at protecting their health and rights, as well as reducing the harm caused by drug use. We do it by conducting an outreach work on a daily basis in order to prevent HIV, hepatitis, overdoses, provide medical, as well as to provide the social and legal support to those in need. In addition to providing prevention and informational materials, our outreach and social workers help people accessing health and social services they need, assist them in finding shelters, help them to get admissioned into hospitals, and to restore the documents. We also provide rapid tests for HIV and hepatitis C, pre and posttest counseling, as well as naloxone for overdose prevention.
In particular, between the 1st of January and end of March, the ARF staff provided services to 1139 participants (the total number of contacts - 1309) and distributed 12 404 clean syringes of various sizes, as well as 17 491 condoms. Our street social workers conducted 751 consultations on various health-related issues and performed 225 HIV rapid tests (of which 8 were positive), as well as 93 tests for hepatitis C (35 positive). We conducted 44 consultations on overdose and distributed 290 ampoules of naloxone. 7 lives were reported saved thanks to the naloxone we distributed.
In addition, during the first quarter of this year ARF case-managers were working on 21 cases which were taken for social support provision, and our lawyers have provided 51 consultations on legal issues.

And here is a story illustrating the work we do on the streets:
In late 2021 – early 2022, the ARF conducted a survey to identify the sex workers most in need of medical care. In particular, in getting tested for STIs and receiving gynecological examination in a private clinic in Moscow. Based on the results of this survey, sex workers with obvious needs for legal and psychosocial support were identified as well.
In the process of being accompanied to the clinic, one participant, O, was diagnosed with syphilis and trichomoniasis. O is an emigrant from Ukraine and cannot receive medical care in the Russian Federation on a free basis. Also, working on a street, O does not have enough level of income that would allow her to regulary visit a gynecologist and conduct diagnostics for HIV and STIs.
As a result of the assistance provided by us, O was able to successfully cure the detected diseases. A total of 13 sex workers received similar assistance from ARF during this period.