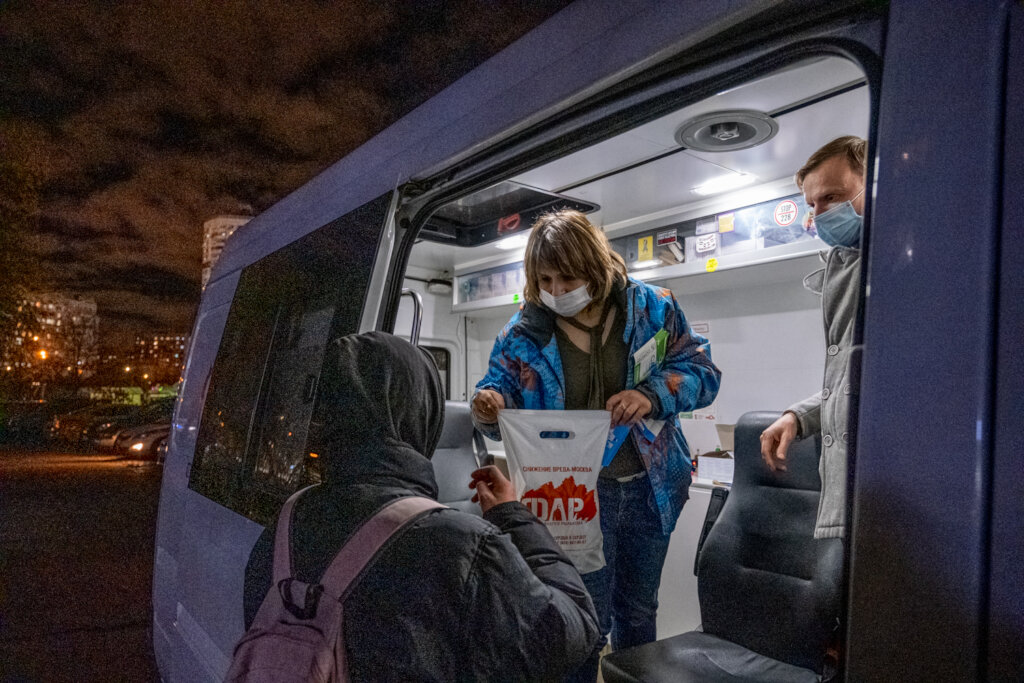 First of all - on behalf of the ARF team we woudl like to wish all the best to you and your close ones in the New Year, stay safe and healfy!
During the reporting period, the Andrei Rylkov Foundation (ARF) continued to provide direct services to people who use psychoactive substances on the streets of Moscow, aimed at protecting their health and rights, as well as reducing the harm caused by drug use. We do it by conducting an outreach work on a daily basis in order to prevent HIV, hepatitis, overdoses, provide medical, as well as to provide the social and legal support to those in need. In addition to providing prevention and informational materials, our outreach and social workers help people accessing health and social services they need, assist them in finding shelters, help them to get admissioned into hospitals, and to restore the documents. We also provide rapid tests for HIV and hepatitis C, pre and posttest counseling, as well as naloxone for overdose prevention.
In particular, since the 1st of September, the ARF staff provided services to 1005 participants (the total number of contacts - 1361) and distributed 58 595 clean syringes of various sizes, as well as 17 149 condoms. Our street social workers conducted 845 consultations on various health-related issues and performed 89 HIV rapid tests (of which 25 were positive), as well as 10 tests for hepatitis C (0 positive). We conducted 110 consultations on overdose and distributed 808 ampoules of naloxone. 114 lives were reported saved thanks to the naloxone we distributed.
In addition, during last 4 months, ARF case-managers were working on 19 cases which were taken for social support provision, and our lawyers have provided 38 consultations on legal issues. ARF psychologists conducted 20 consultations in our office.
A case illustrating our legal support we provide to people who use drugs.
Vitaly was convicted of drug trafficking and imprisoned in a prison that is located far from his parents' place of residence. As a result, they were unable to visit him.
Vitaly applied to be transferred to a prison located in the same region where his parents live, but he was refused. He approached ARf with a request to help and our lawyer, Vladimir Tswingli, filed an administrative claim to declare the refusal unlawful.
We lost the case in the court of first instance, but the court of appeal in May this year overturned this decision and ruled that the refusal to transfer is illegal, and the Federal Service for the Execution of Sentences should again consider Vitaly's petition to be transferred to a prison in the region where his parents live.
The Federal Service for the Execution of Sentences appealed this decision, but in September 2021 the cassation court refused to satisfy this complaint and upheld the decision of the court of appeal.