It began with a rumbling in the distance, like a big truck approaching. Then the walls began to shake. Everything started moving, falling. When it stopped, I ran down the street to my house, and saw it had collapsed with my family inside. I searched in the rubble for hours. Finally I found them, alive.
Two years ago, I was one of the lucky ones. Many weren't so fortunate. None of us will ever forget that day; we all carry the sadness in our hearts.
As a teacher, I was heartbroken at how the earthquake affected our children. They were constantly afraid, especially of being inside. They couldn't sleep, eat or concentrate. They drew into themselves, not wanting to talk or play with others.
When I heard Mercy Corps was starting a program to help young people recover, I knew I had to be involved. Since then, I've helped coordinate youth projects that have helped thousands of kids. We use sports, art, games and specially designed materials to help children deal with their traumatic experiences. It's great to see them open up, make friends and smile again.
Mercy Corps helped survivors get through the aftermath of the quake with emergency supplies, temporary jobs and emotional support. Today its projects for young people, farmers and small business owners continue to help us build back better.
We continue to help children by giving them life skills that many Haitian children wouldn't have learned even before the quake. They're learning things like self-esteem, resilience, constructive communication and how to prevent HIV. And I'm proud to be a part of it.
Thank you for standing with us when tragedy struck, and for helping us build a better Haiti.
Guivens Cemervil, Mercy Corps Youth Coordinator, Haiti
P.S. Click here to watch a video of some of our youth and learn more about Mercy Corps' accomplishments in Haiti.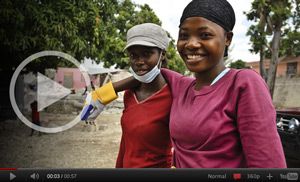 Links: