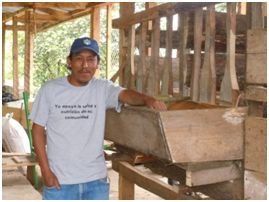 "I learned a lot about goats and all its various benefits. I have a goal which is to have my own milk production factory in about 5-year-time". Those were the words of Diego Sarat, PROMASA agricultural leader in Media Luna the community, Cunen, Quiché.
This action is supported by Save the Children as part a strategy to reduce malnutrition among children under 3 years old who are underweight and to promote the financial development of their families. The objective of this action is that 9 farmers get other 6 goats also in order to start to have their daily milk production.
Caprino II action was created to take a step forward in raising goats. Diego Sarat has received 6 goats to increase milk production for consumption and industrial processing.
He is the first beneficiary of this program, which aims to drive a more ´professional´ management of the goat-raising business, and was chosen because he was a leader who had prominent agricultural success in his model farm.
Besides that, he was willing to work hard on this project, he had physical space to accommodate goats and a source of food for these animals.
In order to be eligible, he committed himself to provide the milk extracted from those 6 goats to 10 low-weight children in his community under 3 years old. Besides, he is able to sell the surplus milk and cheese (which he makes every two days). Those practices help nourish children and increase the family budget.
The management of the goats have multiple benefits, from milk production through the use of manure and urine to fertilize gardens and farm crops.