The Pulling for the Underdog Fund you support focuses on helping the "underdogs" - small, community-based grassroots projects. We want their voices heard and their ideas funded.
I have been with GlobalGiving for 4 years, and since 2010, I've been helping to give communities a voice in one very tangible way – through the GlobalGiving Storytelling Project (www.globalgiving.org/stories). In Kenya and Uganda, our network of partner organizations has helped us find young people who want to interview others in their community. We train these 'scribes' to ask others to talk about a time when a person or organization tried to help someone or changing something in the community, and then they write down what happened.
We think that communities are full of experts on what the community needs, and that the world would run a little better if there was someone out there helping these experts provide context and perspective on what is happening all around them back to community leaders. Some day aid will act like democracy, and this is version 0.01 of that.
We've collected over 43,000 stories! Here is an example:
"Violet is a student who is schooling abroad. She get her Scholarship while in High School. She excelled in High School and joined Nairobi University. After finishing her course at the University of Nairobi, She went to work abroad as well as continuing learning. She has sponsored students in high School and she caters for their education herself. This is inspiring because she now has the capacity to help others. She is now actually a doctor. These students are therefore able to pursue their Secondary School education through Violet. Thanks to her and God for enabling her to reach where she is now."
We encourage you to click the link below and read more stories, but as this is an update on the progress we've made, here are some of our lessons from this big feedback experiment:
For every 10 positive stories we collected, we got 1 story about failure, but 20 stories with mixed outcomes. These mixed-outcome stories are encouraging because they can provide organizations with a deeper, nuanced narrative to learn from than the typical feedback with a strong positive bias.
In 13,000 stories about education, school fees and the lack of opportunities after graduation are common themes.
Job training and business skills programs were seldom mentioned – even by people telling stories where these skills could have prevented failure.
People often talk about basic needs but don't ask for food, water, or shelter. Poverty is just the context. They often talk about what would truly empower them beyond handouts. One thing they agree upon is having a steady income.
I'd like to show you through pictures what these stories have in common (see the images below). The blue dots represent words from 15 thousand Ugandan stories, while the red dots represent words from 224 GlobalGiving projects in Uganda. The pink/purple words overlaps between stories and projects. In the full view were too many words to print, but if we had to describe the one thing that matters most to Ugandans from among the things GlobalGiving partners do there, it would be INCOME generation.
So in the second wordtree map I've "drilled down" on the subject of income in Uganda. Pink words overlap between stories that mention income and Ugandan organizations that focus on it. You can see all the words that each group uses frequently in their stories. We hope this kind of information will facilitate more discussion about what matters to the people in each community.
Our goal is to improve upon these methods until our partner organizations are seeing the world more clearly, and perhaps making decisions that are better informed by community feedback. Please spread the word, share your ideas, and if you like – donate to this fund to help continue this experiment.
I'd also like to thank the Rockefeller Foundation for grants over the last three years to develop this new method for continuous community feedback. What we're working on now are better visualization tools to help partner organizations learn from these stories, and simpler tools for collecting them.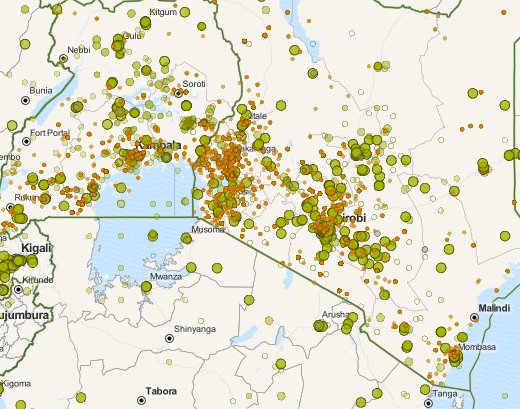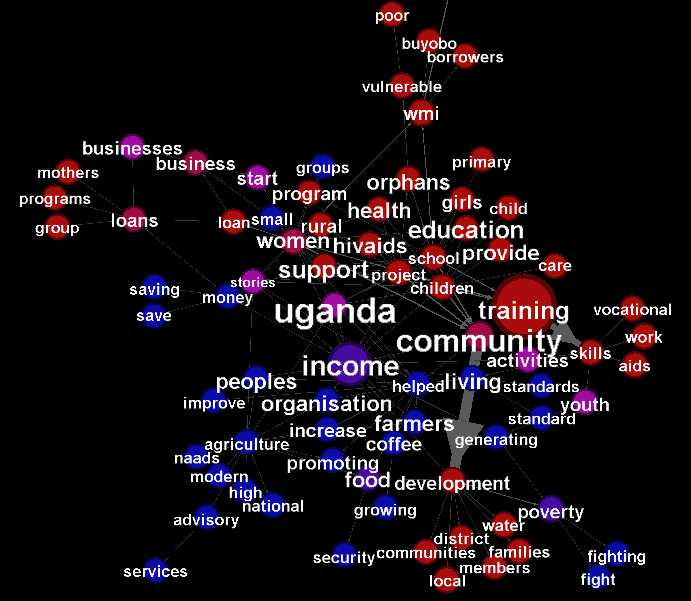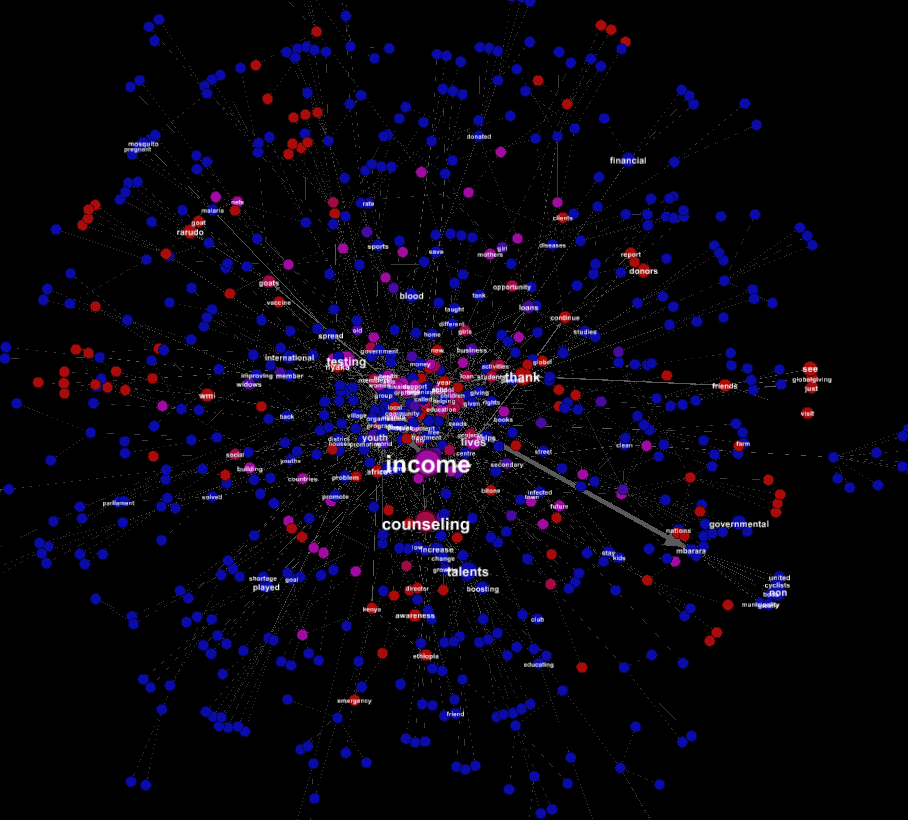 Links: