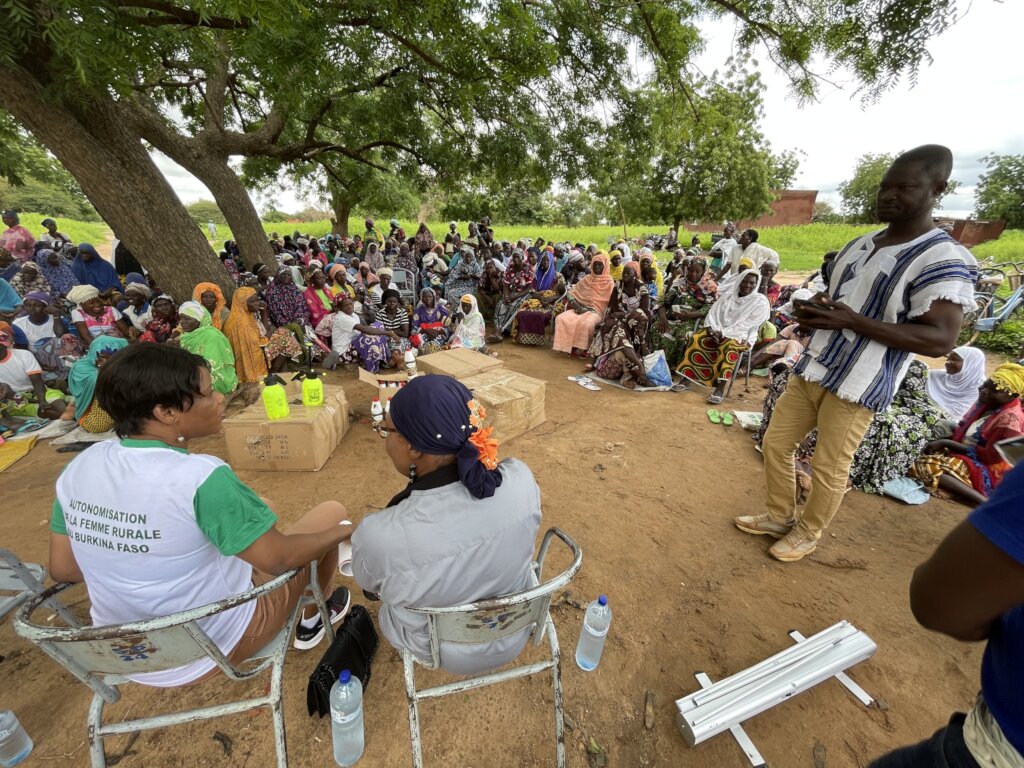 Thank you for your ongoing support. Access to pesticides means higher crop yields and increased food security for the women farmers of Burkina Faso. We are so grateful that FarmSahel was able to provide not only pesticides and sprayers, but also recently hosted a workshop teaching the best methods for using these important tools.
On Tuesday August 10, 2021, FarmSahel held a training with the women farmers in Kaïbo. This training took place in the middle of the planting season to show our farmers how to use the sprayers and how to apply the pesticides from our previous donation. The goal is to equip these women with good farming techniques to increase their productivity.
The happy beneficiaries welcomed our team who came at the right time according to the representative of the women of Kaïbo. They also used the opportunity to thank the Executive Director of FarmSahel, who were present at the training, for the ongoing support they get from FarmSahel. It was the right occasion for them to express some needs as well, in particular the absence of income-generating activities in the dry season and their wish to obtain micro-loans to support their continuous efforts to provide for their families.
As a reminder, the productions of the women at the end of this planting season will be bought by the local government to supply school lunch. As a result, this should enable 438 women to obtain income to support their families.
Your continued support is what helps us provide these vital services to these women.
Our recurring donors are making a continuous impact and we are truly grateful for the ongoing
support. If you are not yet a recurring donor, we warmly invite you to consider setting up a
recurring donation. $24 a month goes a long way.
Please also share this with your contacts and invite them to consider supporting this ongoing
project.
If you have any questions, please feel free to email us at info@farmsahel.org.