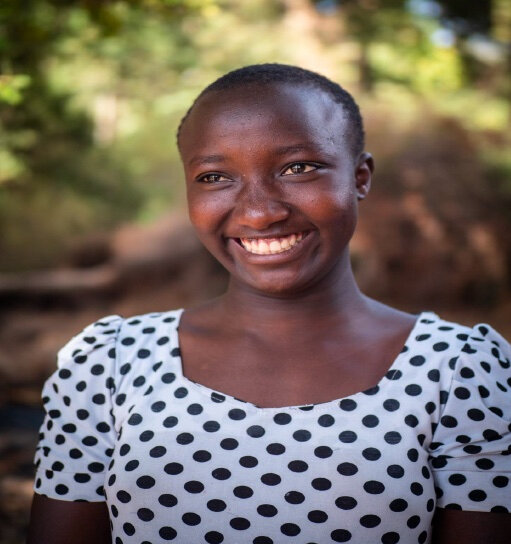 Success stories are a way for us to highlight the accomplishments of our youth and how they have defied the odds.
Meet John, Margaret, Sophia, Christine A, Consolota, and Christine N from Kenya!
After facing a series of challenges, John was rescued in Nanyuki and placed in a transition home. He began persevering through his obstacles by investing in himself and his education. His educational journey began at Muthaiga Primary in the lower level. John performed well academically, completing his primary education with excellent scores, and moved on to secondary school at St. Mary's Secondary. Throughout his time at school, John was reunited with his parents for short visits and eventually reintegrated with them in Eldoret after completing his secondary education successfully in 2022. When he returned to the transition home, John discovered a career interest in pursuing food, pastry, and beverage production. John is now 18, living independently, and attending a vocational training college to pursue his interests.
Margaret was rescued in 2015 from the streets of Nanyuki and provided with care after many tribulations in her childhood. She was enrolled at Likii Primary in grade 3 and started receiving counseling, eventually returning home for short visits. After a lot of positive progress, Margaret reintegrated with her family in 2020. Margaret then decided to pursue her education further and focus on herself and academics, so she transferred to a primary boarding school. Margaret is a confident young woman who knows how to persevere, handle issues tactically and is skilled at sports and stage art. We are delighted that she took her primary exam in November 2022!
Simama social workers rescued Christine A and Consolata in 2015. They were enrolled at Likii Primary in grade 4 under the sponsorship program and began to attend counseling. Soft reunions were initiated during school holidays for them to have time to bond with their grandparents. While in school, both of them were above average academically and talented in soccer and music. Consolata was even selected as the president of her primary school due to her leadership skills! Both of them completed their final primary examinations, and currently, Christine is in Kalalu Girls form 1, and Consolata is in Daraja Academy form 1 and is a dorm prefect!
Sophia was rescued in 2015 in Nanyuki from an unhealthy living environment. She received counseling and mentorship and was enrolled at Muthaiga Primary in grade 4. By grade 7, Sophia was impressively appointed the deputy president because of her strong leadership skills. Eventually, she began to reunite with her family as the environment improved. Sophia completed her primary school education and, in 2022, returned home to her family's new residence. She continues focusing on her education and attends St. Jude's Secondary School in form 1. Way to go, Sophia!
Christine N grew up in an unsafe situation. She ran away to a police station for refuge, where they eventually referred her to Simama Transition Home early in 2021. Once she was safe she fought to have her younger sister rescued. Christine was enrolled at Muthaiga Primary in class 5 under the sponsorship program and started to attend counseling. Academically she is above average, and she is highly talented in beadwork. She has good leadership skills, and she was even appointed as a class monitor! Currently, Christine and her sister go for soft reunions with their mother, and Christine's younger sister has been enrolled in school for the first time!
Thank you for helping HALO youth like these six defy the odds!