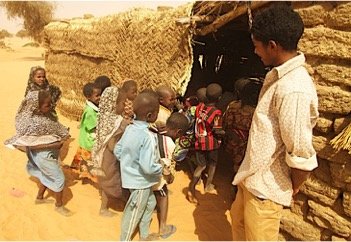 Thanks to the local community women who serve as mentors to at-risk students, schools are sprouting up throughout the rural hamlets surrounding Ingui, a village in the Tillaberi region of Niger. Acting as guides and ambassadors for our Access to Education program for at-risk girls, the dedicated efforts of these local women have inspired their communities to develop and support local schools since RAIN initiated the program in 2009. Stalwart mentors personally conducted outreach efforts into isolated areas, one student at a time, engaging in dialogue with parents, resulting in unprecedented numbers of local nomadic and rural children enrolled in school. Rural schools in Niger are built by the government in response to local demand. By helping Ingui communities create this demand, mentors have successfully expanded the formal education system to many children who were previously beyond its reach.
Challenges
Primary schools of Ingui were few and far between. Like most children living in remote desert regions of Niger, students walked several miles daily to attend school. For example, one of the top local students would walk 16 miles to class and home each day, apologizing for sometimes falling asleep during lessons. Distance is not the only challenge to access to primary education: desert temperatures can regularly soar above 90 degrees by 9AM, reaching 100-110 degrees over the course of the day.
New schools in rural areas often have a dismal start in terms of infrastructure. Some classrooms begin as stick frames with mat wind blockers. Other communities build adobe classrooms out of mud bricks. School furniture is a rarity; children usually sit on the sandy ground or on leftover mud bricks until cement classrooms are built and furniture is supplied.
Extreme poverty prevents parents from sending their children to school – they either feel they need the child to help at home or they are unable to afford uniforms, books and school fees. To households such as these, struggling simply to survive, it can seem beneficial for children to collect water or herd animals that serve as the family's savings bank rather than attend school.
The five women mentors trained to serve as local activists and counselors went to work encouraging community members from the surrounding area not only to send their children to school, but to join in the initiatives created to support education. School attendance rose significantly as a result, culminating in the creation of a cement classroom in 2010 and, in 2011, the construction of six elementary school classrooms. Three years later, these rooms are filled to capacity with learning children.
As another component of the Access to Education program, RAIN piloted a three-month basic literacy training to teach mentors in their native Tamasheq language. As newly-literate adults, they are able to fully appreciate and understand the importance of being able to read and write. This appreciation fuels their commitment to ensure that local children receive a formal education, and aids them in effectively communicating to unschooled adults why it's important for their children to 'sit at the desk all day' and learn, rather than helping with household tasks.
Expanding the Mentoring Program to Follow New Schools
As the mentors recruited greater numbers of students from surrounding hamlets, families began to insist that their children attend schools closer to home. New schools grow in correlation with the local student population. At first, a new school is simply one classroom of first graders. In general, a classroom is added to the school following enrollment each year, although in communities with a low population density, schools sometimes enroll students every other year. The government is struggling to find enough teachers for existing schools, a shortage which often results in large class sizes.
RAIN's Access to Education program was designed to follow school growth by adding one new mentor for each of the four new elementary schools. New mentors have joined the women of Ingui to guide and support the growing school population, shadowing experienced mentors, ensuring that the program maintains its quality as the schools grow. The women split their time between their sponsored students at the Ingui Elementary School and students in their own communities.
The Bigger Picture
As the demand for quality schooling in rural Niger grows, communities are coming together in efforts to garner greater investment in education for their children. Just as RAIN mentors drew children from the countryside to the Ingui school, it is expected that the new schools located in nearby hamlets will draw new students from even further afield.
In just five short years, the RAIN mentoring program has succeeded in fostering school growth, prioritizing education as a base for community wide development in Ingui and other marginalized hamlets in Niger. By promoting the value of formal schooling among nomadic communities, with a focus on girls' education, Ingui's mentors have proven that the dreams of nomadic families for a better life for their children can become a reality.
"Mentoring has changed my life a lot. It has helped me realize many things that I ignored before. These are the same things that I can see changing little by little in my community.
An example of my work is that none of the girls I mentor have married early. Only after being expelled from school have parents married their girls. Parents let their children finish school." - Mentor Houdeyja Ramnan – Tatararat (hamlet near Ingui)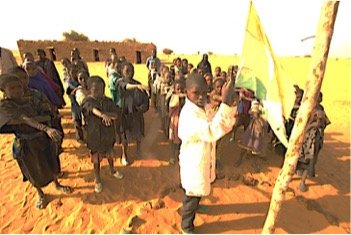 Links: