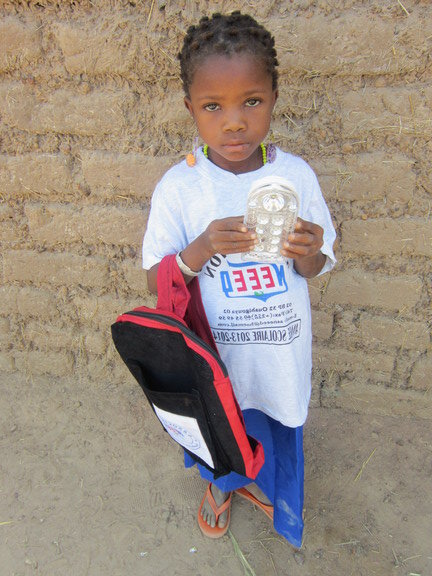 "On every continent, there are girls who will go on to change the world in ways we can only imagine, if only we allow them the freedom to dream." — US President Barak Obama
These are some of the300 girls, in their uniforms with their school bags and lamps, that your generous donations this past year have enabled to go to school. Their entry into primary school is the beginning of their educational dreams. Their initial timid and serious appearance will evolve into one of confidence and joy as they progress through school.
Because so many of "our" girls are successfully completing secondary school, in 2010 NEEED began, with FBF support, to offer a small number of scholarships to the most qualified applicants: for primary school teaching, nursing, and midwifery training, or university education. This year, we offered scholarships to 21 young women, approximately 10% of the qualified women who applied
This holiday season, we have a huge opportunity to support other young, smart and hard-working post secondary girls in northern Burkina Faso eager to become primary school teachers. Primary school teacher training will qualify them for productive employment and enable the government to increase the number of primary school teachers in underserved villages where parents are desperate to send their children to school.
On TUESDAY, DECEMBER 3 you can double your support for primary school teacher training because Microsoft's YouthSpark initiative will MATCH ALL DONATIONS AT 100%! The details:
100% matching begins December 3rd, 2013, at 12:00:01 PM (noon) ET (9:00:01 PT) and will end December 4th, 2013, at 12:00:00 PM (noon) ET, or when matching funds run out.
Matching is applied at 100% for every $10 up to $1,000 per donor per project
The $250,000 available in matching funds from Microsoft are likely to run out very early (within the first hour) so we strongly encourage you to donate early!
Only online donations (credit card or PayPal) are eligible for matching
Donations made by gift card, check, or text-to-give are not eligible
To donate, go to http://www.globalgiving.org/projects/post-secondary-education-for-girls-in-burkina-faso
Our sincere thanks for making #GivingTuesday a day to give back and create a better world for young village women in Burkina Faso..
Wishing you and your loved ones a most happy and healthy holiday season.