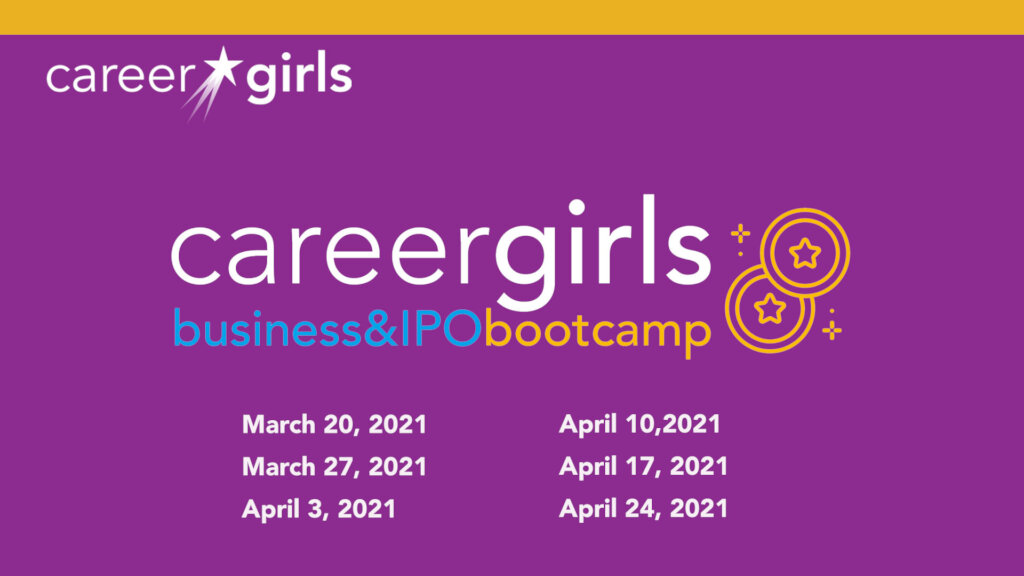 Thanks to donors like you, Career Girls produced four innovative, multi-day Virtual Camps in 2021, connecting girls with women role models in Artificial Intelligence and Robotics, Business Model and IPO's, Financial Literacy, and Environmental Sciences and Climate Change professions.
Today, we wanted to highlight one of our virtual camps, our Business Model & IPO Bootcamp. The bootcamp model allowed girls to take a deep dive into topics including what it means to go public (IPO), how to take control of your financial future, how to negotiate, and learned about creating a business.
Over the course of six sessions, the girls were taught by women experts thriving in those fields. Experts included the then President of the New York Stock Exchange (2018 – 2021), Stacey Cunningham, as well as the current President (as of January 2022), Lynn Martin. Your donation made it possible for Career Girls to gift this opportunity to girls to learn from experts like Stacey and Lynn at no cost to the camper.
After our virtual camp finished, it was clear that many of the campers were inspired to be a future leader. 26% of participants commented that one of the most inspirational parts of the session was learning the importance of negotiating, with two attendees agreeing that "every negotiation should end in both sides being a little frustrated!". That means that over ¼ of the campers aligned with the same leadership takeaway.
Overall, the girls thrived during the camp. One camper said, "I really liked how we got to work in breakout rooms with other people and hear their ideas about the business. I also liked how we learned how to start a business and run one."
With your help, we're looking forward to conducting six Virtual Camps in 2022 and continuing to provide them free-of-charge for every girl who wants to attend. The 2022 Environmental Science Virtual Camp will lead as our first camp of 2022, taking place from April 28-30. The camp features half a dozen women experts who served as delegates at the United Nations climate change conference, COP26, held in Glasgow, Scotland this past November. With your continued support, Career Girls can continue to serve girls worldwide and close the imagination gap. Thank you for your support!
Warm regards,
Linda
Links: