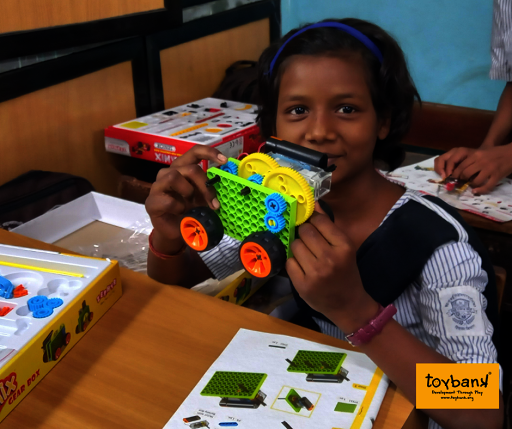 "Play is not frivolous. It is not a luxury. It is not something to fill in after completing all of the important stuff. Play is the important stuff. Play is a drive, a need, a brain-building must-do. It builds knowledge as much as empathy. We could not be fully human without it."
— Jeff A Johnson and Denita Dinger
Greetings from Toybank!
The pandemic has and continues to deprive 188 million at-risk Indian children's safe spaces of learning and play. 2022 began with the third wave of COVID-19, throwing what became the 'new normal' off-track once again. Children had barely gotten used to going to offline schools again, when they were required to shut down yet again. While the lockdown was for a shorter time, the impact it had on the lives especially of at-risk children was immense, making it even more imperative for us to ensure we continued to provide them with access to Play to ensure their learning and development continues.
Toybank, through its Play2Learn program, provides safe play and learning spaces for 60,000+ at-risk across 12 districts in Maharashtra, 4 states and 1 Union Territory in India to be developmentally on track in their mental and behavioral well-being. The program guides and supports 13,695 caregivers through 634 support groups (as of 31st March 2022). Even in the midst of the pandemic, our ethos is firm, 'It is easier to build strong children than to repair broken men (and women')'. The progress in socio-emotional development and mental well-being of our children has continued to be the core focus.
Despite the continued uncertainties and challenges faced, with your support, Toybank continues to ensure that at-risk children continue to engage with learning through play to holistically develop to become well-rounded, responsible adults in the future. We are happy to share updates from our work over the last few months:
We Played!
We disseminated 1078 Play2Learn activities where children from various age groups and learning levels learned holistically with our curriculum-aligned activities. These activity sheets aided in the development of integral life skills like critical thinking, socio-emotional well-being, and cognitive skills, while also aligning with their academic curriculum.
396 Physical Play2Learn Sessions were conducted by our program officers and our partner-teachers while following social distancing rules. Children played board games in groups of two or three under teachers' supervision to ensure their safety.
15 Digital Play2Learn Sessions were conducted by our Program Officers. These are curated with a sequential session plan by the team to encourage peer learning, boost children's learning with the Play2Learn Kit and break the ice among classmates through group activities. These sessions gave the children the opportunity to become more curious and build on life skills.
28 student volunteers facilitated buddy sessions with 15 Toybank children as part of The Buddy program. These sessions included getting to know and building a bond with the child, discussions around aspirations and about emotions, strengths, routine and habit building. The Buddies give the children a platform to have social interactions which have been drastically hit due to the pandemic.
Distributed 1800+ games across 55 Play2Learn centres as schools and Play centres reopened post the third wave across Maharashtra, ensuring children were able to learn through Play!
In January, over a course of 6 days, close to 300 teachers from 55 schools across Beed and Osmanabad districts attended the 'Power of Play Teacher Trainings'. The training sessions support in aligning play-based-learning with the academic curriculum, while also supporting the teachers to effectively use the curated activity sheets and play material at the centres. Here's what the teachers said about their experience:
"The mental and physical development of our children through these games will be very good and our school will benefit from these games. The whole world knows the work that Albert Einstein did, but very few people know what he had to go through. Today the work that Toybank is doing in association with our school and teachers is very good." shared Mr Kulkarni, Education Officer, Beed District
"I find joy in teaching children and helping them learn new things everyday. Seeing a smile on a young child's face motivates me. They are the new generation and therefore I like this work."- Shared Mr Gopichand Pawar, Teacher, Osmanabad District during the Teacher's workshop.
We're rebuilding childhoods!
Story of Resilience: Inclusivity through Play: How teachers brought the Play2Learn center home
Ishaan (name changed) lives 3 kms away from his school, in the middle of a field, and is unable to get to school on his own, due to his physical disability. Prior to the lockdown his parents or teachers would still manage to routinely visit him at home so that he didn't miss out on learning. Though the pandemic disrupted this and he missed out on an entire year of schooling. The isolation from his teachers and limited access to education or play made him quite unhappy and disinterested in learning.
When schools reopened, two of Ishaan's teachers—Dinesh Kothade and Ganesh Thaur took the initiative to start teaching him again but were confused about how to rebuild the gaps in knowledge and recalled Toybank's Play2Learn Center games. They began using these games to teach him through play.
With the help of a special educator and the teacher's constant play-based teaching, Ishaan once again began learning and playing. He was overjoyed to be able to count, read alphabets and kickstart his learning journey once again with rings, blocks, colors, and shape-based games from the Play2Learn Center. The play sessions tapped into his intrinsic need to learn and develop new skills that most children his age explore during their school days. Ishaan finds great joy and an immense sense of accomplishment when he completes a task or learns a new concept. Ishaan eagerly looks forward to his teachers sharing new Toybank games so that he can continue his learning journey.
(As shared by his teachers during feedback calls)
Investing in Play to make mental well-being and learning accessible is the need of the hour. We must come together as a society to rebuild children's childhoods and their future outcomes. Your support will ensure at-risk children continue to Play, learn and become resilient!
Thank you and Happy Toybanking!