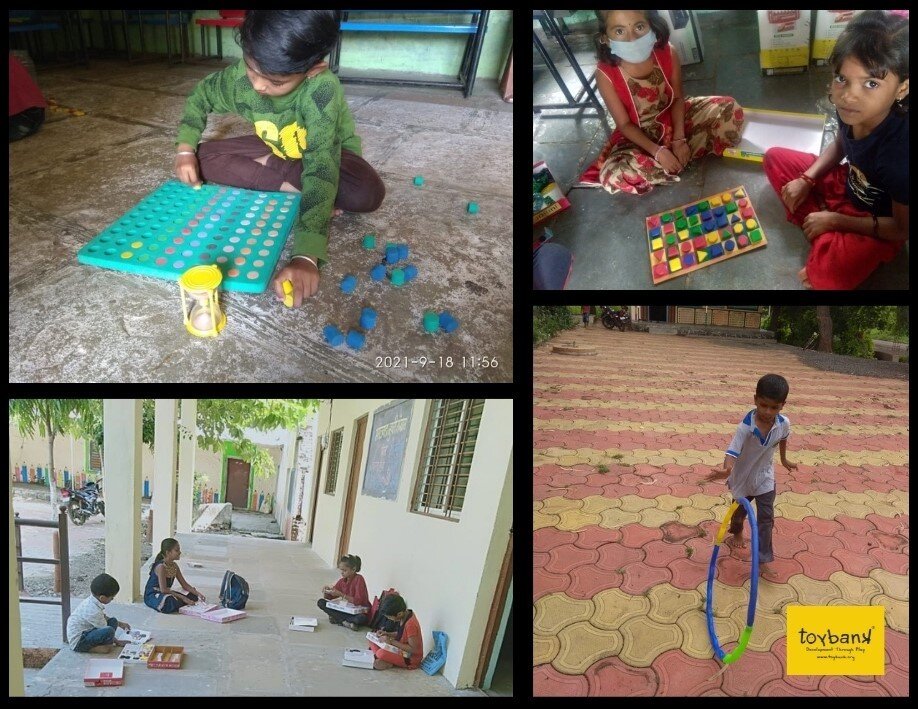 Greetings from Team Toybank!
The new year brings us immense hope and energy. We take this opportunity to express our gratitude for the faith and backing our supporters have had in our work. With 2022 here and our rejuvenated spirit to continue our efforts towards making play a reality in the lives of our children, we wish you a safe and resilient 2022!
Toybank has been delivering its hybrid Play2Learn program to 60,000+ children across 12 districts in Maharashtra, 4 states and 1 Union Territory in India. The program guides and supports 13,695 caregivers through 581 support groups. (as of 31st December 2021).
We are humbled, yet take immense pride in our team who have ensured that the progress we have made for our children won't reverse. Throughout 2021, we've seen noteworthy resilience in the ways our children tackled hardships and roadblocks to learn and play. 2021 was a testament to the Power of Play in our children's lives.
As we ring in the new year, here's a quick update of our work over the last few months:
We Played.
We disseminated 1009 digital Play2Learn activities where children from various age groups and learning levels learned holistically. They helped children work on their anxieties cause by distressing news and online learning during the pandemic.

Physical Play2Learn Sessions were conducted by partner-teachers while following social distancing rules. Children played board games in groups of two or three under teachers' supervision to ensure their safety.


85 Digital Play2Learn Sessions were conducted via Zoom by our Program Officers. These sessions encouraged peer learning, boosted children's curiosity and built life skills and socio-emotional skills among classmates through group activities.


28 student volunteers facilitated 22 buddy sessions as part of The Buddy program. These sessions included building a bond with the child, discussions around aspirations, emotions, strengths, routine and habit building. The sessions provide for social interactions which have been drastically hit due to the pandemic.


Across 4 states and 1 Union Territory in India, the digital Toybank Play2Learn Kit has made Play accessible to children. We ensured continuity of learning for children in these disadvantaged neighborhoods who did not have the luxury of online schooling.
We invested.

We are invested in children's Right to Play. We have been continually tracking on-ground issues that our children have been facing through fortnightly calls with partners, virtual focus group discussions, and in-person meetings and rural visits with education and block officers, headmasters and principals to ensure Play was a part of their virtual learning and back-to-school plans.
We visited our rural districts of Beed, Latur & Osmanabad in October to give key partner-stakeholders a refresher on our program, plan for teacher training and physical Play2Learn sessions as schools were in the process of reopening. These visits enabled us to strengthen our partnerships, thus ensuring the program's smooth delivery

"Everything related to education collapsed during the pandemic. But Toybank's continued efforts ensured children had some form of knowledge," shared Dr. Vinayak, Toybank's program incharge of our partner in Beed.


In December, over a course of 6 days, 500+ teachers were trained in Latur district of Maharashtra. The training was interactive and designed to motivate the teachers to ask questions on Play, and take them through our Play2Learn program (Physical and Digital). The teachers first hand played with the games and understood their objectives and skills they cater to. The training was a platform for the Toybank team to not only re-connect with the teachers, but to also hear first hand some of the challenges they faced in the pandemic.

"I enjoyed playing Reversi. It's a very interesting game. 6 of us played chinese checkers and we learnt unity and teamwork," Teacher from Ausa block, Latur, Maharashtra.

"The concepts that you have shared today are very good. This is one of the best trainings that I have attended in a while," shares Navnath Bharat Mende, Teacher from Renapur block, Latur, Maharashtra
Parents supported their children's academics as well as mental wellbeing by taking time out to engage with our Play2Learn activities.

"Being at home most of the time during COVID-19, the children needed both, meaningful engagement and academic support, which parents were enabled to provide with the Play2Learn Kit's easy-to-understand instructions," shares Mrs. Bhosale, Teacher from Toybank Play2Learn Center in Nanded.

Vasantrao Patil, a parent whose child is part of our Play2Learn Center in Latur district, said to our PO, "I've never met anyone from Toybank, but these playsheets are really good for our children. My child completed the Positive Self-Talk Flower playsheet and I displayed it at home so that my child always remembers his positive qualities."
34 Virtual Focus Group Discussions with 330 teachers and decision-makers gauged the effect of lockdown on our children. They shared feedback and suggestions on our Digital Toybank Play2Learn Program helping us to strengthen and support our partners effectively.

Few snippets from the FGDs by our partners

Deepak Kubde, Teacher from Subhedar Ramji Ambedkar Vidyalaya Play2Learn Center in Mumbai said, "As the lockdown started and Toybank asked to be added to school groups, I was delighted as online classes were dull and managing things was new to us. Activities are shared on a daily basis without any hurdles. Kids enjoyed the activities and we also learnt new things every day. Hope we'll have Toybank Play2Learn Program from day one of the school reopening."

Leena Kamble, teacher from ZPPS Lokhandisawargaon, Play2Learn Center in Beed district shared what she benefited from the program, "It has helped me bond with them, overcome language difficulties, teach them despite their restlessness, inattentiveness or disinterest in studies. Children may not do something from textbooks but if I ask them to do the same thing through an activity, they readily do it."


We're rebuilding childhoods.
Story of Resilience: Bridging learning gaps with the game Abacus
"Sameer was in Class 2 and at the end of the academic year when schools closed down due to COVID-19. He could recognise single to two-digit numbers easily. By the time he was in Class 3 in June 2020, his school had just begun remote learning. This not only negatively impacted what he had learnt but we also failed to track how much our students were grasping.
Sameer was in Class 4 by June 2021, with schools yet to reopen. With the introduction of three-digit and bigger numbers, he was off his learning track once again. When children could attend school physically, I noticed that Sameer struggled with number recognition. Toybank had restocked Abacus, so I decided to creatively bring him up to speed with digits. I visually associated the colorful beads with units, tens and hundreds, which made counting easy and quick for Sameer. This excited him to keep coming and learning more. With this realistic learning experience, he eventually took his notebook along and started writing down all the numbers he learned."
- Story of Resilience shared by Shubhangi Kulkarni, teacher from ZPPS Bansorala, Play2Learn Center in Beed district of Maharashtra.
Invest to rebuild childhoods through Play
Investing in Play to make mental well-being and learning accessible is the need of the hour. We must come together as a society to rebuild children's childhoods and their future outcomes. Your support will ensure 60,000+ children continue to Play, learn and become resilient!
Thank you and Happy Toybanking!