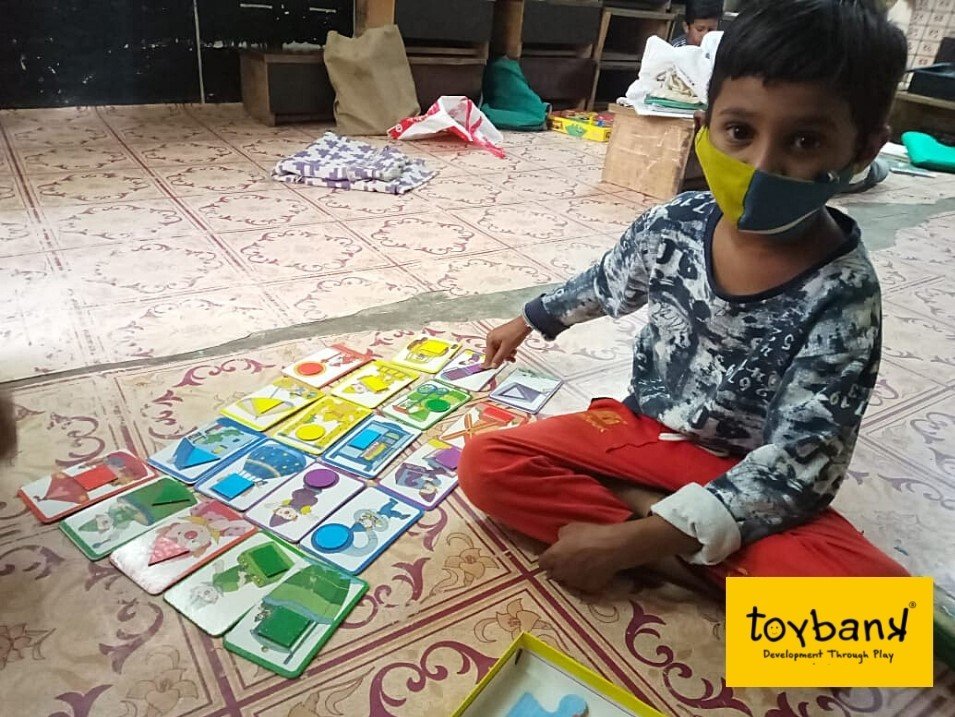 Children's spirits are set free in play spaces and imaginations come alive through Play. However, inequities limit these for at-risk children along with access to quality play experiences, and thus mental and emotional well-being.
To address that, we need to act now, act big and resolutely, as four-time award-winning project Toybank—Development through Play has been since its inception in 2004. So, when Bhausaheb Wavikar, Secretary of SAPREM's Bring A Smile MR School for children with intellectual disabilities shares after our games distribution, "Our children with special needs found online learning uninspiring and boring but are now playing without stress,". Not only were they relieved of their worries but we took another step in providing access to quality Play even for children with different abilities. As Wavikar added, "Our children are so happy to get the games and toys. The joy on their faces is beyond words."
Though our greatest reward is impacting 57,925 children across 7 states and 1 Union Territoryin India every day during COVID-19 (as of 31st August 2021), we are honored and inspired to be one of the finalists of one of the prestigious global forums 2021 Global Good Awards—COVID Crisis Champions. We are ever grateful for the solid support of Toybankers like you who support us in building a better, stronger and kinder generation.
Starting at the bottom, we're now playing digital
'Interrupted learning' is among the top adversities of COVID-19 on children (UNESCO). Educationists and experts urged to resend children to physical classrooms in December 2020, barely six months into the lockdown. But now, more than 300 million students in India have been learning virtually for more than a year-and-a-half—the seventh-longest school closure in the world. It has rightly been said that if children do not go back to school soon, we will have a lost generation of kids.
Toybank has continually recognized these losses even before the outbreak of the pandemic. From providing games to a couple of thousands of street kids to setting up Play2Learn Centers impacting 57K+ kids, we have consistently responded to our children's evolving needs, even during COVID-19 as our program went digital.
A Harvard report, 'Persevering through the Pandemic,' states that 58 percent of parents have witnessed COVID-19 harm their children's academic development. Just over half of the parents saw a negative impact on their child's social-emotional development, which can affect the ability to learn, build relationships and manage emotions. It is, therefore, crucial for children to be connected to their learning during the pandemic.
Being mindful of the digital fatigue, too
Throughout the pandemic, we have stayed connected with our partners, teachers, children and their parents through telephonic surveys, virtual focus group discussions, and whenever restrictions were lifted we had in-person meetings with block officers, headmasters and principals to ensure Play is part of their back-to-school plans. We are continually tracking the problems children are facing—school dropout, child labor, social distress due to the virus, digital fatigue, learning loss, etc—and curate every batch of our Play2Learn Kit to address these and bridge gaps.
To further balance the digital fatigue, we had a blend of various play activities, sessions and offline activities such as:
Around 150 Physical Play2Learn Sessions in areas with minimal to zero COVID cases
Distribution of 1,492 games and toys to approx. 800 children in remote areas of Mulshi and Matheran villages in Maharashtra, where the tribal kids have no access to learning materials or schools.
Replenishing over 3000 games at our Play2Learn Centers in Ahmednagar, Beed, Latur & Mumbai districts of Maharashtra
43 Virtual Play2Learn Sessions conducted by Program Officers and 58 Virtual Play2Learn Sessions conducted by corporate volunteers
70 Buddy sessions as part of the Buddy Program focused on reducing feelings of isolation, building self-confidence, team work, building healthy routines and habits, and avenues for fun and recreation through ice-breakers, action songs and arts and crafts activities.
"The Toybank Play2Learn Kit provides quality activities that meet various learning levels of children and skills that will make them resilient to get ahead in life," said Miss Anju, Teacher, partner-school Rani Sati English School, Mumbai.
"Alphabet Jumping supported children's learning of the alphabet in an engaging and entertaining way. They got to move, hop and read out aloud one letter after another, thus increasing their learning retention. At the end of the hopping, they reached their favorite belonging as a reward. Caregivers also learned how to encourage their children and make their learning journey fun", shares Toybank Program Officer, Rashmin Shaikh.
Story of Resilience:
Our partner Prerana (an anti-human trafficking nonprofit) shares an inspiring Story Of Resilience on how Toybank's Play2Learn activities are supporting their children during the pandemic.To read it click here.
Benefits of Toybank Play2Learn Program
Meaningful engagement at home
Accessible and self-directed learning
Safe spaces at home
Stimulating learning environment
Opportunity for normal development, building autonomy and exploration
Reducing the severity of potential trauma caused by fear and uncertainty
Enabling caregivers to focus on their responsibilities
Promoting opportunities for early learning and responsive caregiving
Our work across India
The digital and translations feature of Toybank Play2Learn Kit has made it adaptable in different rural and urban communities of Maharashtra, Andhra Pradesh, Tamil Nadu, Manipur, Ladakh and Madhya Pradesh. We have and continue to ensure that language is the last barrier preventing children from playing.
We have witnessed the power of play adopted within different contexts and backgrounds and our activities include resources that are easily obtainable locally. For instance, Little Vikas, from the tribal region of Madhya Pradesh, made a Pinwheel from leaves and Santosh from rural Maharashtra completed the Manmade Flower game by including natural and man-made things from his surroundings, including soil and trees. We supported our partner facilitators, teachers and caregivers to fit the Play2Learn sheets into their local lexicon.
Supporting Toybank in making quality play more accessible
As we continue to work on-ground, we look forward to Right To Play becoming an undeniable reality soon. Now, with 17 years of on-ground experience, hundreds of impact stories, a big Toybank family of supporters, teachers, government officials, volunteers and children look forward to more avenues that will give children their right—to happy and healthy childhoods through Play.
Thank you and Happy Toybanking!