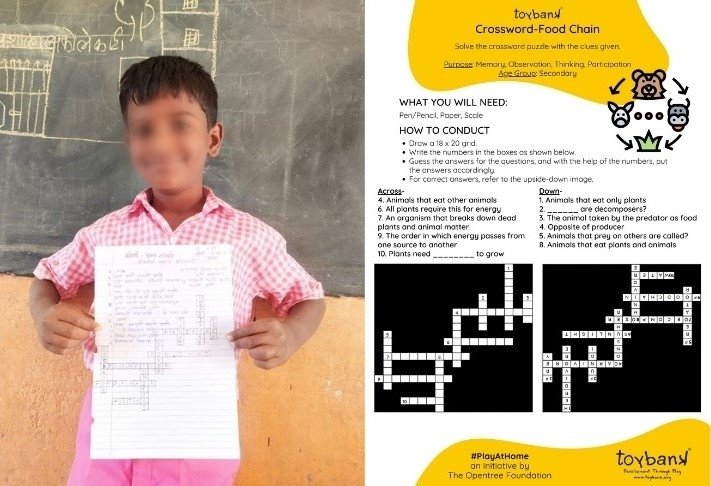 Renowned ECE consultant, Rae Pica, highlights the need for play, "I shouldn't have to defend play for children anymore than I should have to defend eating, sleeping, and breathing." COVID or no COVID, Toybank's digital Play2Learn Program continues to defend, encourage play and impact at-risk children.
Even though safe play spaces are every child's right and necessity, at-risk Indian children are devoid of these as the pandemic and lockdown prolong. Thus, it's crucial that we enrich their current learning environments—homes and immediate surroundings. Toybank's Play2Learn Program has kept 51,885 children learning in safe spaces on a daily basis. We guide and support 2,150 teachers and 7,523 parents through 431 support groups. (As of 31st May 2021)

Here's all that we did as part of the program in the past three months.
Strengthening foundational learning

With virtual learning in its second year, children struggle to brush up on their basics as they did in traditional classrooms. As the curriculum has reduced, students are practically learning on their own with inadequate support from teachers. Thus, Toybank's Play2Learn Sheets are curated to promote foundational learning, support caregivers to strengthen children's basics in complex subjects, and mitigate learning gaps. For instance, interactive games such as Spelling Jigsaw, Rhyming Hunt, and Homophones built kids' vocabulary and pronunciation.
Socio-emotional development and habit building

Our partner teacher Ms. Hemali says, "Playsheets not only help students with their academics but also build life skills like patience and self-awareness about how their words and actions can impact people around them."
Children mapped their daily routines through the play activities like 'What I do Before and After' so that they could identify and inculcate healthy habits like brushing their teeth twice a day and helping caregivers in household chores. 'Coloring Habits' helped children unlearn bad routines that being cooped up at home caused.
While with activity Feathers of Gratitude, children expressed their gratitude for frontline workers—medical professionals, government officials, police officers, and so on; they learned ways to deal with difficult situations with 'Think Before You Speak'.
Story of Resilience: Finding faith in learning once again
"Farman excelled in the physical classroom, but the lockdown disrupted his routine and he struggled to keep up with the overwhelming virtual classes. Yet, the Grade 3 student's parents expected him to be the first to answer questions, and complete all his homework.

As Farman missed playing and interacting with his friends, he found joy in learning again and happily engaged with Toybank Play2Learn Sheets. New play activities and encouragement from his teachers enable him to learn, strengthen his foundation in subjects he lagged in, and play independently."

—Mr. Sanket, Teacher, Toybank Play2Learn Center, Rani Sati English Medium School, Mumbai, India
Benefits of Toybank Play2Learn Program
Meaningful engagement at home
Accessible and self-directed learning
Safe spaces at home
Stimulating learning environment
Opportunity for normal development, building autonomy and exploration
Reducing the severity of potential trauma caused by fear and uncertainty
Enabling caregivers to focus on their responsibilities
Promoting opportunities for early learning and responsive caregiving
Toybank's Play2Smile Program
When children play, they smile even in difficult situations such as undergoing a medical treatment or accompanying someone to the hospital—especially during tough COVID times. Engaging in Play also enhances kids' bond with their caregivers and the hospital staff. As a part of our Play2Smile Program, in March and April 2021, before lockdown 2021, our team distributed 1,095 games to 6 hospitals in Mumbai and Pune. Apart from expressing themselves, kids stayed engaged independently and felt secure. They also derived joy from the pop of colorful games and toys. "It brings their imagination alive. Being stuck to the bed or inside the ward causes boredom, irritability and restlessness, which can be detrimental to their mental well-being," Toybank Program Officer (PO) Neha states.
Virtual volunteering during Covid-19
Close to 500 volunteers (corporate employees, students and individuals) continue to support us in virtual Play2Learn Sessions, Buddy Program sessions, video editing, research work, Play2Learn activity designing, and translations on a weekly basis.
Parents of our children share with us how Toybank's Buddy sessions and the playsheets have been a boon for them during the lockdown. Various interesting activities keep the children self-motivated. Being meaningfully engaged reduces restlessness in children and anxiety in their caregivers.
Distributing games before the second COVID wave
Right before the second lockdown in Mumbai, we also distributed 1,160 creative games at 9 partner-schools in the Malwani slums of Mumbai to provide our kids access to Quality play materials. The inventory team meticulously sanitized and packed games and distributed them while maintaining social distancing.
Teacher Ms Poonam from Rani Sati Urdu Municipal School shares, "For an entire year, we couldn't meet our children but through this distribution, we were so excited to see some of them enjoy the games. We thank Toybank for this gesture during these hard times."
Our work across India
Toybank's partners are the backbone who take Play to some of the remotest pockets of the country—especially during the pandemic. With their support, we disseminated our Play2Learn activities to 5 other states beyond our base Maharashtra, namely—Manipur, Union Territory Ladakh, Madhya Pradesh, Andhra Pradesh, Karnataka and Tamil Nadu.
"In the past few months, Shabdha (name changed) has enjoyed the Play2Learn activities. She gathered a group of friends who do not have access to phones and requested our staff to arrange a space for them to play together. For these children, Toybank's activities have been something to look forward to every week." —Testimonial by Oasis India, Bangalore, Karnataka
Supporting Toybank for enriched learning and equitable childhoods
As we have seen through the two waves of COVID-19, the need for resilience, mental well-being and quality learning during early years of childhood is crucial for children to resolutely face inequalities and crises.
We are paving the way for at-risk children to negotiate their way around learning losses, digital divide and gaps in social-emotional development. As Toybank bolsters its efforts to rebuild childhoods with equity, your support will go a long way in backing us up.
Thank you and Happy Toybanking!