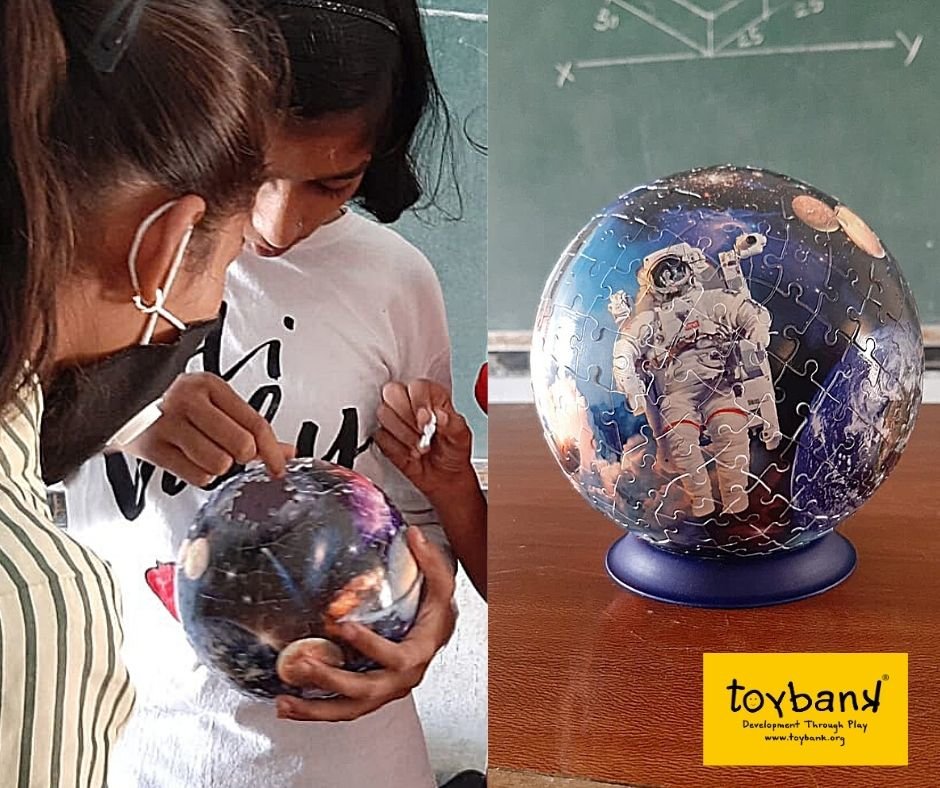 A UNICEF report states that one in every four mothers is apprehensive of their child's return to school after the pandemic. In developing countries like India, UNICEF projects an increase of 15% in child poverty and an additional 10 million child marriages by 2030. One of the critical setbacks is complete school closure in India and the lack of stable internet access to support online education.
Even after a year, at-risk children continue to grapple with learning losses and gaps in socio-emotional needs as schools remain shut. While social distancing hasn't been easy on them, our team has supported their evolving needs. In April 2020, we modified our Play2Learn Program to provide our children with mental relief as they navigate an uncertain and unstable world that the pandemic had created for them.
Ensuring Access to Quality Play at home or in school
With some semblance of normalcy setting in with virtual learning and Toybank's digital Play2Learn Kit, our children continue to have access to quality playtime and education. Many children are also receiving support through our Buddy Program. We also restocked new games and art materials at the Play2Smile Centers at our partner hospitals.
When children return to school, they ought to be anxious about the pandemic's new rules and responsibilities. "The playsheets will ensure that children don't face boredom, anxiety or distraction," says Bhosle Ma'am from our rural Play2Learn Center.
India's National Education Policy (NEP) 2020 encourages a play-based curriculum, and the Indian Financial Budget 2021-22 highlights the importance of toys and games as an expression of entertainment and learning. Hence, our teachers and partners look forward to using the Play2Learn Program to enable a play-based learning pedagogy at all learning levels. Teachers from Play2Learn Centers have shown keen interest in incorporating the Toybank Play2Learn Program within their curriculum as it has benefited children during the most challenging educational crises.
Teacher Workshops—Keeping the doors of learning open
Our Play2Learn Program digs deeper into the learning system by aiding our partner facilitators (teachers & caregivers) in understanding the value of play-based learning. It encourages a conscious effort to understand children's developmental needs so that the facilitators can integrate play methods in the curriculum to address them. These were actively promoted and conducted through teacher training workshops virtually.
These 1.5-hour-long workshops support teachers in aligning play with their academic curriculum and actualizing NEP 2020's vision—pedagogy must make education more experiential, holistic, integrated, inquiry-driven, discovery-oriented, learner-centred, discussion-based, flexible, and enjoyable. Teachers were briefed practically on how to incorporate play-based learning with the support of the Play2Learn Kit. "The workshop was beneficial and insightful, and we look forward to including the Play2Learn Kit into our time-tables or lesson plans when our schools reopen," said Bhagwan Girgaonkar, Toybank Play2Learn Center coordinator. We've conducted a total of 12 workshops with 461 teachers across our Play2Learn Centers.
Story of Resilience:
Stress of relocating and learning losses mitigated through Play for Yasha
With the financial repercussions of COVID, living in Malwani wasn't an option for Yasha's parents. The 7th grader's family was forced to migrate to their native place. For months, Yasha and her two younger brothers had no online education access as her smartphone broke. The stress of moving to a new home, the ongoing pandemic and the loss of her school routine triggered learning regression in the child.
A few months later, worried about the long gap in their children's education, Yasha's parents managed to repair the smartphone, along with arranging for notebooks and pens. Even though she struggled initially, Yasha soon began logging in for classes and asking her doubts. Toybank's Program Officer (PO), however, noted that she wouldn't solve Play2Learn Sheets. The PO asked her if she'd like to try some of the activities and curated many playsheets that Yasha happily engaged with. Recently, on a call with the PO, Yasha said, "I did not need a lot of mobile data and even though alone, I improved in my favourite subject—English."
—Story shared by Teacher Mr Mahendra Vishwkarma from our Play2Learn Center in Malwani slums, Mumbai, India
Benefits of Toybank Play2Learn Program
Meaningful engagement at home during the lockdown

Accessible and self-directed learning

Safe spaces at home

Stimulating learning environment

Opportunity for normal development, building autonomy and exploration

Reducing the severity of potential trauma caused by fear and uncertainty

Enabling caregivers to focus on their responsibilities

Promoting opportunities for early learning and responsive caregiving
Outreach from December 2020 to February 2021
Toybank Play2Learn Kit has ensured that daily, 51,657 children have continued to learn through play. It has guided and supported 2,150 teachers and 7,523 parents through 431 support groups. Toybank has also built new collaborations with organizations across 6 States and 1 Union territory in the country.
Toybank Buddy Program
As the pandemic has stolen children's precious time and memories with their school friends, Toybank's Buddy Program provides them with the opportunity to build friendships based on mutual trust and learning. Our Big Buddies encourage our little ones to pursue a healthy lifestyle—from wearing masks, eating their pulses and green vegetables to teaching them indoor exercises. They're always ready to lend a listening ear and provide a safe space for children to talk about their feelings or things that pique their curiousity.
IPA Special Awards
Toybank was recognized among 23 global organizations by the International Play Association (IPA) for upholding the Right to Play and for demonstrating how we have respected, protected and promoted play during COVID-19. On February 24th, Toybank also presented its Play2Learn Program at the IPA Special Awards Webinar series on the theme of Empowering Play in the Digital Age alongside organizations from Indonesia, Portugal and the UK.
Bring happy childhoods to children through access to Quality Play
"When we make Play the foundation of learning, we teach the whole child."
We are determined to preserve and protect children's Right to Play. While engaging in play enables children to build resilience, crucial life skills and develop holistically, it's also the time they experience the most profound happiness and discover themselves. Playing is serious business for children, and we all can be a part of building a playful world filled with happy and stronger children with access to quality play.
Thank you, and Happy Toybanking!