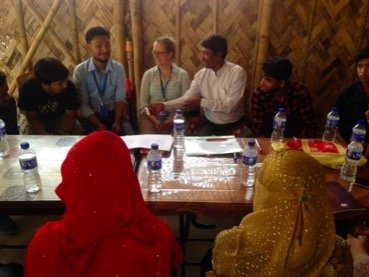 Over the last few months the Rohingya Humanitarian Service team has been busy! Community Correspondents from the Rohingya population have been recruited, trained, and are working throughout the refugee camps and Cox's Bazar. As trusted members of their communities the correspondents are able to gather critical feedback on needs and concerns, dispell rumors, and share critical humanitarian informations and updates.
Internews and its partners are broadcasting a radio program where people can also call in on two radio stations:
Radio Naf and Bangladesh Batar
Using feedback collected through the radio programs and the community correspondents, the first two issues of What Matters? a humanitarian feedback bulletin have been published in English and Bengali. They address concerns about the upcoming cyclone season and what that means in the refugee camps, as well as ongoing concerns regarding health, saefty, and sanitation.
To make sure information is reaching the widest audience possible, we're now in the process of purchasing two TomToms (rickshaw scooters) and kitting them out with speakers to blast information around the camps and town.
If you are interested in reading the two feedback bulletins, they are attached here in both languages.
Thank you again for your support and belief in this work--it wouldn't be possible without you!
Links:
Attachments: