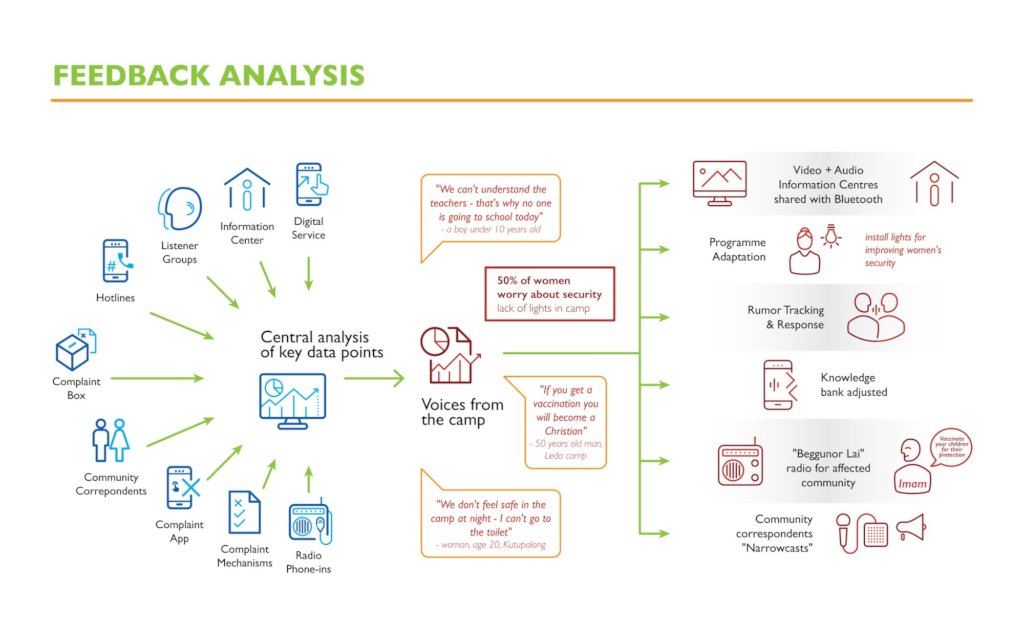 Following up on our initial report in August, Internews was able to conduct an expanded and more in-depth Information Ecosystem Assessment of the Rohingya refugee camps and surrounding areas of Cox's Bazar between October and November 2017. The expanded assessment explores information needs and communications channels, as well as trust networks and issues of language and literacy. It is intended as practical resource for assisting the humanitarian response and, ultimately, the affected communities. The full report is attached here, as well as the link if you would like to read it in your browser.
From the report there were a number of key findings among the affected population surveyed:
77% report they do not have enough information to make decisions for themselves and their family;
62% report they are unable to speak with aid providers;
73% are completely illiterate, in any language;
85% list Rohingya as their primary language for communication;
79% report they do not currently listen to any radio (although for a variety of reasons);
81% report that they never use the Internet; and
58% say they have access to mobile phones--although regular use is overwhelmingly restricted to making and receiving phone calls, and just 19% of those with access to mobile phones report that the handset is capable of internet access.
By using these findings, the Internews Humanitarian team is adapting its communication strategies to ensure that there is a flow of information to and from the affected communities.
What now?
At this moment the team is in the process of recruiting Rohingya community correspondents, and bringing partners together into a common service project to strengthen the two-way communication channels between aid providers and the affected communities. The attached infographic on Feedback Analysis illustrates the Rohingya Humanitarian Information Service and how it works.
As more develops over the following months we'll be sharing updates here. Thank you again for all of your support and belief in this work!
Links:
Attachments: