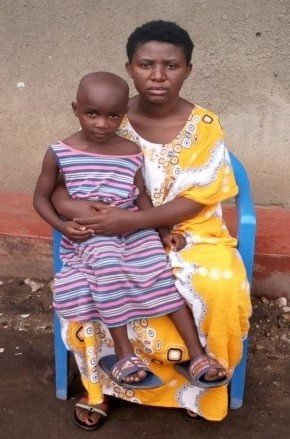 "Thank you for giving young mothers a chance to live life just like others." says Moreen, aged 20.
Moreen is a primary beneficiary of our adolescent mothers project in Kasese, Western Uganda. Over the last 3months we have been assessing the project's impact on primary beneficiaries, mostly in their communities and sometimes at school, to those who have been encouraged to join school again, after dropping out some time back.
Generally, there has been a big, positive change in their lives, both socially and economically. Their social status has improved through their own high self-esteem and a reduction in stigma. Membership of saving groups and active engagement in their own businesses has led to financial independence which has greatly changed the attitudes of young mothers themselves and other people towards them.
In our case study this month, we bring Moreen, a young mother from Munkunyu Sub County. Moreen, aged 20 years is a school dropout and a mother of one child. She is a victim of gender inequality and domestic violence right back from her early years at her parent's home. Moreen dropped out of school in the second year of senior school, after her mother divorced due to the polygamous and alcoholic behaviour of her father.
Moreen tells us, "My stepmother kept me at home to do housework and babysitting the young children. This kept me busy most of school days and I missed a lot in class. This led to poor performance and my father stop paying my fees. Life became completely difficult when my father lost his job and the family depended on the small business run by the stepmother. This gave her all powers to do anything against my education."
As a result Moreen was denied most essential needs, something that made her look at men as a good alternative to get what she missed at home, though she regrets that it was short lived and temporary, saying "I wish I had known." Moreen became pregnant at an early age of 15 years. With a child of 5 years now, she lives a single life with her mother, after she was chased out of her father's home when she became pregnant.
Moreen told us that, "Life has slowly changed and the future seems to be bright," adding that "Hope came as a result of the trainings and knowledge I got from the workshops organised by Act4Africa and being encouraged to join the saving groups." She told us that "Even my mother was a beneficiary in the wider community program." Moreen has teamed up with her mother and, through small loans acquired from their Act4Africa saving group, runs a small business selling fruit (pineapples, oranges and mangoes) alongside the Uganda-Congo highway in the trading centre of her village. She said "The business is doing well because we are able to get essential needs at home and also we can access small loans to cater for emergencies which was not the case before."
With the knowledge acquired through actively participating in the training, Moreen says she has been empowered and is now saving little money from the business with a plan of joining school again. After senior school she hopes to join a vocational course like tailoring or hairdressing, such that she can fully support her family. Moreen also hopes to further train in beading, so she can make small bags for sale to boast her income.
Moreen concluded, "The project has greatly changed my life. It is bringing me hope as a young mother. Thank you for giving young mothers chance to live life just like others."
Links: