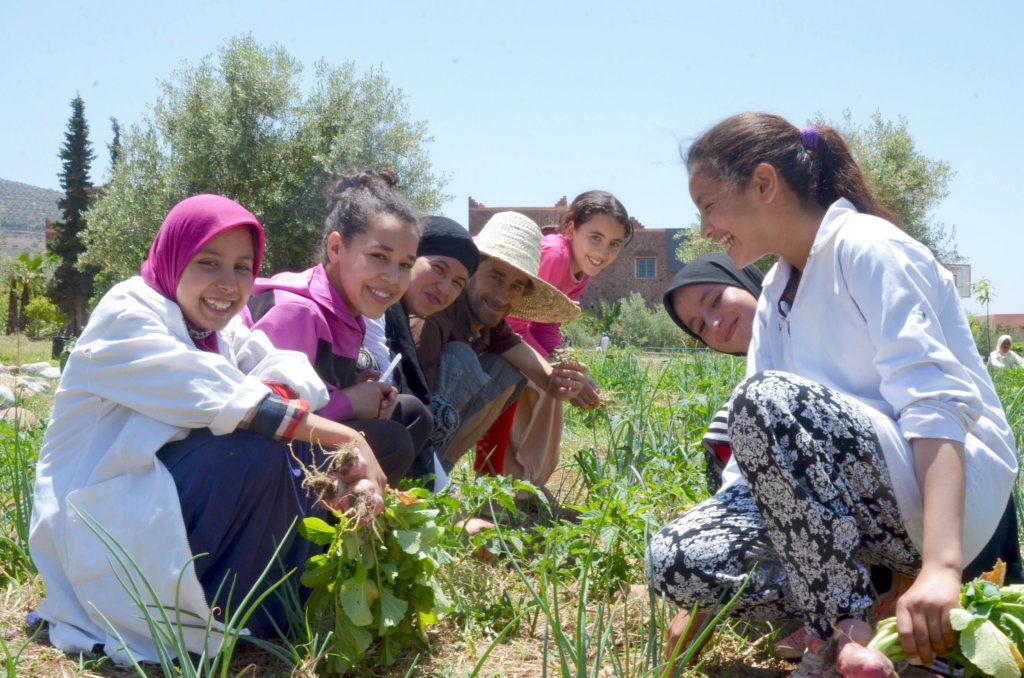 In our last report, we shared the news of a recently-awarded grant that will enable us to fully revamp the Dar Taliba gardens, including via the establishment of a state-of-the-art irrigation system. The water will allow year-round growing and maintenance of all the garden's medicinal, aromatic, edible and ornamental plants and trees. This will ensure the sustainability of the upcoming re-design, according to permaculture design principles, of the entire 6,000 m2 of ethnobotanical, vegetable and demonstration gardens and community nursery.
Through the recent launch of other projects in the High Atlas, we have been able to extend this vision further to include the creation of a community seed bank. By participating, Dar Taliba girls and their home communities can ensure that both wild plant species and traditional, local crop varieties are conserved for posterity. Using low-tech, locally-appropriate approaches for building and maintenance, this community seed bank will be able to host hundreds of seed accessions. Over the next few months, our team will be carrying out fieldwork to collect – according to an agreed-upon protocol – wild plant seeds to create the first accessions of the bank.
Simultaneously, we have been devising a more structured approach for integrating Dar Taliba girls and neighbouring communities into the everyday running of the garden, nursery, herbarium and seed bank. The women's community cooperative of Oukeimeden has become a key partner in the effort to connect home and school through the garden project. GDF partners the Moroccan Biodiversity and Livelihoods Association (MBLA), hydrology consulting firm RESING, and Jamila, the dynamic young principal of Dar Taliba, are establishing an educational programme. They are developing specific activities and approaches for each target group: high school students and women's cooperative members. The programme will focus on topics ranging from permaculture cultivation methods to seed saving, via water management, post-harvest plant processing and marketing of plant products. External facilitators will be invited to help develop the curriculum and deliver the training. Moreover, a schedule allowing all Dar Taliba students to actively participate in the management of the garden, nursery and seed bank is being developed for roll-out in the new academic year in September.
With so many exciting plans coalescing this summer, it became clear that we needed someone based at Dar Taliba to supervise their implementation. We were therefore very pleased to connect with Giada, an ethnobotany Masters' student based in Paris, who is interested in interning with GDF for the three summer months. She will be tasked with overseeing the coherent launch of several of the key elements that form the Dar Taliba community project, and will act as a point person for the educational programme and the construction of the community seed bank.
The photos accompanying this report show preparations for the nursery and Dar Taliba residents showing off some of the season's early harvest. Photo credits: Inanc Tekguc (1-4,6) and Hajar Benmazhar (5)