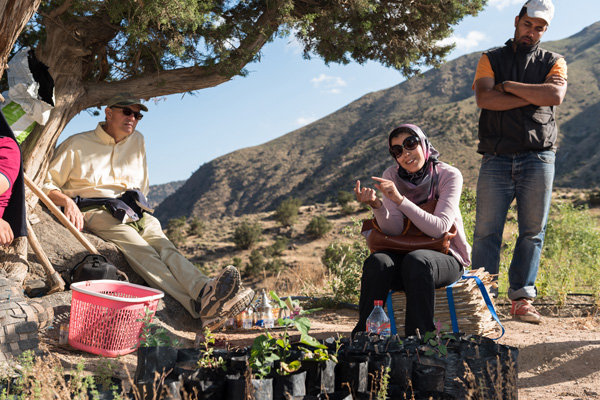 Mohamed El Haouzi, Moroccan Projects Director for GDF, takes pride in his experience building school gardens with children in Marrakech's public schools. The gardening activities he leads are participatory and play an important role in getting children involved in conservation efforts from an early age. Mohamed believes that "nature needs to be understood in order to be preserved" and that gardening activities serve as a platform for explaining the natural world to children. To him, gardening represents a holistic and hands-on learning experience during which students work as a team, learn skills and become knowledgeable on irrigation techniques and plant names all while having fun.
Mohamed laments the fact that gardening activities are not institutionalized and not included in public elementary school curricula. One of the challenges Mohamed has to repeatedly overcome while initiating gardening activities is the public school system's lack of a standard procedure for implementing such activities. He has had to work with every school on a case-by-case basis, catering to the different circumstances of each administration and student body. Mohamed is also very much aware of the potential lack of maintenance threatening the gardens after the initial excitement of their inauguration wanes and the schools can no longer fund their upkeep.
Despite the challenges, lack of funds and dependence on personal initiative and volunteers, Mohamed is thankful to the dynamic and motivated school staff he has encountered during his work and their commitment to providing students with gardening activities and the green spaces these produce. He is grateful for the support of like-minded individuals who understand the educational value of gardening activities and the learning benefits associated with exposure to green spaces. Most importantly, Mohamed is happy the students and dedicated public school staff are able to find an ally in the Global Diversity Foundation, which is invested in continuing to provide children with gardening activities.
Here is a short excerpt (translated from French and edited) of some of Mohamed's own reflections that he shared during a workshop on best practices in biodiversity conservation and local livelihoods in Morocco held from 27-29 May 2015 in the High Atlas mountains:
"School gardens are no small task! School gardening is a complex notion because it involves many factors, including students, teachers and the administrative staff, all with their own circumstances. In all schools, participants are always enthusiastic and embrace with wide open arms the creation of a new garden within their establishment or the restoration of an already existing one. However, the enthusiasm expressed when creating or restoring a school garden is one thing and the maintenance of these gardens through the regular gardening activities necessary is another!
Some teachers are very dynamic and highly motivated regarding educational gardening activities (which encourages outside partners to invest, both emotionally and financially, in activities related to the environment), but others are less so and some aren't at all (they consider such activities more work!).
Fortunately, the administrative staff of some schools considers gardening among the institution's priorities. In these cases, we see very clear participation on the part of both the school's teachers and students. A part of the establishment's budget is devoted to gardening or at least great efforts are made to forge partnerships with funders and non-profits like GDF. In these schools, we are able to establish and maintain green spaces that enhance the learning experience of students."