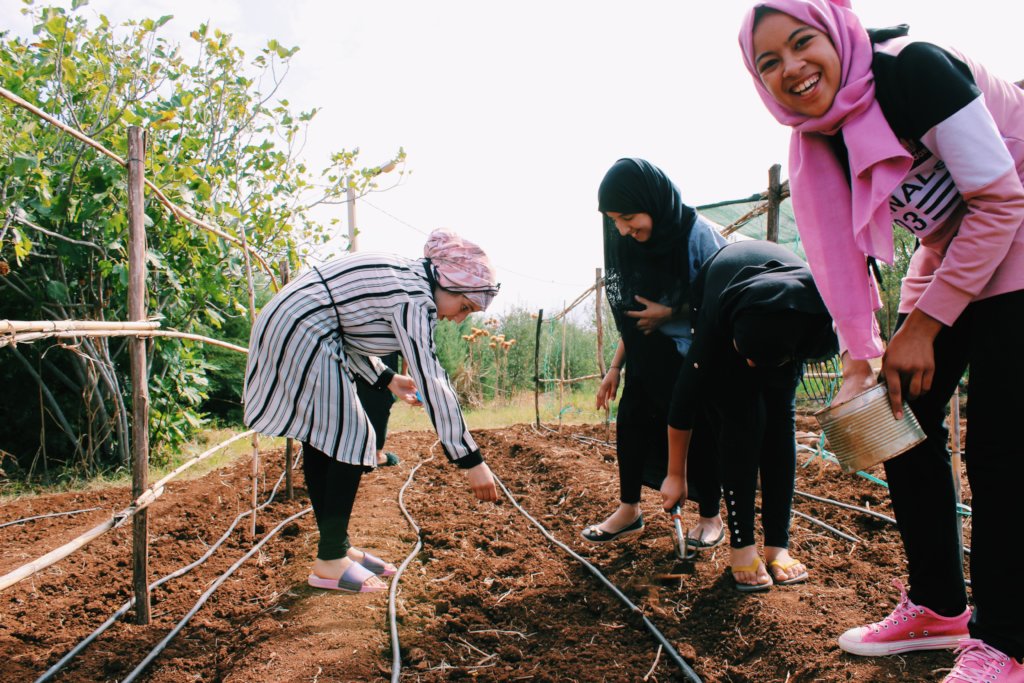 Since we reported last, the Dar Taliba students are back at their all-girls boarding house after a long summer vacation from school. We are very excited to share that we have started the new school year with an exciting series of permaculture trainings in collaboration with our partners Moroccan Biodiversity and Livelihoods Association and Radiant Design.
Together with Dar Taliba Director Jamila and our colleagues Cécile and Laila from the Radiant Design team—an all-girls team this year—we've carried out eight training sessions in the garden since the beginning of the school year, which began late September.
At the start of every school year, new students enrol at Dar Taliba and this year was no exception with 52 new girls in residence. Although I was excited to reconnect with last year's group, I was pleased to see so many new faces such as Iman and Amina. "We're cousins but we had never met until a few weeks ago when we both started school here", Iman, aged 12 said. "It's our first time working in the garden and we really like it".
We kicked off this year's programme with trainings on seeds; we taught the students how to collect, clean and plant them while also educating them about the importance of the soil quality when collecting seeds. "The seeds from our garden are better than the ones we would buy in the market", said Dar Taliba student Salma, when Cécile asked why we are collecting seeds directly from the vegetables we planted last year. "We know the vegetables and the soil in the garden have not been treated with chemicals", she explained.
During these trainings, we split the group into two teams. One team, led by Cécile, started their training with the collection and cleaning of vegetables seeds. Over the past few months, the gardeners have been drying the last of the summer vegetables, including eggplants and cucumbers, which the girls had planted before summer vacation. Now, the students were able to slice the vegetables open and gather, clean and dry all the seeds inside. "I had no idea there were so many seeds inside!", Asma said while collecting seeds from an eggplant.
The second team started their work in the garden where Laila taught the girls about the different steps and techniques available to plant vegetables seeds. With little bags full of turnip, green bean and spinach seeds, the girls paired up and assigned each other different tasks such as planting the seeds, measuring the distance between the planted seeds and covering the holes with earth after. Once they were finished planting, it was their turn to collect and clean seeds, so they switched places with the other team. Rotating the teams during their garden work allows every student to get the most out of each training.
In between these garden trainings, my colleague Hajar and I organised a drawing activity at Dar Taliba with 30 girls last month. After a short introduction about our different projects within the High Atlas Cultural Landscape programme—of which targeted outreach to youth and students on traditional plant knowledge is an important part—we did a brainstorming exercise on local food, herbs, plants and trees to find out which products are found in their households and which crops are grown in their communities. Hajar and myself—both not talented in drawing—were happy to see the result of their drawings and to find several creative little artists in the group! "I made a drawing of wheat because where I come from there are many wheat fields and people working the land", Meryam, aged 14, said. "I have cut wheat myself several times out in the field". The drawings produced during these sessions will be used to create a "local household basket booklet", which will feature 50 local and useful plants and plant products.
Over the next few months, we are planning to invite local plant experts to join our trainings in the plant nursery to support and encourage the Dar Taliba students to learn more about Amazigh indigenous plants from their communities, located in the High Atlas mountains.
Thanks to the generous support of our GlobalGiving donors, we are able to continue our garden trainings throughout the school year during which they will learn valuable skills such as seed saving and expand their knowledge on valuable local plants.
Until our next report, you can follow us on Facebook and Instagram or visit our website for more updates about the activities and progress made in the Dar Taliba garden. Thanks again to all our supporters for making these valuable trainings happen!