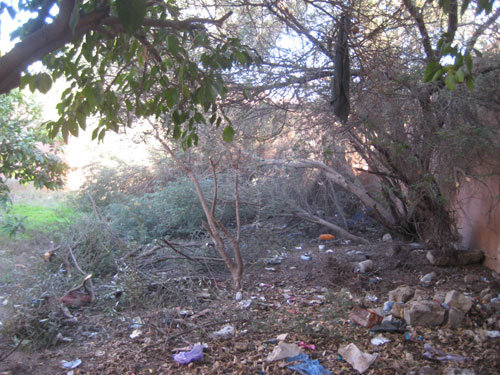 Global Diversity Foundation, our project partner Aniko Boehler, and the students and staff at the Lalla Aouda Saadia School would like to extend our gratitude to the 68 donors who have supported the Educate 1300 Girls By Restoring A Marrakech Garden project to date. Thanks to you, work can begin on this community endeavor that will develop sustainably over the coming years – providing the school community with a learning environment that can nourish students body and soul.
Thorn trees planted long ago to surround the school have grown unchecked for years, creating areas that collect garbage and are unwelcome to the students. These photos highlight the recent improvements made by work crews hired to remove litter and trim overgrown trees. These initial efforts are essential to preparing the campus for the landscaping and planting that is to follow.
While the grounds are being cleared of rubbish and prepared, Charles Hamilton, a graduate student in landscape architecture, is working with the school to draw up a garden plan that includes both ornamental and edible plants, and captures the rich cultural history of Marrakech. He has created a 3D computer model of the campus that will serve as the base structure for the proposed garden redesigns, as well as hand-drawn and computer sketches of the future garden.
In December, Len Davis of Pangeality Productions (http://www.pangealityproductions.com/home/), a video production company with a commitment to social justice, visited the Lalla Aouda Saadia Girls' School to produce a documentary of the work that is underway. The short film, which is nearing completion, describes how the project came about and captures the perspectives of students and teachers on the revitalization of their campus.
We look forward to bringing the Lalla Aouda Saadia School garden to life with the students, and we will share our progress with you each step of the way. We welcome you to post comments and questions to our Wall. Please consider telling your friends and family about the project. We are just beginning this transformation, and we count on you to help make this garden a reality.