Let me introduce myself. I am Penni , the new Brighten the Future Program Manager at Rebuilding. My experience is in the alternative healing profession, specializing in maternal/child health and as a founder/board member/teacher/oversight of a local nonprofit yoga center. I have followed Rebuilding Alliance's work for the past 3 years, volunteering to help, and have been impressed by the mission to rebuild war-torn communities. I have been an avid supporter of solar technologies and so am thrilled to be able to help support a project that provides solar-powered lights to Gaza and improves the lives of children and families there.
As we move into Spring and are celebrating the first full year of this project, we are so thankful for those who have contributed to the Brighten the Future of Gaza's Children program.
I am delighted to let you know that our Brighten the Future team is really growing:
Our dear mentor, Abu, has joined the team as the Brighten the Future Development Leader. He is himself from Gaza and has long been a teacher of Arabic and the Koran here in the SF bay area. He is working to introduce our program to all the mosques in the area.


We have also hired Zainab and

Doaa

, the first two of five local coordinators who will bring our program to their communities and inspire them to participate in this project through donations or volunteerism.

Zainab learned about this project from her cousin who is an imam in one of the mosques that has been very supportive of our Brighten the Future of Gaza's Children project. As an undergraduate in Political Science and Psychology and a leader in the Muslim Youth of North America she is a great addition to our team. Welcome Zainab!

Doaa saw our table at the MCA masjed in Santa Clara. She has been following our work for quite a while and has volunteered to help with our Gaza projects in the past. Doaa is currently the president of the Muslim Student Association at San Jose State University and will soon graduate with a major in creative writing and professional and technical writing. Doaa is a longtime activist for Palestine who "wants to help in any way possible such as through writing, therapy, or coordinating events." Welcome Doaa!


And you may be happy to hear that Donna has hired an Executive Assistant, Ryan. Ryan graduated from U.C. Santa Barbara in 2008 with a B.S. in Geography (Concentration in Geographic Information Science) and a
B.A. in Sociology. He is supporting Donna's work and last week she was in Belgium at the RightsCon human rights and technology conference to present the Mapping Palestine Mapathon.
We are honored to announce that Churches for Middle East Peace has launched the new initiative, Give Light, Be Light. They are partnering with Rebuilding Alliance and offering their 200 member churches the opportunity to send a solar light to Gaza and hold one advocacy meeting on the Hill with a Congressional office for Gaza. We are looking forward to new partnerships in the United States with many more mosques, churches, synagogues and other faith groups as well as school groups who want to support this project!
Rebuilding Alliance is about to send our 4th shipment to four Gaza Non-governmental Organization as soon as preclearance comes through. This shipment is bigger than ever: we're sending 5860 solar lights as the result of a wonderful matching grant! We'll have that two-for-one matching grant (from a Texas energy company!) for the 5th shipment too.
We are also seeking preclearance for the 5th, 6th and 7th shipments at the same time so we can ship with ease in the future. Preclearance - this process of seeking approval to send our lights through the blockade before we even ship - is hard but if anyone can do this, Rebuilding Alliance can. That's because we have done this before, sending three shipment of solar lights to date and building upon the seven shipments of emergency aid sent through the years.

As I write, Donna, our Executive Director, is on her way to Palestine and Israel and we should have word of approval in the next few days. If the preclearance is delayed in any way, Donna will be asking the U.S. Embassy's assistance and she is ready to meet with Israeli Customs and the Israeli Army if necessary. We're getting thumbs-up encouragement from our shipping coordinator in Ramallah, and the State Department, Senator Feinstein's office, and Representative Eshoo's office are all standing by to help if this gets stuck.
Soon, a survey will begin of those who received the lights in the first 3 shipments. We are hiring Kareem who lives in Rafah, Gaza, to conduct this survey. Many of you may recognize Kareem as the oldest child of the family whom the late Rachel Corrie stood to protect when she was killed as she stood before an Israeli Army bulldozer 14 years ago. Their whole family have mentored Rebuilding Alliance for a very long time and Donna stayed over at their house last year during both her visits to Gaza to develop the Brighten the Future of Gaza's Children program.
An exciting new campaign is now taking shape: shining the light at home as well as helping those in Gaza shine the light. A group of designers from the College of Dupage in Chicago are volunteering to help. We are currently calling it "It's time for Light" We believe in the light in each human being and are asking everyone to spread the light of knowledge starting i in May. If you are interested in holding a house party to participate in this initiative please contact us. We'll be featuring this new campaign in Rebuilding Alliance's mobile app, Evincible! More on this soon.
Thank you again for supporting the Brighten the Future of Gaza's Children project and for being a light in the darkness! GlobalGiving is holding a lovely matching grant this week for donations up to $50 - please do. Also, let us know if you would like to raise funds for this project by hosting a giving table with Luci Lights at your place of worship or school, holding a house party — or a talk at your Rotary Club. I look forward to working with you!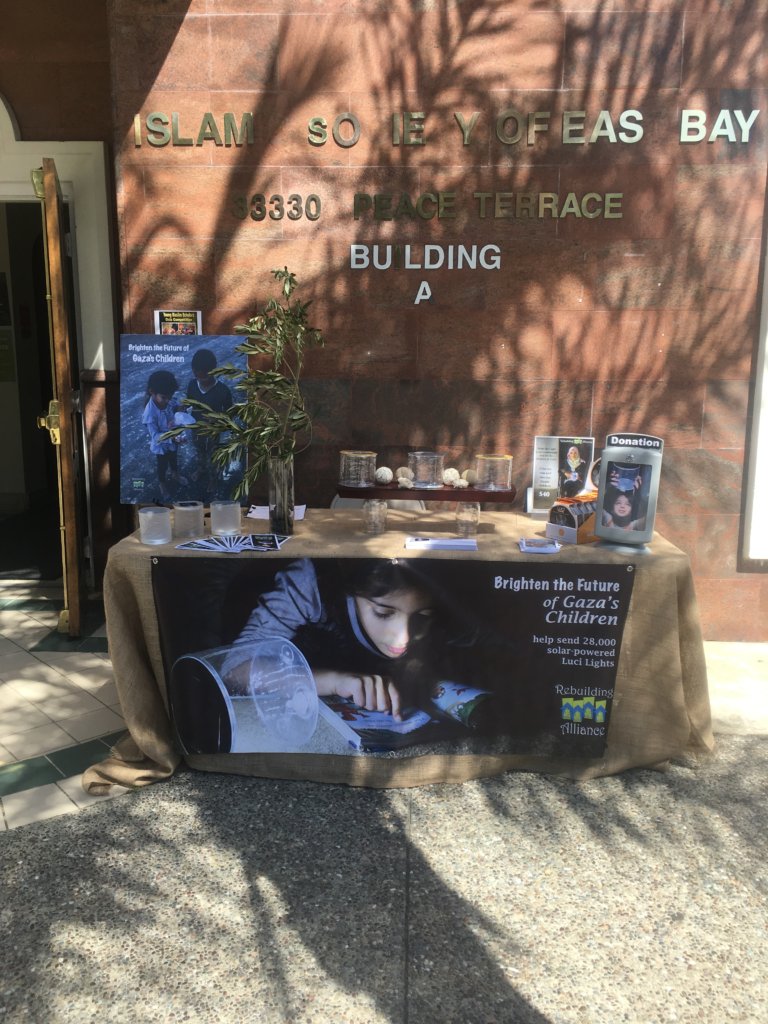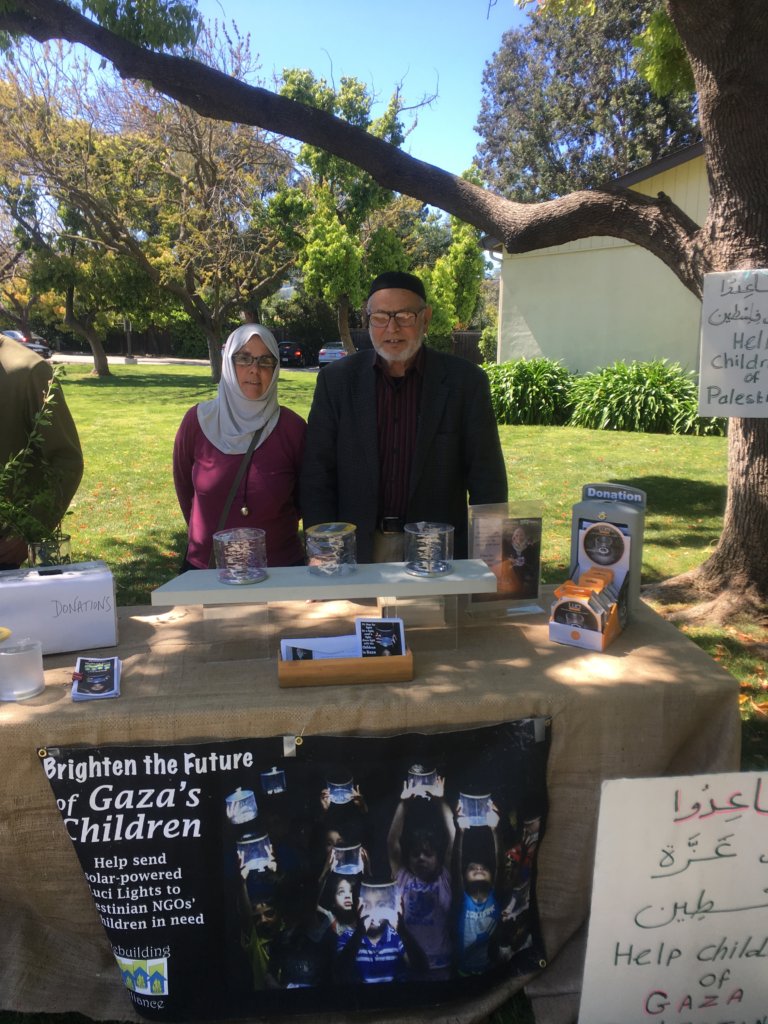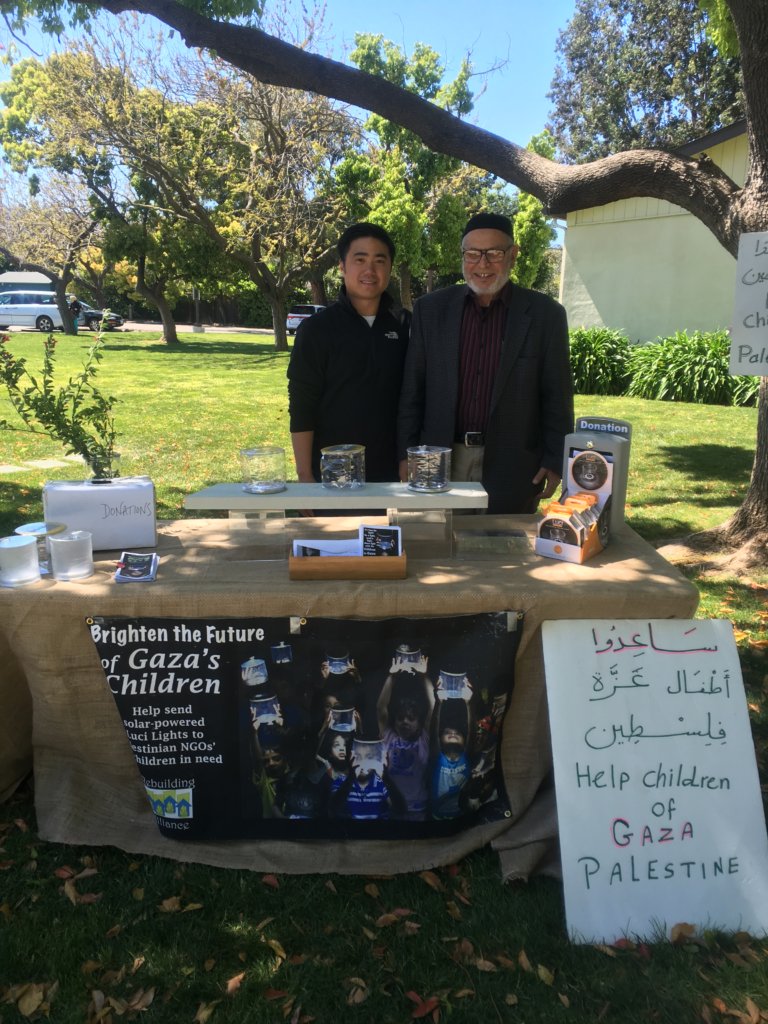 Links: