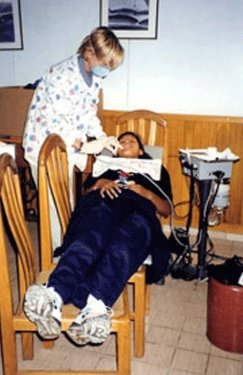 This report is very special for Smiles Forever. This year we completed 20 years of uninterrupted work. A work that began our founder Sandra R. Kemper. (RDH), in the year two thousand, armed only with love and hope to face a challenge of an overwhelming magnitude ... ... "To be able to provide an opportunity of education and oral health for those depply in need and at risk". Let's celebrate 20 years and over 40.000 patients with finished treatments ……
During the year 2020, our expectations and projections are aimed at achieving a steady growth that in the early years we had problems, incidents, disappointments over time, we balanced them with smiles, oral health, hugs and achievements (World Of Children Award, International Federation of Dental Hygiene Award, Heiskell Academic AWARD). Many people were part of Smiles Forever, some were fleeting visitors and others are still part of this wonderful team and we know they will continue to be part of this family.
This year new organizations and shelters will become part of the organizations that receive the benefits provided by the Smiles Forever Foundation, joining the more than 42 organizations that continue to receive support from our institution and to provide treatment to the ones that already are part of Smiles Forever on a daily basis.
It is through our strategic alliances with consolidated educational institutions such as UPAL (Universidad Privada Abierta Latinoamerican), with whom we will initiate a new program and scientific study seeking to demonstrate the use of SDF (Silver Diamine Fluride) as a caries preventive agent and not only as medical management factor. It is proposed to add more than 300 new beneficiaries to this program.
We will deepen relationships with organizations such as CUBE (A Briza de Esperanza Center) in order to identify and know how to work in situations in which patients are victims of abuse.
Increasing human training, technical through the education of our team that allows us to provide more and better services for our patients, is also a new objective.
At present we continue with more will and love than ever before. 20 years is a milestone to celebrate and the beginning of the life of our organization our work continues because of your support.
Thank you for being part of this dream!!!!!!!!
Highlight for our supporters: Next month's Little by Little Campaign where ALL donations up to $50 are matched from Mon. March 23rd to Friday March 27th.
Many Thanks and Much LOVE
Smiles Forever