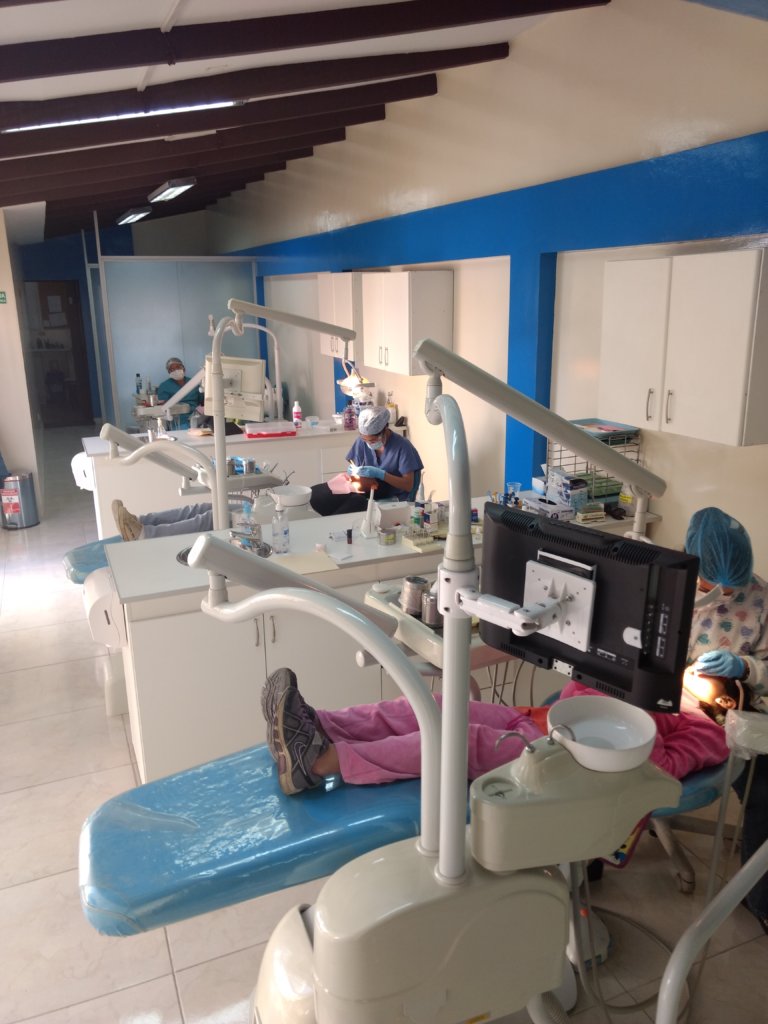 Dear Smiles Forever Friends and Supporters,
We write a few lines of thanks for all the support you give us, those who lend us their support recently and those who do it over time. This year represents a pivotal year for us, we moved to a new location. Although it is smaller, it fits more to our needs, and also represents a change in our goals. We serve an increasing the number of beneficiaries. Smiles Forever is opening new doors to a rural community service and new projects that are born day by day.
Smiles Forever Welcomes Back Foundation Ensenarte & Continues to help Asociacion Vidas
Among the novelties that can be pointed out is that thanks to the initiatives of Smiles Forever and Foundation Ensenarte with a new board, the agreement to provide dental treatment has been revived. Now Foundation Ensenarte has new perspectives, new projects, and of course new dental needs with new beneficiaries. For budget reasons they could not be helped without the support of Smiles Forever. This means your donations have allowed us to again help our friends at Foundation Ensenarte! Thank you from us and on behalf of so many that you provide dental care. Good news also is that Asociacion Vidas (Blind Persons), has a new board. New beneficiaries have been identified, along with their families, who will be attended shortly by our dental staff in Smiles Forever.
Coming Attraction: Smiles Forever Founder Sandy Kemper leads her staff, Shoreline Community College Dental Hygienist Advanced Students, and eminent SDF expert Dr. Stephen Duffin to the tropical Chapare village
During the first week of September we will go to Villa Tunari in the Chapare area of Cochabamba, Bolivia to continue with our project of application of SDF. During this time, we review our school tooth brushing program, provide dental care, dental cleanings and education to the more than 570 beneficiaries that attend the school Maria del Rosario. Our team will be composed by our Smiles Forever staff, components of the study abroad program members of Shoreline Community College, and Dr. Stephen Duffin, an eminent expert on the use of SDF.
Thank you everyone for helping us transition to a new clinic to serve even more indigenous Bolivians.
Our new practice model is based on more open and community based system where it is easier to interact.
For our local Seattle donors Sandy Kemper extends a special invitation:
Click here for the accessible version SAVE THE DATE!

LATIN NIGHT WITH SMILES Saturday, October 14. 5:00p-9:00p.Tango. Tapas. Live Auction! Party with a purpose! Doors open at 5:00p - full program starts at 6:00p. Queen City Yacht Club
2608 Boyer Ave E
Seattle, WA
October 14, 2017 RSVP Save the Date!
Saturday, October 14th Join us for a party with a purpose.

This evening features an exciting live auction, tapas dinner, tango dancers, and other fun surprises. All proceeds support our one-of-a-kind work providing oral hygiene education and prevention in Bolivia. Have a blast while supporting a great cause.

This event is our biggest celebration of the year - don't miss it! Tickets on sale now at www.smilesforever.org

Our mailing address is:
Smiles Forever
PO Box 217
Renton, WA 98178
Another October Happening-- Take Part in a Web event --none other than the popular Global Giving pro-rated donation day on Oct. 6th. Every donation all day long will receive a percentage match determined at the end of the day based on overall participation. Our organization is particularly grateful for any and all Global Giving fundraising opportunities. Mark your calendars for Oct. 6th and tell your friends--near and far.
With my sincere appreciation, Sandy Kemper, Smiles Forever Founder & Executive Director