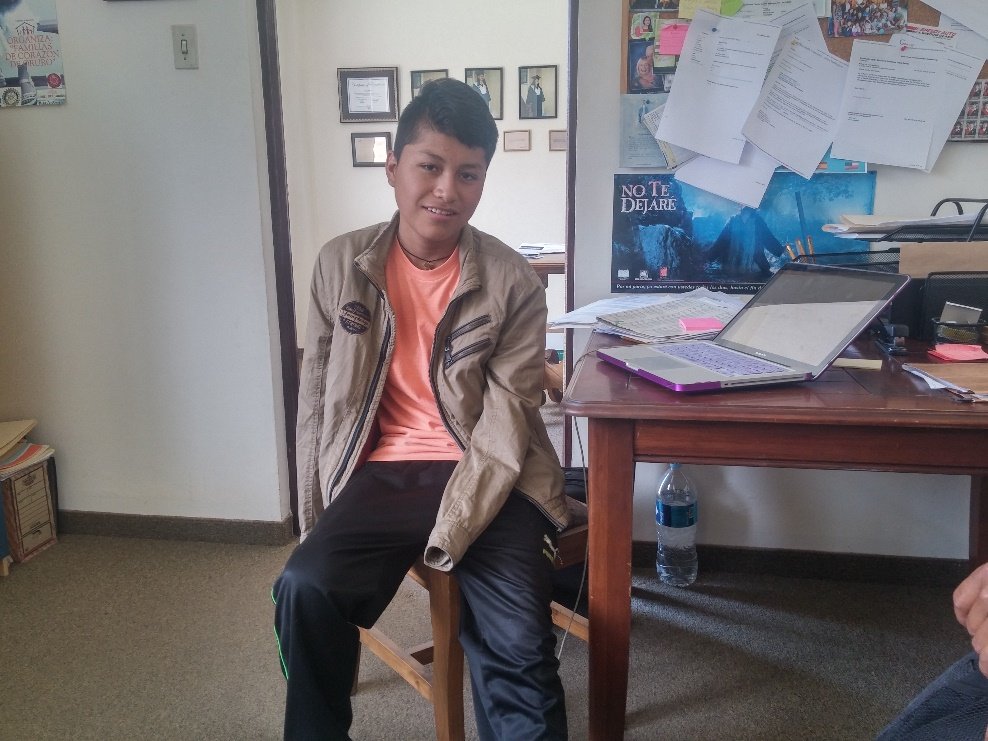 An Update of Wilson, a teenager who lost his arms from a bridge accident: Last year at Christmas, Smiles Forever brought you the heart-warming story of the courage and slow recovery of Wilson who fell from a bridge while working with his father. Wilson had caught himself on electrical wires and suffered severe burns. My father had donated a laptop computer so Wilson could continue to study, using a special wand. Last year's Christmas miracle was that Wilson was selected by Shriners Hospital in the U.S. for treatment--and they only select one child from Bolivia. Now his healing is far enough advanced, that we are helping him overcome getting an ID without fingerprints and satisfying dental and health documentation for him to obtain a passport.
Give a Christmas gift to Wilson and all his friends now, during the British Global Giving Christmas campaign. Click on the link above to donate in British pounds so that your gifts will count toward generous U.K. prizes. You may chose the option to email or print a card to honor that special person in your life, or the memory of a special friend or family member. Smiles Forever will gladly accept donations in memory of our Founder Sandy's mother Eddie who passed away this summer shortly after the wedding of her grandson. This has been a year of much joy with our international award, and the sorrow of losing Eddie who has been so inspirational to Smiles Forever.

Our beloved friend, Wilson spent a couple of hours during last week between different labs and doctors' practices in order to complete the requirements for him to go to the United States of America to complete his physical rehab treatment and to receive his prosthetic hands. He is a typical teenager and could not help but asking, "why are we doing this?" or commenting, "this is boring." Mostly he likes to talk about cars, motorcycles and soccer, or about aspiring to be an engineer to build bridges like the one which nearly took his life. One day he spontaneously told our clinic director something off of the charts: "Tell Sandy that I love her. Because of her I will be someone who you all could be proud off!"
Besides the labs and a visit to our clinic to complete the dental certification for him to travel, we started the bureaucratic paperwork for Wilson to renew his ID and to get his first passport. Problems are something we all have to face, but in Wilson's case the problems can be quite large. Since he lost his hands he cannot register his fingerprints, but we solved the issue and he will be able to get a new ID. Something unexpected from this effort: because he is now registered in Bolivia with handicapped status, he gets a free bus pass. Also, Bolivia has passed a law saying that 5% of employees should be hired who have special needs. This is exciting because the new rule makes it more likely Wilson will be able to find work.
Wilson will portray a Santa's elf to spread Christmas joy at the Children's Burn Unit party
Wilson will spend Christmas with his family, but he will actively participate in our Christmas party for the children at the burn wing of the hospital for children personifying one of Santa's elves, and Alejandro Beckrich our director for Bolivia will personify Santa.
Also, we have already sent the translated lab results to the doctors in the United States,so the process is completed 70%.
More December Highlights
December is always a crazy month here at Smiles Forever since we are going on vacation and beneficiaries of the community service clinic have different activities. Some return with their families and others are moving to different shelters and situations like that; therefore, we push to complete as much work as possible. Thus, our community service clinic is lately packed with patients to the point that there are no more waiting chairs available. Fundacion vidas, Foundation for Life, helps our new blind patients and their families. We were able to serve them before Christmas.
From the Smiles Forever team in Bolivia we would like to thank all our donors and supporters for the efforts and donations received this 2016. We look forward to having you with us in 2017, and wish you all a Merry Christmas and blessings during these holidays and that the new year brings peace, health, and opportunities to you and your families.
Love, Sandy &
The Smiles Forever Team