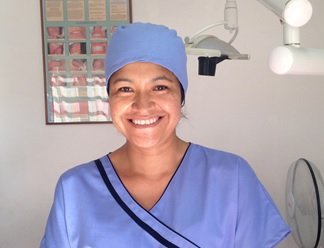 Adela Cannot Imagine a Life without Giving Dental Care to Needy Children: Adela's Story of 4 Years of Learning from & Serving the Smiles Forever School and Clinic
I was born in the Province of Independencia, Bolivia 31 years ago. My life took on a new turn over 4 years ago when I went to the Smiles Forever school.
Now for last 2 years I have worked as a staff Hygienist and instructor in the community service clinic.
I had heard of Smiles Forever from my friend Victoria who was a former Smiles Forever student. At that time I was going to night school to obtain my high school diploma. I moved from the countryside years ago and I was living at my Godmother's house helping there as a maid. My mother couldn't support me since we were really poor.
I wanted something different than just being a maid for someone with money. I wanted a future! It was difficult to convince my Godmother, but finally she accepted the idea to let me try to become a dental hygienist. I had an interview and psychologist evaluation and they mentioned they will call me. Days passed and they called me mentioning that I wasn't a perfect fit for the program, but I insisted every day --because no matter how difficult it will be I was mentalized to be the best. I was sure that no other chances will show up for me in the future.
I kept asking until one day they gave the chance to try it for a couple of days and to see if I liked it. It was different and it was hard, but I gave my 110% and I graduated with honors. Let me be honest at first I just wanted something to help me move on, but after a while I've realized what we do here at Smiles Forever is so important. It is not only about individuals and getting free education and opportunities, it is also more about so many things like helping children. I can help people in need, people who never visited a dentist before. In between Smiles Forever's purpose is to give opportunities and to change the lives of women through education. After I had graduated, a position as a staff hygienist and instructor for Smiles Forever was offered to me and I took it no questions asked.
My Dreams are not just Dust in the Wind!
After 2 years working for Smiles Forever and being part of this amazing team, I've realized that this organization has a lot of potential for the future. I love being a hygienist and I know we have many obstacles and diverse difficulties to overcome, but we will make it as a team. Also, I cannot imagine what will happen to so many children who without us will not have any dental treatment. My mom is now super proud of me and I'm helping her economically which gives both of us a lot of happiness. I'm still living with my Godmother; the difference is now she realizes my dreams are not just dust in the wind. She is way much more supportive since I'm no longer her part-time maid. I still help her, but as a family member. Soon I will reach one of my other goals to become 100% independent through hard work and saving money and projecting and planning as they taught me in Smiles Forever.
I wish to thank all of you who gave me help to make my dreams come true. Sincerely, Adela RDH
Current Happenings
Sandy is currently in the Maria del Rosario in the Chapare province, about 3 hours from Cochabamba, Bolivia. She and her team will be spending 5 days there covering oral hygiene topics including tooth brushing and flossing as well as broader issues that encompass oral health such as nutrition and diet.
Help Save the teeth of the children in this entire village. Smiles Forever is beginning an ambitious 3-year program to use a tooth decay preventative coating during the critical teeth formation & enamel building time of childhood.
The British Global Giving UK branch is launching a week-long 50% matching campaign called Little by Little where individuals may give up to 50 pounds (approximately $75) to any project. Please donate on Oct. 25th - Nov. 1st to any or all of our 3 active "Smiles Forever" projects. See http://www.globalgiving.co.uk/leaderboards/little-by-little-by-little-2016/?showAll=true
Watch the countdown & the Leaderboard to see if matching money is still available. Only donations on this UK site in British pounds count towards matching & prizes. We thank you for your support & thank our British friends for helping so many worldwide projects.