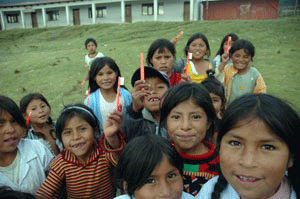 The Quechan Values of Truth & Hard Work: Quechan Traditions Honored
Our dental hygienist trainees help provide dental care in our service clinic, depending upon where they are in their 2-years of schooling and practical hours. These young women are the lifeblood of our organization and make possible reaching thousands of children yearly to provide dental screenings and care.
Young Indigenous Women Gaining Skills for Life: Believing, Learning, Hoping, and Sharing
Believing: Our Smiles Forever Young Women understand believing in a better Bolivia can be a reality. No woman should have to endure a second class status, where she is relegated to having many children, accepting domestic abuse, in this poorest country in South America with a 75% illiteracy rate.
Learning: Our Smiles Forever Young Women understand that education for themselves and their children, both girls and boys, is the key to raising social consicousness and escaping a life of oppressive poverty.
One of our students who speaks Quechan helped look after a woman who was living in the median of a nearby street. She would daily bring her food and hope. We are so proud of the spirit of our indigenous students!
Hoping: Our Smiles Forever Young Women understand that the broad spectrum of personal health and health for their families is critical for their well-being. We encourage our students to buy and prepare their own food. We provide a monthly stipend so that they may purchase shampoo and suitable clothing to not only improve their personal hygiene, but also to enhance their self-esteem.
Sharing: Our Smiles Forever Young Women understand the two-year commitment they have made to become a skilled dental hygienist will change their lives and those of their loved ones, and it will have the broadening effect of improving their community. Our graduates continue to serve their local society by giving dental care to those without.
The Public (fee for service) Clinic:
This clinic has a two-fold purpose. First to provide professional dental cleanings, as well as top quality restorative dental care to the people of Cochabamba. This gives us an opportunity to spread the word about prevention. All patients receive dental cleanings (just like the U.S.) and are advised to return on a 3 to 6 month basis for exam and cleaning as needed. Patients pay for the dental services and all monies return to support the community service clinic and the dental hygiene school. Secondly senior students have the opportunity to work with the general public before they graduate. We offer all dental service services to the general public.
Ninos con Valor, children that have been affected by aids, is one of our shelters we serve. I would translate this as Children with Courage, and they certainly are. No one knows if Bolivia, a totally land-locked country, will escape Zika carrying mosquitos, but unfortunately the poor in Bolivia have not been spared AIDS.
Our donors care about the least of these, our brothers and sisters. Thank you everyone!
Let's all get together September 8th for a Meet & Greet appreciation night for our donors both longtime and new. Details will follow in our August newsletter.
Also in September, on Wednesday the 21st, Global Giving will be hosting a time-release bonus day. This means that for the Seattle time zone, funds will be added at the 6:00 a.m. opening, and also at noon. This is a great opportunity for our friends and family to put in their donations at lunchtime.