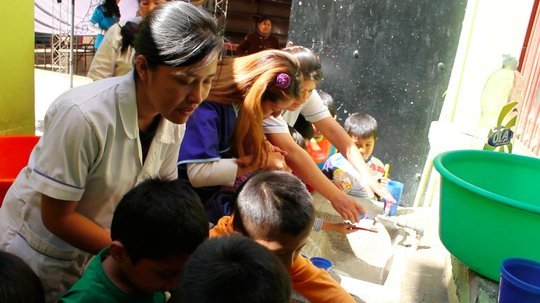 Smiles Forever Adopts Villa Tunari for an Ambitious 3-Year Treatment Plan
In the tropical zone of Bolivia lies the indigenous village of Villa Tunari. It's a world away from the bustle of populous Cochabamba, but really only a 4-hour drive. You may remember our visit in the fall when we took American volunteers and dental hygienist students to help at their 2-chair clinic staffed with one dentist. At that time 400 students were enrolled in a pilot project. These students received a dental exam, nutritional counseling, and in addition they benefited from preventative dental instruction. Everyone from the youngest 3-year-olds to the 20-year-old students received a toothbrush which remained at the school. Since then the teachers have instigated a daily brushing routine. All this effort took many hands a full week, and Smiles Forever promised to return in 6 months.
6-month Intervals for Treatment & Check-ups
Plans are in the works for our return in March or April. We're actively fundraising now, so we invite you to become a new recurring giver at any level. Smiles Forever is adopting the whole village, but you may adopt a family or an individual child. You can help us bring proper dental treatments to these children, while at the same time we will be conducting a study regarding a treatment protocol which shows promise for limiting future decay. One wonderful thing about Villa Tunari is the population, though small, is stable. This affords us the perfect microcosm to collect data. Because so much of our work has been to help bring dental care to shelters and to serve transient populations, we are excited to discover Villa Tunari. Bringing professional care to everyone will be an amazing opportunity to track progress over this lengthy time period.
Smiles Forever Launches Storytelling Project
For a couple of years, Smiles Forever has been waiting in the wings in regard to Global Giving's Storytelling thrust. It's not that we haven't anticipated how wonderful it would be to have pictures & feedback & personal insights of those we serve, it's just that we didn't see how we could start. Now we do have a clear vision of a storytelling oasis. We can get pictures (these jungle people enjoy being in photos as opposed to other tribal areas where picture-taking and picture sharing are discouraged or altogether forbidden). We can devise a questionnaire specifically for this group, and we can collect personal information and opinions and see how they change over time. We can couple this with the documentation for the clinical study. It isn't off the drawing boards yet, but it can't fail to delight you--our "sponsors." Also, we can run features of our children with the project updates. It will be as if you are there with us in the 100 degree heat. You will be able to share the smiles and be energized by all the goodwill spread.
Thank you, happy Valentines Day as Smiles Forever joins Global Giving in wishing love and joy to the world.