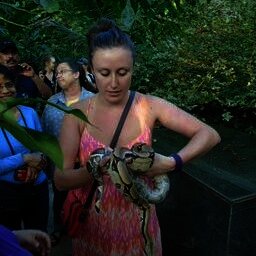 Visiting Dental Hygienists & Students from the Seattle Area paired with Director & Students for a Jungle Roadtrip
What could be more fun than heading down from the highland Bolivian city of Cochabamba to the Bolivian Amazonian basin, a scant 4-hour drive? The excitement must have been building as during the week all were anticipating frolicking in a tropical waterfall, holding snakes, and in general stepping into an unknown world--foreign to anything they had experienced. Yes, the project was designed to help the village and screen for everything from tongue anomalies to rampant caries, but why not factor in a load of fun?
Leading off the adventure was the sole guy in a pack of more than a dozen cute girls and young women. Doesn't that sound like an outing to paradise? This young gentleman turned out to be a great ambassador to the native village. Some in our group claimed to get accustomed to the bugs, the dreadful humidity, and to walking around on rough or muddy terrain in 101 degree heat!
Testimonials & Thank-yous
Thanks again for all the effort you put into hosting us! I had such a great time!
-Mia"
"I was honored to be able to work alongside Smiles Forever in Bolivia. I enjoyed everyone that I worked with from the staff at Smiles, Smiles students and patients. It was an unforgettable experience and I hope to be able to return someday!" -Amber
Villa Tunari with gators, 'coon cousins', monkeys, parrots, curious leaves & spectacular blooms was a blast for the visitors from North & South America alike.
The group also crossed a suspension walking bridge & slept under mosquito netting. A good time was had by all and the villagers so appreciated our help to improve their dental health.
Here's the more Technical Write-up from Smiles Forever Founder & Executive Director: Sandy Kemper
The second week was spent working together in Villa Tunari, in the Chapare jungle at the Maria Del Rosario School. The students, 608, were from age 5 to 18. All students received tooth brushing and nutrition classes given by the Smiles Forever students with Shoreline College dental hygienists. "The teaching posters that the Smiles Forever students have created are giving me ideas for my community service class," Shoreline students exclaimed. Teachers and interested parents received these instructions also. Students keep their new toothbrushes at school. The parent's club creates a board for storing the brushes. After lunch everyone is given time to brush their teeth.
Sadly, at exam time many of the children had serious decay. Some so severe we call it "Rampant Caries"; 10 teeth are damaged and usually appear black. Most of the children had at least 5 untreated cavities.
With portable dental chairs and table tops (makeshift dental chairs) treatment was provided to 250 children. In 101 degree heat, 25 extractions were completed at the dental clinic at the neighboring hospital, San Franciso De Asis. The treatment will be followed closely. Smiles Forever will return in six months to provide more restorative dental care.
Pateints and our volunteers hugged and cried the last day. Creative techniques were developed, alliances were made, and lasting friendships were formed.
We're thanking all of you donors who help alleviate extreme suffering in children such as we have seen on this trip!
While this project is not a Youthspark one, and therefore excluded from the Octoober 7th bonus campaign, it nevertheless is eligible for the Recurring Donor bonus campaign which is made possible by an anonymous donor to Global Giving.
New Recurring Givers will have their first donation matched at 100%, starting on Monday September 21st and ending on Friday September 25th. Besides the initial donation of between $10 and $200, 3 more monthly automatic donations need to be made before the bonus is awarded.
See Global Giving rules https://www.globalgiving.org/recurring-donations-matched/limited-time/?utm_source=GlobalGiving+Project+Leader+Newsletter&utm_campaign=04c9276f9b-September_2015_PL_Newsletter9_9_2015&utm_medium=email&utm_term=0_e74b9ca250-04c9276f9b-391812221
Please feel free to email me at sandykemper@smilesforever.org to help you decide which bonus opportunity works best for you. This one will guarantee a 25% match if done during the short time window.