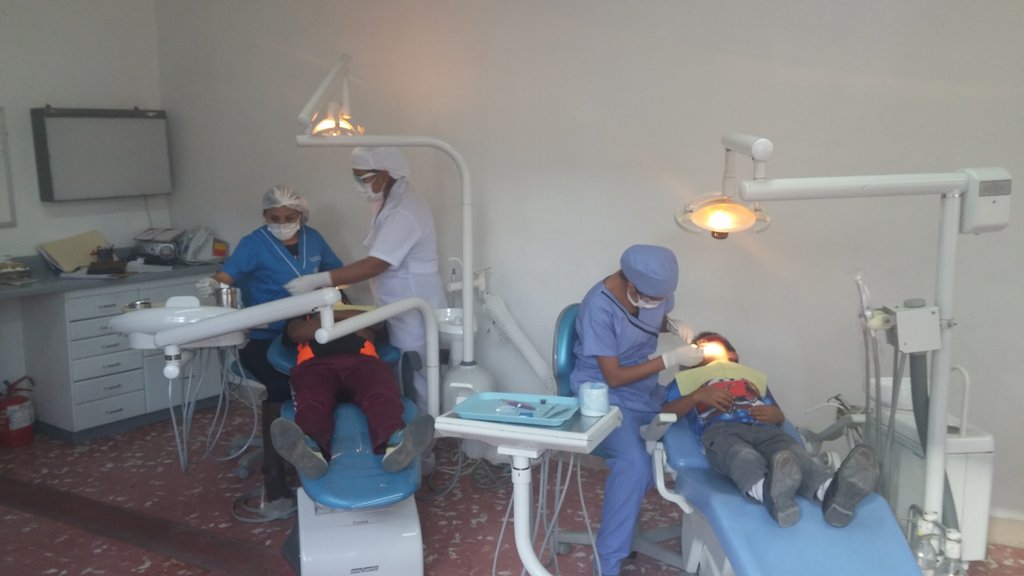 Smiles Forever adds Boys Detox & Detention Shelter to Growing Community Service List
30 boys, children and teens, and another 10 rotating part-time resident boys, are now served by our praise-winning team of dental professionals & dental hygiene students. We really feel uplifted when we go to help the young men who have suffered so much as "street urchins," often involved in serious crimes just in order to survive. Some of the boys are receiving detox treatments. Some of these youth would have carried the "felon" label if it weren't for the mercy of the courts and the benevolent society which opened the doors at Tiquipaya Huasi.
When a shelter is struggling just to offer a roof & food, there is never anything budgeted for dental care. Smiles Forever has stepped in to fill an urgent need. Pictured is Dr. Apata involved first-hand in the assessment and treatment. Often extractions are needed to prevent the spread of decay and to stop infection from becoming systemic. Also, our dental hygienist students learn so much as they assist with cleaning & rinsing procedures & x-rays. Our staff and students help instruct these youth on tooth brushing and decay prevention.
Because of your dollars, Smiles Forever can provide dental care to rescued street children! Thank you!
Girls Benefit at Hogar Del Rey Center
Smiles Forever is not neglecting the girls of Cochabama who have been abandoned or victimized in other ways. Education and therapy and now dental care is available to the children and young women who have seen some of the worst life has to offer. There are a dozen girls with quite a range of ages who are benefiting from the best dental care Cochabamba has to offer. More news coming soon about another new shelter, Estrellas de la Calle, (Stars from the Street), which helps 80 children, and includes family members in drug recovery therapy. I promise I'll send pictures out for the next report!!
Your generosity brings so many smiles in Bolivia where your donations stretch! Muchas Gracias!
Speaking of Making Your Donation Dollars Stretch, On July 15th Donate for a 50% Match From Global Giving
Smiles Forever is proud to be recognized as Superstars with Global Giving. This means on July 15th bonus day, as long as funds last, your ten dollar minimum donation will be converted to $15.00. Your thousand dollar maximum donation will be converted to $1,500! You can give $1,000 to each of our three active projects. Wow would that make a huge difference! The donation window begins at 9:00 a.m. Bolivian time, which is 6:00 a.m. Seattle time for earlybirds. This year the contest is also on www.globalgiving.co.uk with a
Send a Young Bolivian Mother to School for a Year
separate pot of money which may last longer in the day. Feel free to check it out!
Send Homeless Bolivian Woman to School For A Year
I'm in Seattle with my family visiting and to receive care at Seattle Children's Hospital for our adopted daughter, beautiful, lively 6-year-old Gisele. Please feel free to contact me. Sincerely, Sandy