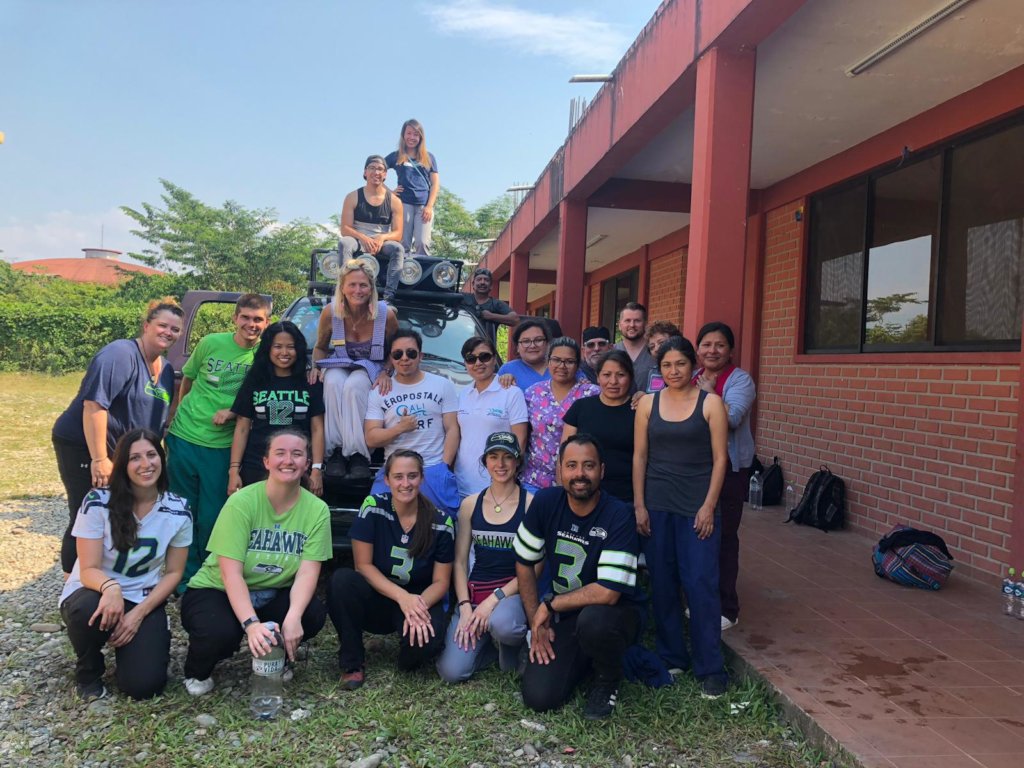 The arrival of spring in September also brings the arrival of Smiles Forever Foundation, The Tooth Fairies, Shoreline College, NODK and UPAL College teams to the Chapare in Cochabamba, Bolivia.
The 5-hour trip from the city to Chapare, specifically Villa Tunari to the Maria del Rosario School, represents a great logistics and investment movement for a common goal ……… to improve the dental health of the children of this school.
For most of the 600 beneficiaries, the program represents their only chance of being treated by a dental hygienist or a dentist within 6 months periods and for some new beneficiaries their first time receiving any type of oral treatment either preventive or restorative.
The conjunction of our work focuses on the application of Silver Diamine Flouride, a product that allows us to eliminate active tooth decay, education in prevention is also carried out, nutrition and tooth brushing, Dental extractions and the beginning of a new stage on the program: Dental extractions and fillings with Glass ionomer Cement and resins that complete the aesthetic part of treatments aimed at permanent teeth.
During our last visit a few days ago we were also part of an informational assembly organized by the school to be able to inform and answer the parents' questions about treatments and dental health of children attending school, the response was better than expected and the commitment is stronger than before. The school and the parents in collaboration with the Smiles Forever Foundation committed to develop a transitioning dietary program to reduce all types of food and beverages that has a high level of sugar for healthier foods and water, which will reflect in the reduction of the rate of new tooth decay in the school. Also, a workshop for local dentists in Villa Tunari was held to train them on the benefits of using silver diamine fluoride in community health set ups, obtaining a high response, positive feedback and adding more components to our work
Being a Smiles Forever supporter means being able to give one of those 600 beneficiaries a chance to receive dental treatment ... your support and donations are very important to us and will allow us to extend our work to more children who are in poor oral health with an average of 8.5 caries per mouth in a range of ages from 3 to 20 years.