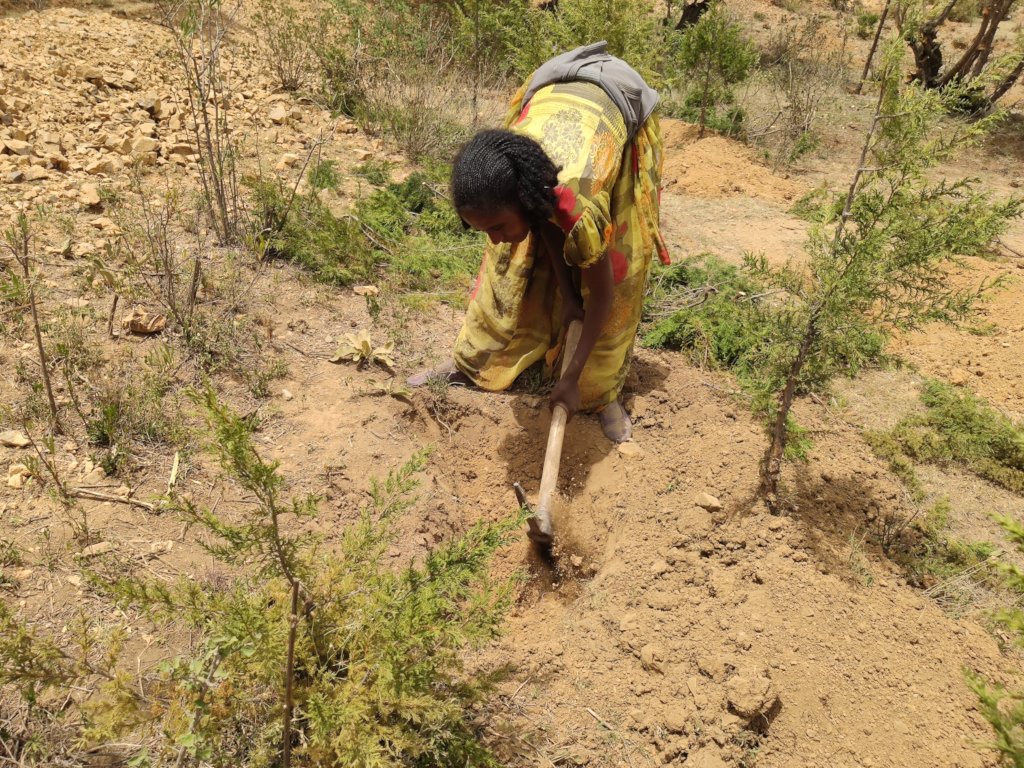 Since war broke out in Tigray in late 2020, the communities and our team have faced considerable challenges. We are delighted to report that not only are they safe, but that despite the restrictions to travel, communication and transport of goods and materials, there has been amazing restoration progress made. The security situation has also improved in recent weeks.
Since January 2021, a further 3632 hectares of forest - a significant overachievement on our original goal of 2800 hectares - has been identified and mapped for restoration. Preparation and planting activity is currently underway. Of these 3632 hectares, conservation zones cover around one third (1127 ha). As well as supporting new trees to grow through ANR, light planting will take place here. The buffer zones cover the remaining 2505 ha and will undergo more intensive planting and restoration including the construction of soil and water infrastructures. So far, 2242 deep trenches covering 9km have been constructed and can hold 6726m³ of rainwater! Stone and soil bunds to reduce soil erosion and filter the water have also been built, and the foundation work is underway to build two gabion check dams - small barriers made of gabion baskets bound together - to slow down water flow.
The rainy season is several weeks late this year, and planting has just begun. Seven tree nurseries are preparing a total of 711,200 seedlings and 275,960 planting pits with micro-basins have been dug in critical zones to conserve rainwater for the new seedlings.
Since January, over 350,000 seedlings planted in 2020 were watered to sustain their growth during the dry season, and nearly 118,000 trees have been pruned. Pruning is an essential part of helping the trees grow faster and has an extra benefit: sustainably harvested firewood. Over 3500 households received the pruned branches that they can use or sell for extra income that could earn a family an extra US$37. It took almost 56,000 donkey loads to transport!.
While progress on restoration has been able to take place, much of the livelihoods programme for generating sustainable income is delayed due to restricted access to local markets to procure equipment and animals (sheep and poultry) while the security situation is unstable. Nevertheless, 1449 households in 4 villages have received solar lamps, and the 'queen-rearing hub' we're establishing to tackle the shortage of bee colonies is well underway. One hectare of land was officially granted to WeForest from Atsbi district, and the site has been prepared with the planting of bee forage species and other trees. Beehives will be installed, together with storage areas and shade, and then the process of splitting existing colonies into two or more hives and rearing new queens for each new colony will begin!
As our project here is long-term until 2030 and WeForest is committed to the communities and activities, any shortfalls in timing or progress will be evened out once the planned activities are able to resume in earnest. Though the core livelihoods programmes were delayed, the communities here were nevertheless the focus of some more immediate and short-term support this year: visit the GlobalGiving page here to find out more.