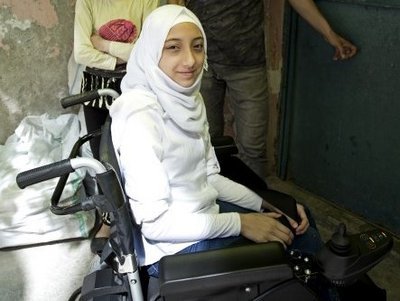 Manar was born with Spina Bifida, a rare congenital malformation of the spine. She is paraplegic. Thanks to our partner organisation Support to Life, Manar now has a wheelchair that she urgently needs in everyday life. Together with her headmaster, our project partner also helped the family to obtain the necessary papers, which, for example, give them access to health services.
We are currently active in the provinces of Istanbul, Mersin, Mardin, Diyarbakir, Batman and Sanliurfa. We distribute relief supplies to the refugees or give them vouchers and money cards with which they provide for themselves.
We offer them psychosocial support and help in individual cases so that they can cope better with the experiences before and during their flight.
Our partners offer courses and workshops to educate refugees about their rights and how to register with the Turkish authorities.
Turkey is home to the largest number of Syrian refugees in the world: almost 3.5 million people, the majority of whom are women and children. Since 2012 we have been helping the refugees in close cooperation with our Turkish partner organisation Support to Life.

Only about ten percent of Syrian refugees in Turkey live in refugee camps run by the Turkish government. The others live all over the country, but above all in Istanbul and the cities in southern Turkey, on the border with Syria.

The Turkish government is trying to integrate the refugees, but they face great challenges. They often do not speak Turkish, find it difficult to find their way around and are therefore often unable to use state services, or only to a limited extent.
Thank you so much for your strong support!
Yours Michael Tuerk