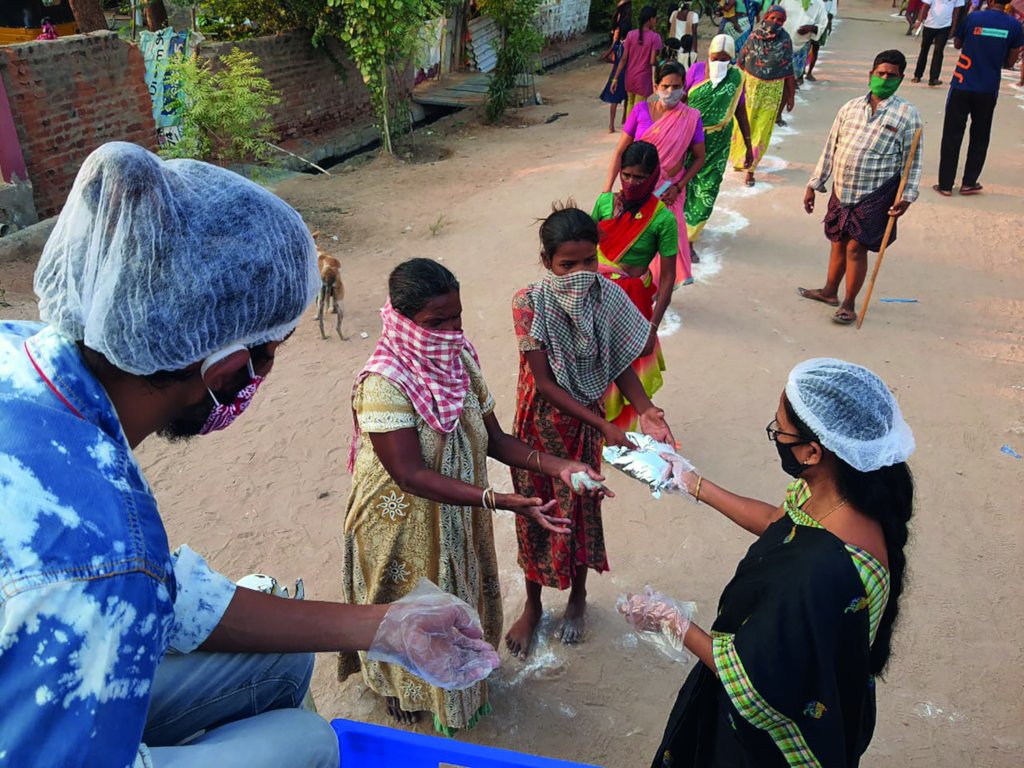 Fundación Vicente Ferrer (FVF) joined the Government at different levels for more effective and quick response to the Corona virus pandemic
Abiding by ours principles - Work beyond duty – the present times demand that we try to push beyond our capacities. That is why Fundación Vicente Ferrer (FVF) have decided to act as a single unit since the beginning of the COVID-19 outbreak in India, using all its resources and expertise to contain and fight this pandemic.
Following the guidelines of the Government and local authorities and answering their request as well as keeping people's needs in mind, we are working in four main areas: Awareness at the grassroots level, health care, food distribution for migrants and day laborers, and production and distribution of preventive materials.
Food distribution for day laborers and migrants
Globally, the impact of the Covid-19 pandemic on people's livelihoods and economy is being devastating, especially among the most vulnerable groups. In India, with a complex socio-economic reality, these effects intensify, leading to a situation of alarm and food insecurity, especially in rural areas, where 69% of the country's population live. More than half has precarious and poorly paid jobs, and depend on daily income.
The lockdown declared by the government by the end of March has deprived these people of their usual livelihoods and many do not have the resources to meet basic needs. Furthermore, measures taken to restrict the movement of people have put thousands of seasonal workers at risk, as many have been unable to return to their villages and have been left without resources in the middle of nowhere.
The priority right now is to provide food and medicine to mitigate the possible consequences of famine during the lockdown, ensuring that people can eat every day. Since March 31, FVF started distributing cooked meals and is providing over than 10.000 individual portions daily to migrants and laborers who have been seriously afected by the confinement. By May 14, the organization had already delivered over than 322.000 food servings. https://vimeo.com/412687928
FVF is also providing food grains and basic provisions to migrants staying at the relief centers, daily workers who have lost their jobs and other people in vulnerable situation, benefiting more than 4,000 families. https://vffusa.networkforgood.com/projects/97419-vff-usa-covid-relief-fund_copy
Healthcare: FVF Hospitals Network and medical infrastructure
Our hospitals were among the first in the region to start a contention plan as per the indications of the Government. All non-essential services in Kalyandurg and Kanekal hospitals have been suspended, and now they work as triage and information points for the population.
FVF Bathalapalli Hospital, in the district of Anantapur, has been designated as a COVID-19 Hospital by local authorities. The organization has made available all of its medical resources, services, facilities, and health workforce to combat the pandemic, and its Mycobateriology Laboratory is operating as a COVID-19 testing center.
Protection for those at the frontline: Masks and hand sanitizer
Until the middle of May, over than 1,900,00 masks, made out of 100% cotton cloth, have been produced by local tailors, volunteers and women artisans from the FVF fair trade workshops. To meet demand, our staff hold workshops at the village level for those who have a stitching machine, so each family and community can be self-reliant and make their own masks. The masks are distributed free of cost among FVF staff working on field as well as to police officers and other public officials on duty. The production will continue as far as there is demand.
FVF Hospitals are also making masks for their own team. Bathalapalli Hospital is also producing 1,000 liters of alcohol-based solution per week for its staff and patients as well as government workers on field.
Awareness at the grassroots level
FVF grassroots staff, working in eight regions, are putting all their efforts in awareness, using materials as pamphlets and posters, as well as other resources such as music, wall paintings or theatre plays.
We do not know when this pandemic will finish, but we will do everything in our power to alleviate the suffering of those who are in most need. Join our efforts in the fight against COVID-19 in India. Together, we can fight this global emergency and meet the challenge of leaving no one behind.