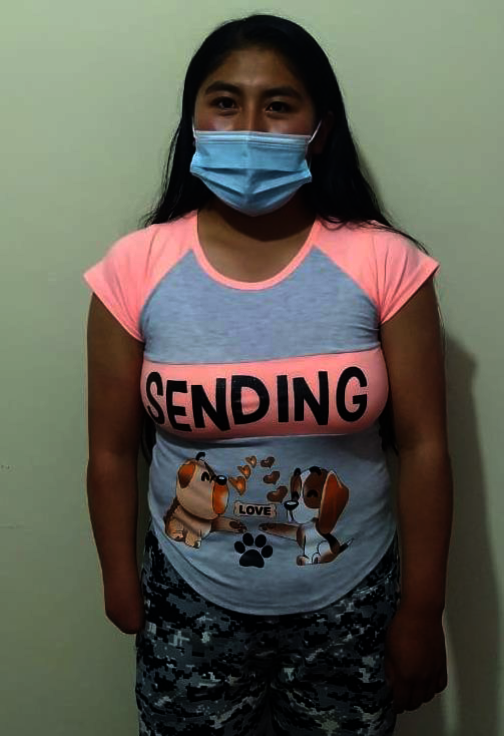 Mariana accepted to share the story of her childhood. She grew up in a small town in Bolivia and studied up until the fourth grade. She had many friends with whom she played with balls and dolls. As a child, she wanted to become a music teacher and a journalist and she really enjoyed dancing and singing.
Unfortunately, she had a horrible accident only days after she started working at her new job. She worked in a sawmill and due to the lack of safety equipment she cut off her own hand.
After the accident, her father, who now has to support Mariana, accompanied her to the prosthetic office of our Bolivian partner. He explained that after finishing school, she decided to work to save for college and be able to help her family financially. But the horrible accident destroyed her dreams and plans.
Mariana both expected everything and nothing from life, as she was only a student when the accident happened. It was tough for her loving father to see his young daughter at the hospital without a hand, while she still had her entire life to live.
After the accident, Mariana did not want to live anymore. She felt depressed and sad. Worst of all, she was not able to support her parents because of her missing hand. But as time went by, she realized that "life is full of adversities". Because of the accident, Mariana saw how difficult it is to have to depend on a person to do simple activities. Sometimes, Mariana's sister has to help her brush her hair because she cannot manage it on her own.
Mariana now dreams of studying petrochemistry and finding a job to help her parents. She imagines that a prosthesis would boost her confidence because, without a hand, she often feels discouraged. She describes how sometimes, people stare at her which discourages her from going out on the street. With a prosthesis, Mariana will be more independent and she will be able to lift objects and go to university.
"A prosthesis will open doors for her"– Mariana's Father
She sees herself as a punctual and responsible person as well as a dreamer. We at Bolivians Without Disabilities were moved by her story and donated a functional forearm to Mariana on April 27, 2021. She then told us that one of the first things she would do with her new arm would be to write again!
Mariana said:
"I can't wait to practice with my prosthesis, I can't wait to show it to my family. I will be able to lift some things, carry some objects in my hand like my keys, grab a glass and drink water. I am very excited to start using it."– Mariana
Indeed, Mariana sent us a very touching picture of her sharing a meal with her family and lifting a piece of bread soon after. This may seem like something incredibly simple, but she did it with the brightest smile you could imagine.
Mariana and her mother are very grateful for BWD:
"Thank you very much! May god bless you very much. The prosthesis will help me a lot, the most important thing is that I will be able to look for a job with more confidence and security above all. And I repeat, thank you for supporting me with this prosthesis."
– Mariana (May 13th, 2021)