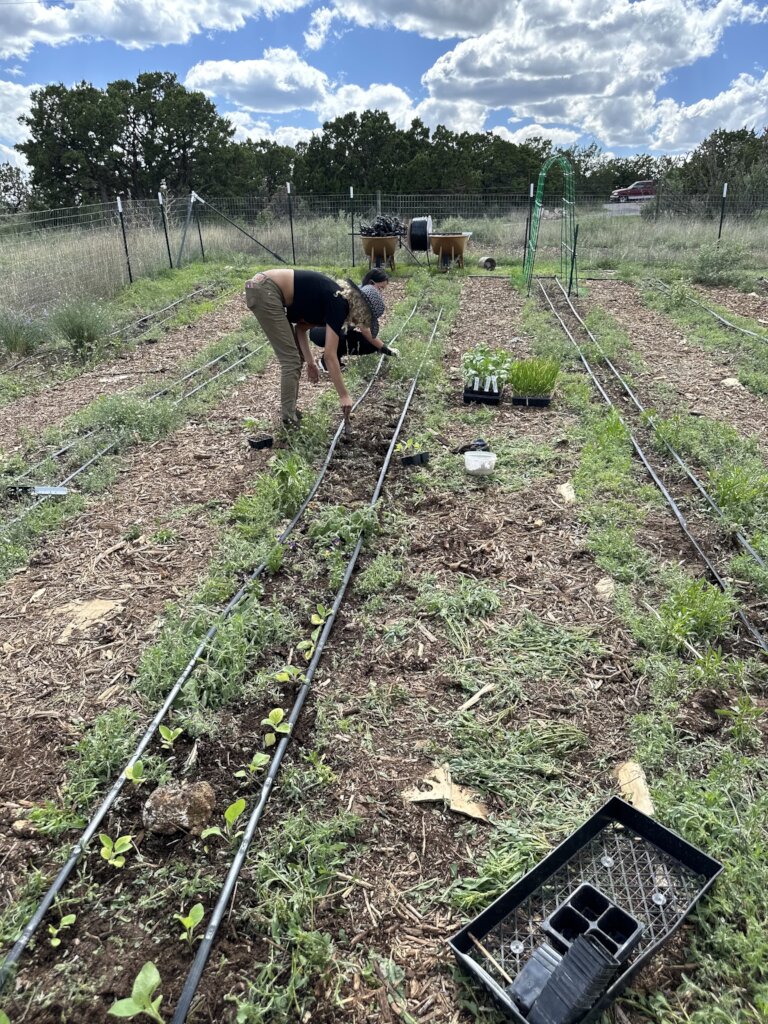 Hello Friends!
Together with 18 other donors you have raised $634.68 in a few short months! Thank you! Because of you we will have fresh nutritious food to distribute to community members in need.
Our first season at the Mutual Aid Farm in the high desert of New Mexico is bursting with life, and we are thrilled to share all that is growing at the farm under the loving stewardship of our Community Care Director Serpentina, a gender nonconforming Queer Peruvian farmer and herbalist.
Back in March we started to prepare the land for planting. The land needed some TLC to prep it for the seedlings, and setting up a new farm meant purchasing the tools we needed to get to work. Thank you for your generous donations that made these farm tool purchases possible!
Next we had to solve the challenge of water scarcity. Drought in the high desert and at a time of increasing climate change required innovative solutions. To create a sustainable irrigation system, we chose drip irrigation to deliver water to thirsty seedlings and to not waste any of that precious water to evaporation. Thanks to you, we were able to purchase the drip tape we needed in the high desert!
To further protect the water we use, Serpentina turned to the traditional and cost effective technique called cardboard mulching that repurposes recycled boxes to create a natural barrier for the earth from the sun and minimizes weeds- win-win!
Together, drip irrigation and cardboard mulching keep our seedlings thriving and conserve precious water to safeguard our growing crops against infrequent rains and drought during climate change.
Next up was choosing seedlings that would thrive in these dry high desert conditions and provide healthy culturally aligned food to community members at the Fall harvest . Thanks to your support we purchased over 1,000 seedlings, with crops including chiles, tomatoes, squash, onions, and more.
We were so excited to get to work to get these plant babies into the earth.
In solidarity, local community farms stepped up to support our newMutual Aid Farm and donated seedlings. (Shout out to One Straw Farm and Agua Fria Nursery and to you - whose donations paid for the gas for Serpentina to make the long round trip drive in our car.
The Mutual Aid Farm requires a lot of labor and love. Working with people who know, love and respect the land is a huge part of our mission to not only grow food but to nourish community. Thanks to your donations, Serpentina has been able to hire a vibrant team of three additional Indigenous farmers! As our farm crew moves through our first summer,, we want to highlight and thank Adele, Liana, and Boggar!
Together our Farm Crew tends to the Mutual Aid Farm by preparing the soil, weeding without toxic pesticides, planting new seedlings as ripened vegetables are harvested , maintaining the drop irrigation lines and keeping an ever vigilant eye out for hungry pests.


We know that the news is full of climate storms and fires and that climate change has really exacerbated the already existing crisis of food scarcity.
Across New Mexico, climate change has brought drought and extreme rains that have made planting and harvesting even more difficult. We, too, had a real scare at the Farm. On June 1, the farm was unexpectedly hit by an intense hail storm that poured down on our newly planted seedlings. Watching the pellets of hail beat down on the crops we had just planted was devastating. We worried deeply about the survival of the Farm and seedlings and feel connected to and compassionate for others facing increasingly severe weather's harmful impact on food sovereignty across the world.
Our Mutual Aid Farm Steward Serpentina shared words from the storm:
"I just wanted to share with the community my heart break. Yesterday, the Seeding team picked up many seedlings to plant today. After a perfect day of planting and working on the farm we clocked out. Then, by surprise, it hailed for 20 minutes straight. This is climate crisis.
Some seedlings might not make it due to this extreme, unpredictable weather event. Seeing all the hard work the Seeding team accomplished to then just be destroyed brought me to tears. This is NOT normal for this part of the world or season. I can't help but to think about the rise of food prices and food insecurity our frontline communities will experience."
- Serpentina Sanchez, Community Care Coordinator
Luckily, the farm and most of the crops made it through the storm! Farming during the climate crisis demands adaptability and planning and we know that this time we were lucky. Since then, we have tended those remaining seedlings with love and care, and have been thrilled to watch them thrive.
It's been a busy first growing season at the Mutual Aid Farm and we can't wait to share our next update from our first harvest. We wish you could all come in-person to see the beautiful growth and resilience of the farm - and local farmers - here in the high desert of New Mexico – it is truly inspiring.
Meanwhile, we will share more updates here and please follow along for our "From The Farm" weekly updates on Instagram @seedingsovereignty Watching the seedlings grow and produce food is so nourishing - for mind, body, and soul. It's a life lesson right before our eyes. And knowing that this food will be distributed to those in need makes our hearts full. Thank you for making this possible!
In Gratitude and Solidarity,
The Seeding Sovereignty team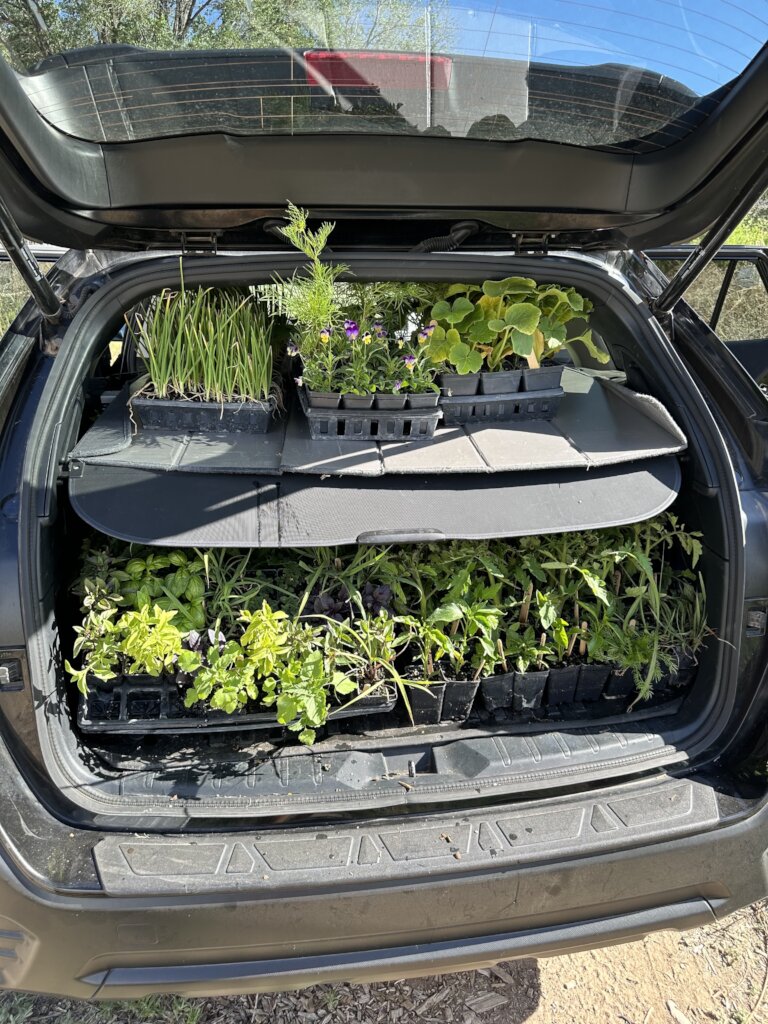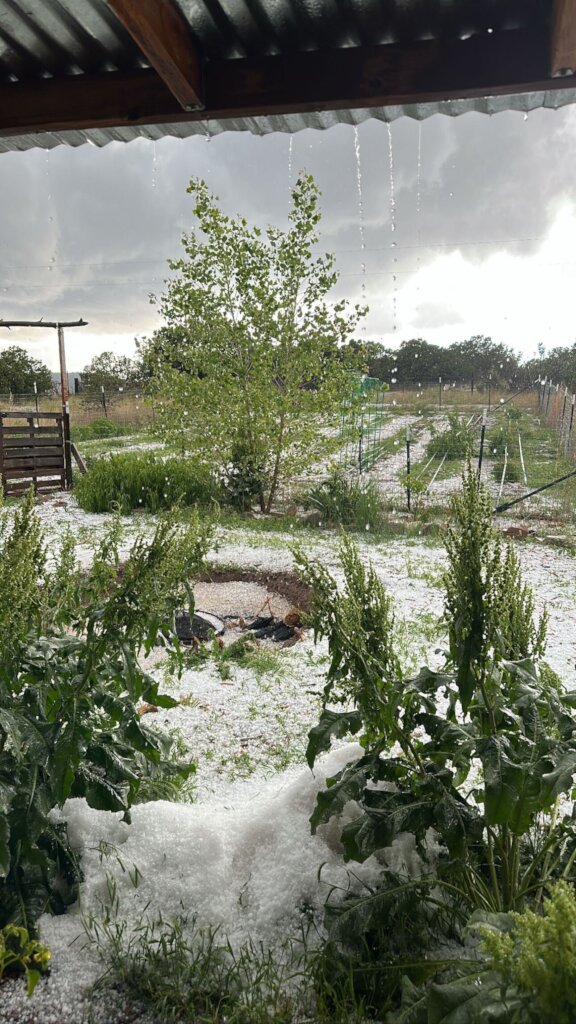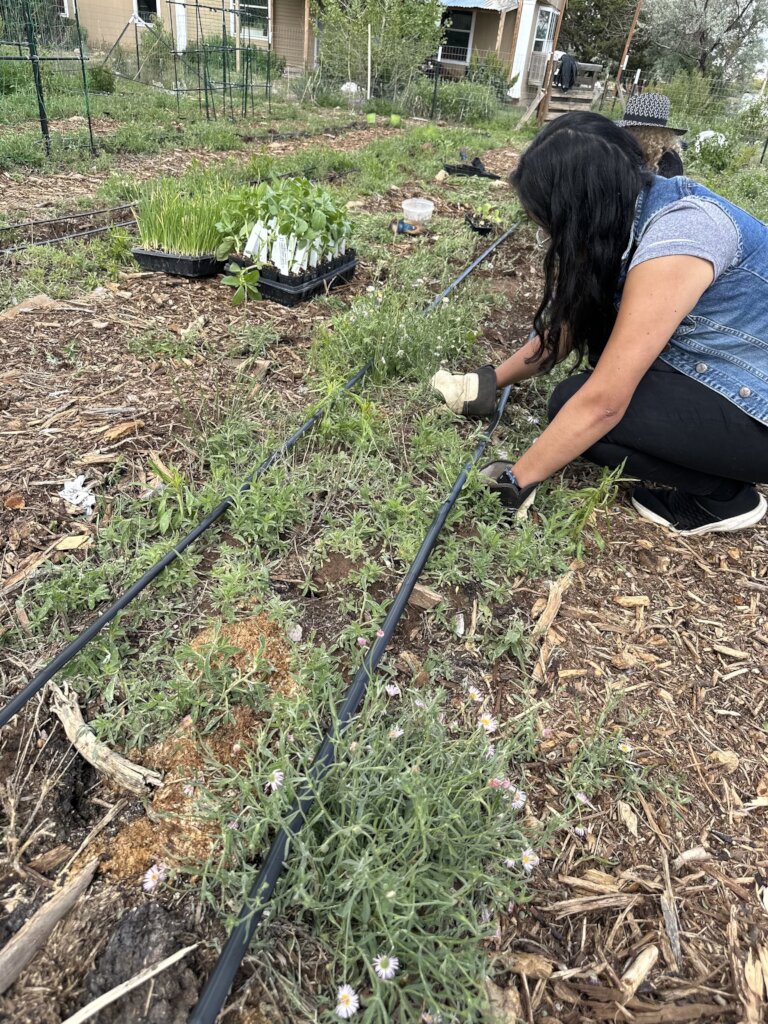 Links: