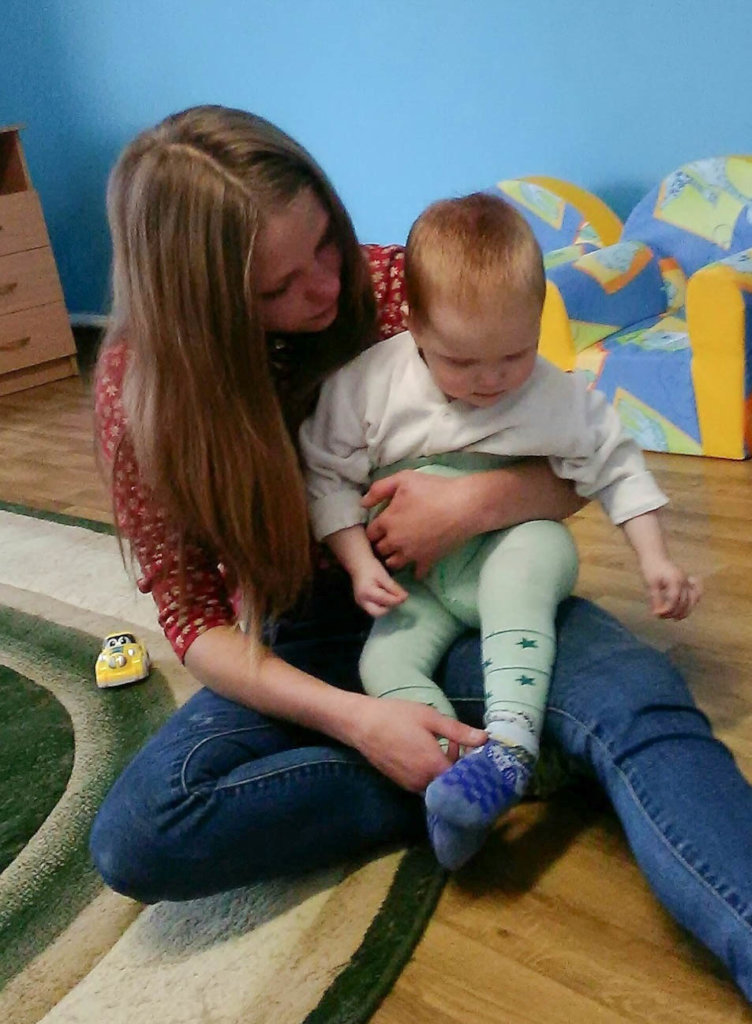 Tanya* had a baby when she was 15. She stayed together with the father of her child for a year. Then the man waived his fatherly responsibilities and kicked Tanya and her son out of the apartment.

The young woman went back to live with her father and stepmother, and soon placed her son Roma in an orphanage.

She is now 17 years old, and her baby has spent almost a year in a state-run institution.

When raising her son Tanya had to face a lot of difficulties. The girl would often clash with her stepmother. She studied poorly, and college teachers considered Tanya incapable of learning. She skipped a lot of classes and she fell behind on many subjects.

As Tanya had a baby before reaching legal majority, the guardianship authorities took her and her son under supervision, and then, taking into account her dire circumstances, suggested that Tanya should place her boy in a children's home for a year. Tanya agreed and took Roma to an orphanage. The young mother would almost never visit her son and, according to the staff of the institution, and she did not take any interest in him. The guardianship authority considered the situation hopeless. The experts were sure that the baby would be better off in the children's home.

Meanwhile, though, Tanya was attending meetings at the parenting club organized by "Our Children" Fund, where she met Kristina Yakusevich, who is a psychologist.

From the Fund's many years experience, we know that the vast majority of mothers miss their children who are in orphanages, and yearn to be with them. For various reasons, they cannot raise children, so they begin to relive their own grief and failure through destructive behaviour. Tanya was no exception.

As it turned out, Tanya grew up in a family of addicts. Her parents were alcoholics. When they were little, Tanya and her brother would be regularly taken to social rehabilitation centres. their parents were restricted in their rights. They would be reinstated in them from time to time. The children would be sent back home, but the situation kept repeating. Tanya and her younger brother lived in state-run rehabilitation centres for more than three years in total!

Unfortunately, girls from struggling families often begin early sexual life. It is because they experience a constant need for physical intimacy and try to prove to themselves that they can be loved and needed by at least someone. Sometimes, as in the case of Tanya, this leads to pregnancy.

We found out that Tanyahas never been in psychotherapy, though she had an extremely low self-esteem. In the family, the girl would be constantly rebuked and never praised. After Roma's birth, her parents built up such a feeling of guilt and shame in her that she could hardly deal with them on her own. So Tanya followed the well-trodden path she knew well from childhood: bitterness and indifference to everything.

Our psychologist took the opportunity to work on Tanya's case in the framework of Stick Together program. With the support of the specialist, Tanya gradually grew through the feelings of resentment towards her parents, reflected on anxiety and the sense of personal boundaries, emotions and affection. In addition to working in the parenting club, the psychologist held about 30 personal counselling sessions with Tanya.

In the course of this period, the girl has changed: she started to dress more neatly and take care of her appearance. She improved her performance in college and is now taking an active part in her college life; she stopped being rude to teachers, and learned to find compromise solutions. She improved relationships with her father and stepmother. Tanya learned to plan her day and build long-term plans. In the summer she got a job as a seamstress, decided to transfer to the correspondence department and combine work with study.

And most importantly, Tanya began visiting her son every weekend! As it turned out, the girl had not visited the child not because she was indifferent to him, but because she was not able to build a dialogue with the staff of the institution, and did not know anything about her maternal rights.

Guardianship authorities were sceptical of Tanya's decision to take her son out of the orphanage. The main argument against this was that Tanya is a minor and cannot cope without full support.

Therefore, the psychologist of the fund contacted the protégé's parents. Tanya's father agreed to help his daughter with groceries, redecorated his three-room apartment and allowed his daughter and her grandson to live in it. Her mother promised to help pay utility bills. We also involved the assistance of the Fund's lawyer, who explained Tanya's rights to her and explained how to receive child support from the child's father.

At the end of summer, little Roma returned from the orphanage to his mother. Now they are together again, as it should be.

* The names have been changed.