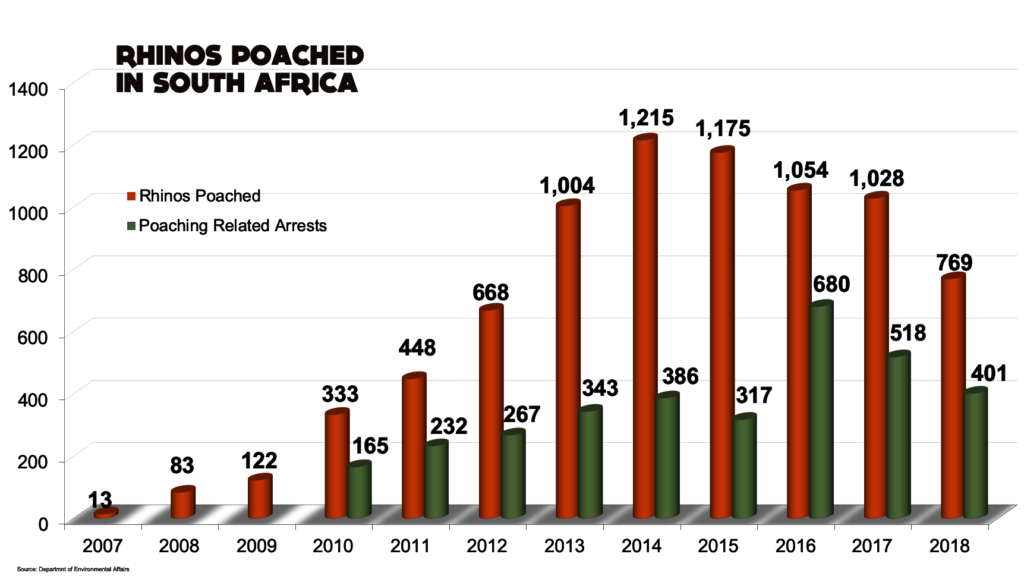 Greetings and Happy Holidays to All!
We are writing at this time of the year to share with you some really great news: Rhino poaching has been dropping! This has been happening steadily over the last four years and it seems that 2019 may be on track to have the lowest number of rhinos poached in nearly a decade.
During the first half of 2019, the most recent statistics that the government of South Africa has released, the number of rhino poached across the entire country was 318. This number marks a nearly a 25% reduction when compared to the same period in 2018 when 386 rhino were killed for their horns. If this same trend continues through the rest of the year, we will be on pace to have the lowest number of poached rhinos in South Africa since 2011.
The poaching peaked in 2014 with a whopping 1,215 rhino killed. This year we may be about half that, which is a really welcome reprieve.
There are many factors that are contributing to this decline in rhino poaching - better enforcement of confiscation of smuggled illegal rhino horn into China, possibly decreased demand in Asia, better detection in the US, and importantly better anti-poaching patrols the last few years.
One of the most effective and most important of the anti-poaching patrols is of course The Black Mambas Anti-Poaching Unit of South Africa!
We are so blessed to be able to collaborate with and support the Mambas, as they have certainly been a part of the dramatic drop in rhino poaching in South Africa.
Thank you for your continued support of their work! All your donations go to them in the field!
Happy New Year to you and your family.