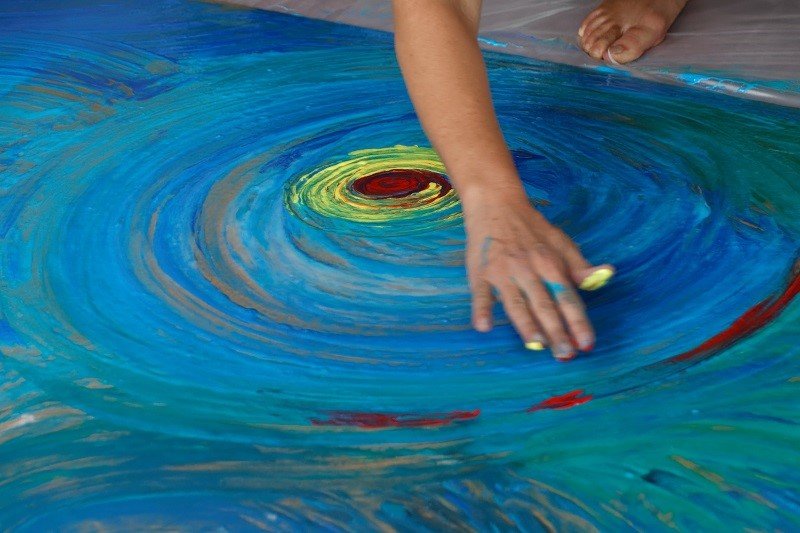 Due to the ongoing Covid situation we are still unfortunately unable to hold any live events and have therefore focused more on other activities.

For the 4th quarter of 2020 we would like to report on 3 topics
1. Our partnership with the JoMa project
2. A review we published on the book: "Fast Forward, How Women can Achieve Power and Purpose"
3. An update on a project of our partner Bridge of Hope
____________________________________
1. Partnership with the JoMa project
With this article we want to draw attention to a new partnership and at the same time introduce our new partner – the JoMa-Projekt.
The JoMa project is a registered non-profit association. The competence of the association lies in the combination of its own concern as parents of terminally ill and deceased children and the many years of professional experience as specialists in the support of such families. The association is networked with other organizations, such as outpatient children's hospice services and the children's palliative care unit at the Großhadern Clinic. It is a member of the Munich Pediatric Palliative Care Working Group, and conducts some of its seminars in cooperation with the German Children's Hospice Association. As an educational institution, the association is a founding member of the Federal Working Group of Children's Hospice Academies.
How it all started
It all started with Joshua and Maren, two children who courageously fought for their lives and took their own paths. Their parents, Marion and Tobias and Christine, initiated the JoMa project and founded it together with specialists.
The goals
The aim of the association is to strengthen and stabilize families through psychosocial support concept. The association wants to be a place of encounter, where exchange and learning from one other is possible and hands reach out to each other.
The target groups
The JoMa project supports families with terminally ill and severely disabled children. In Germany, there are about 50,000 children and young people with incurable, terminal diseases. These are metabolic, neurological and muscular diseases for which even modern medicine knows no therapies. What they all have in common is that the children and adolescents require intensive care for many years, repeated crises lead to deterioration and eventually death.
What kind of problem is the association actively addressing?
The diagnosis is a traumatic experience for all family members. All future plans and dreams are shattered, their entire life is changed.
Everyday life of affected families is characterized by constant worry, intensivecare and a desperate struggle for help for their particular situation.
Some families have an entire intensive care unit with feeding tube, ventilator and monitoring systems at home. Each visit to the doctor and frequent hospitalizations upset a painstakingly maintained order. Fear and worry about the child become constant companions. For example, common infections can be fatal.
Families with terminally ill and severely disabled children are usually lone fighters, desperately struggling to find a bearable daily life and a viable path.
Especially after diagnosis, crisis situations, or after death, professional support is necessary. But help here is patchy. For severely handicapped children and adolescents, there are currently no therapy concepts for dealing/coping with the situation. This is exactly where the JoMa project comes in. The illness and death of a child cannot be averted, but perspectives for action and ways to shape and cope with this fate can be found.
Professional accompaniment by specialists means regaining control in an otherwise powerlesslife situation, activating resources, strengthening the ability to act, coping.
The JoMa support concept consists of various elements: Individual interviews, Encounters, Seminars (multi-day), Grief counseling, Trauma Processing
Principles of the JoMa-Project
JoMA does not see affected families as "problem families", but as "normal" families who have been hit by a hard fate. They are strong systems with amazing resources that contain the strength to master their fate.
The life of these families is not exclusively determined by dark, heavy emotions. On the other hand, families can experience moments of deep joy, shared laughter, moments of extraordinary intensity. They develop special strengths and their very own ways of coping with the fate of a terminally ill child.
JoMa sees these small traces of happiness as a strength-giving resource and focuses on them in its work so that families can consciously discover and use them.
JoMa combines trauma-therapeutic building blocks, various creative methods, art-therapeutic elements and Green Care into a visualizable, experienceable and strengthening concept of action and preventively effective support. JoMa uses supportive aspects of social group work and self-help.
The families are the clients of the JoMa project.
JoMa accompanies each on their own unique path, listens, jointly endures and offers a hand. JoMa is at the side of the families.
That is why the slogan of the association is: We accompany life.
The JoMa support concept means prevention, stabilization andstrengthening.
The JoMa project is exclusively financed by donations.
_____________________________________
2. Book-review: "Fast Forward, How Women can Achieve Power and Purpose", by Melanne Verveer and Kim K. Azzarelli
What does it mean to be a strong woman? To be a woman with a purpose in life, who leaves her mark, who serves as a role model for other women? A woman who is successful not only for herself, but who reaches out to other women and helps them find success and prosperity themselves.
It is undisputed that women's rights have received more attention in the last decades and that society is slowly beginning to change. But, while we are still along way from real equality, women also need female role models who exemplify how women can fully develop their potential and thereby exert apositive influence on society. What does this female form of success look like?
As more and more women hold important positions, they can use their new influence to achieve a common goal: to support other women in their advancement thus achieving real social change. This is very different from the "old boys network" where positions and deals were made in back rooms, an area where women were denied entry. As it is more than obvious that there is still more than enough inequality, prejudice, discrimination and even violence against women, it is time to bring about sustainable social change. This can only be done by women who themselves, as "icebreakers", have broken down the old dams and paved a way for other women. The path to economic, social, and physical equality may still be a long one, but one that leads to a better society. A society in which men and women meet and work together as equals, combining their talents and strengths. A society in which economically independent women can lead better and freer marriages, characterized by true partnership and not by economic dependency.
The authors explore these questions and have traced the lives and success stories of women who, although they lived very different circumstances (geographically, economically and in terms of their education), were all pioneers. Names include Ruth Bader Ginsberg, the iconic U.S. Supreme Court Justice; Hillary Rodham Clinton, former U.S. Secretary of State and presidential candidate; microcredit pioneer Muhammad Yunus, who made history with his guiding principle, "Give a woman a loan, and the next thing you know, she has lifted her entire family and village out of poverty," and the Grameen Bank he founded. Countless other examples of women in high leadership positions, scientists, women's rights activists, spiritual leaders, inventors, etc. provide impetus and food for thought and imitation.
What unites all these role models that this book highlights, is inspiration and enthusiasm that can be derived from their life stories, as well as the conviction tha twe can all take a step in their shoes and become more successful and realize our own potential, regardless of our gender and background.
____________________________________
3. Update on a project of our partner Bridge of Hope
We received some very good news from Arnd, founder of Bridge of Hope:
"…with the financial support from Ethica Rationalis beds for over 50 children have been provided. Many thanks again for that!"
Here is a photo of the final result:
New girls' dormitory for LEA Ministry Primary School in Dongobesh