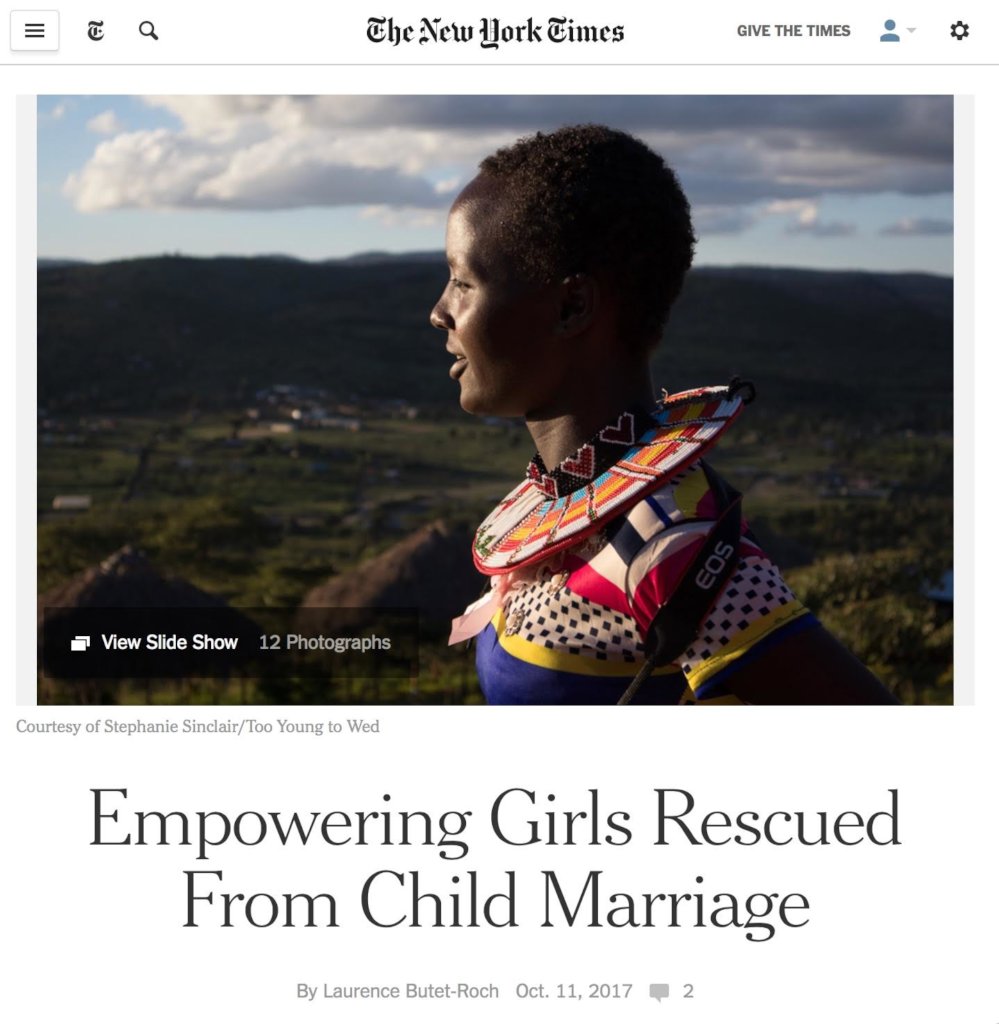 Dear Friend of Too Young to Wed,
We appreciate every dollar donated to us through the generosity of people like you. Your support has allowed us to wake the world up to the tragedy of child marriage, which affects 1 in 3 girls in countries in the developing world, and provide much-needed assistance to girls escaping from or threatened by this and other harmful practices.
Unfortunately, we were unable to reach our fundraising goal through our initial campaign. Happily, however, our corporate sponsors stepped in to help us complete our 2017 goals, including our friends at Canon, who closed the funding gap by sponsoring our second photography workshop in Kenya this past summer.
This latest workshop brought together 18 teenage girls, all survivors of child marriage, in an empowering retreat setting where they worked together telling their own stories, overcoming trauma, and learning skills to become tomorrow's leaders in the fight for girls' rights. They were then able to take these skills back to their communities and share them with others, furthering our reach and allowing us, through these amazing young women, to influence an even greater number of girls to gain confidence and the knowledge that they are all valuable members of their communities.
For a closer look at how your hard-earned dollars are being used, I urge you to spend a few minutes watching our powerful short film from the workshop: Tehani Photo Workshop 2017.
So that we can continue offering these life-changing workshops for the brave young survivors of child marriage, we will keep our GlobalGiving campaign open in the coming months. We're currently planning two new photography workshops in 2018, providing additional women and girls the opportunity to learn a skill, discover how to express themselves, gain the tools necessary to manage their trauma, and advocate for themselves and others like them.
We are also extremely excited to share the news that Too Young to Wed will be sponsoring a visit to the United States by two escapees of the militant Islamist group Boko Haram. During International Women's Month this March, Hawa and Yakaka will participate in a week of events designed to celebrate their courage and determination to tell the world their stories. In Washington D.C. they will have the opportunity to meet with all twenty-one women US Senators and several US Congresswomen to share their experiences. Afterwards, the girls will travel to New York City, where they will be the featured guests at Too Young to Wed's Inaugural Annual Gala.
Other noteworthy events that occurred this year include having ten of the girls' workshop photographs selected to be part of the prestigious World Press Photo exhibition, currently on display through November 26 at Washington, D.C.'s DuPont Underground. Our friends at Canon also recently presented the girls' images in a lovely display at the PhotoPlus World Expo in New York City. These amazing opportunities bring additional awareness to the tragedy of child marriage and the work Too Young to Wed and our partner organizations are doing to improve their lives.
Too Young to Wed was also recently featured in the New York Times' article "Empowering Girls Rescued From Child Marriage," and has appeared numerous times on the Instagram feeds of National Geographic, which reaches almost 83 million followers, World Press Photo, reaching nearly 1 million, and the Photo Society, which has a following of 5 million.
To keep abreast of all our activities at TYTW please click HERE to be subscribed to our newsletter.
AND DON'T FORGET: next Tuesday, November 28, is #GivingTuesday, when all gifts made to our campaign to end child marriage will be matched by Global Giving! Please consider making a gift and sharing your support for our initiative.
Thank you for your past support and continued interest in our work! We wish you a wonderful Thanksgiving holiday surrounded by family and people you love!
Warmest regards,
Stephanie Sinclair
Founder & Executive Director