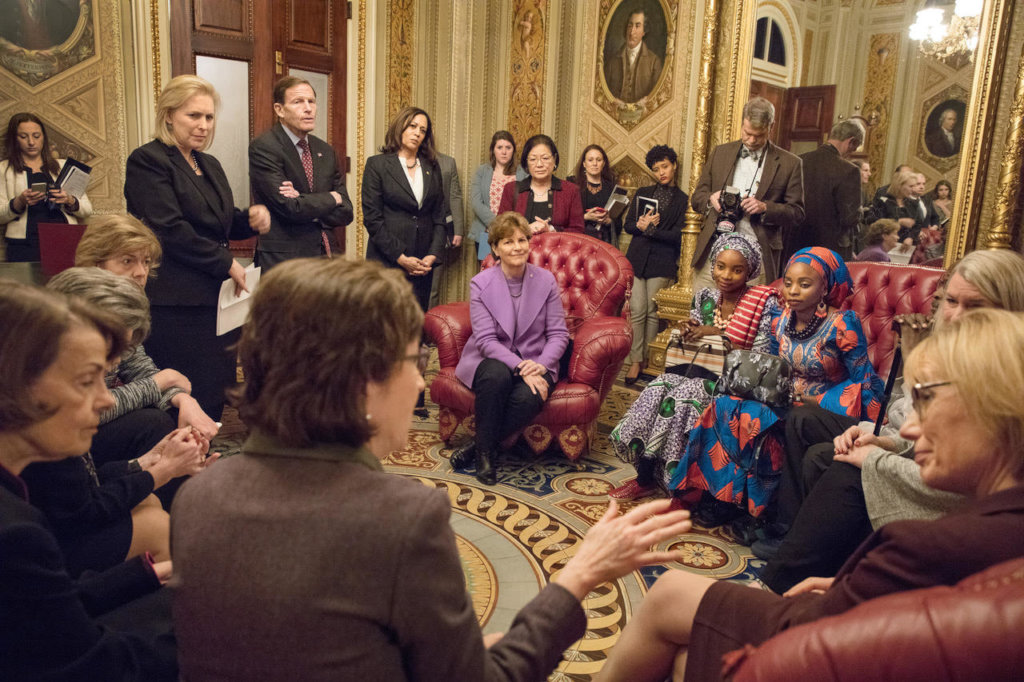 Hello Too Young to Wed supporters!
We are so grateful every day for the support of each and every one of you, especially these last few weeks as we have heard from so many following the incredible success of the visit of two of our Nigerian scholarship recipients, former Boko Haram brides Ya Kaka and Hauwa. As we shared in our last report, these brave young women, featured in our 2017 multimedia piece "Child, Bride, Mother: Nigeria," traveled to the United States in March for a series of events in Washington, D.C., and New York City, and were the guests of honor at TYTW's Inaugural Gala on International Women's Day.
During their time in Washington, Hauwa and Ya Kaka were welcomed by over three dozen members of Congress at bipartisan events held in both the Senate and House of Representatives. Senators Kirsten Gillibrand (D-NY) and Susan Collins (R-ME), and Representative Frederica Wilson (D-FL) hosted the girls in their respective Houses and offered them an opportunity to speak directly to our lawmakers, sharing their stories of abduction, escape, loss, and survival, and personalizing the terror that Boko Haram introduced into their lives. During meetings at the Department of State, Ya Kaka and Hauwa were able to provide vital information to staff members working to provide relief to the areas impacted the most – letting these individuals know what services and programs would be the most beneficial to others like themselves.
Hauwa and Ya Kaka's trip continued in New York City, where they participated in several panel discussions at the United Nations Commission on the Status of Women and met with representatives of the United Nations Population Fund and UNICEF. Sharing their stories at these events and in the media, including an interview with PBS Newshour, brings their message to a larger and more global audience, garnering additional support for the efforts needed to help survivors create better lives for themselves. We hope to partner with these organizations to develop programs which will identify the needs of survivors like Ya Kaka and Hauwa and ensure that help is on the way.
We are excited to share that these meetings resulted in the recent introduction of a bipartisan Senate resolution condemning the actions of Boko Haram and urging the United States government to work quickly and effectively to enact measures to defeat Boko Haram and to provide much-needed survivor support to the girls who have suffered so much at their hands. A similar resolution was introduced in the House of Representatives.
TYTW's mission is to protect girls' rights and end child marriage. One of the best ways we can accomplish both is by empowering girls to become advocates for themselves and for others like them. Hauwa and Ya Kaka's visit to the United States was the next step in their journey and, with your help, we can take them even further. We are planning our next Tehani Photo Workshop to take place in Northern Nigeria, where Ya Kaka and Hauwa will act as mentors for other Boko Haram survivors as they experience the healing power of art as therapy, learn coping techniques to manage their trauma, and are empowered to become role models within their communities and in the fight against child marriage.
How can you help? To support Hauwa, Ya Kaka, and the thousands of girls still missing in Nigeria, please contact your representatives to ask that they add their names to the proposed resolutions - let them know they have your support as we seek to get these resolutions passed. And keep TYTW in mind as you plan your charitable giving this spring. With every donation, we move closer to being able to provide our next workshop to deserving girls around the world, and with your help, we are confident that we will soon be reporting from Tehani Photo Workshop #3!