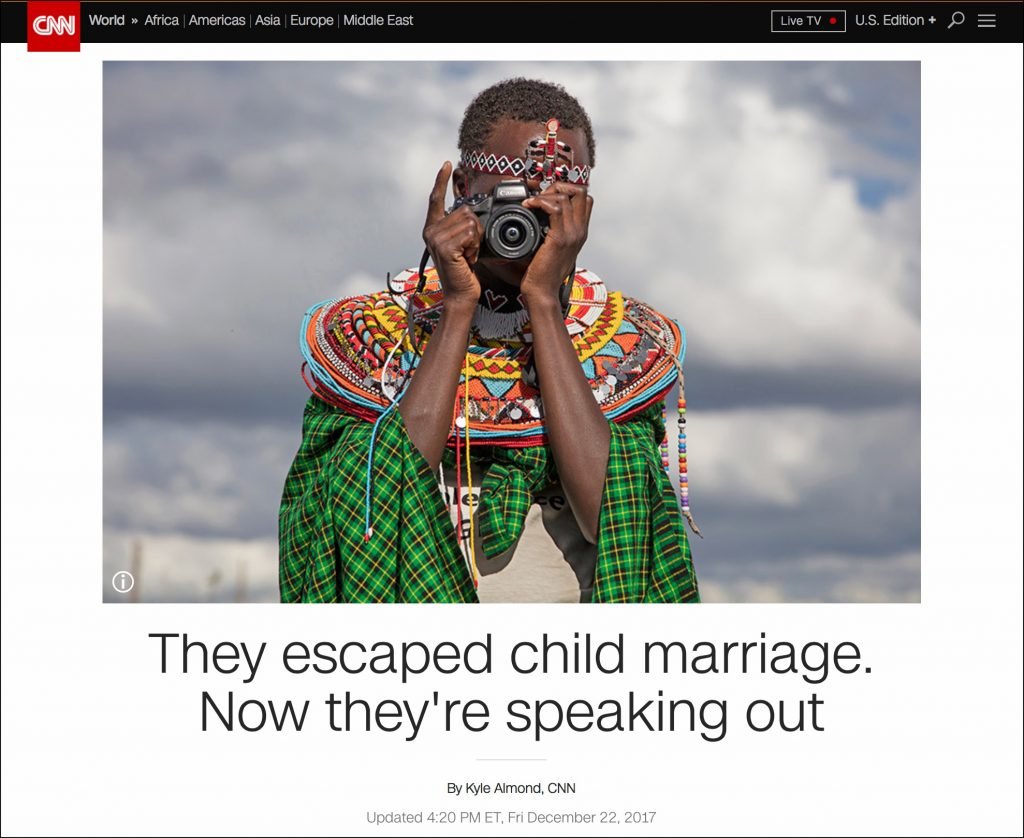 As a bright new year begins, Too Young to Wed (TYTW) would like to thank you for your tremendous support throughout 2017, our biggest year yet for helping child brides share their stories with the world to inspire people everywhere to act to help end early, child, and forced marriage, and to protect girls' rights.
Back in January 2017, TYTW founder Stephanie Sinclair highlighted the dangerous lives of girls in the developing world as part of National Geographic's powerful "Gender Revolution" issue. Her photo of nine-year-old Aarti from the series was named as one of the magazine's Best Pictures of 2017. That same month, The New York Times featured our groundbreaking transmedia project on Nigerian teens who had escaped captivity and forced marriage at the hands of Boko Haram.
TYTW's devotion to advocacy through storytelling continued throughout the year in global publications and a variety of film festivals and photography exhibits, the largest being the inaugural exhibition in the new gallery space atop Paris' Grande Arche de la Defense. For four months, the awe-inspiring gallery showcased larger-than-life TYTW prints, including one of three Boko Hara survivors, which hung like massive tapestry from the ceiling, giving the girls an inescapable presence in the room. Several TYTW images are also part of an exciting new exhibition called Women Photograph Women, which opened at the end of December at the Centro Internazionale di Fotografia in Palermo, Italy.
In August, Sinclair and several TYTW supporters traveled to Maralal, Kenya, for our second Tehani Photo Workshop, named for an eight-year-old bride in Yemen. The five-day workshop, generously supported this year by our friends at Canon USA, provides child marriage survivors an opportunity to learn basic documentary photography skills, and also helps girls acquire tools to manage their trauma, express themselves, advocate for girls' rights, and become mentors in subsequent workshops and in their communities.
In November, images shot by participants and mentors from this year's workshop were included in the month-long World Press Photo exhibit in Washington, D.C., sponsored by Lightscape D.C. The exhibition also included several of Sinclair's TYTW images from her 2017 International Women's Media Foundation's Anja Niedringhaus Courage in Photojournalism Award. The workshop participants' stories were also featured in The New York Times, Refinery29, and National Geographic's Instagram page, reaching tens of millions of viewers worldwide as the year concluded.
Your generous support also funded TYTW's outreach program, which included renewing educational scholarships for girls in Nepal and Kenya, and founding new ones in Nigeria.
We are thrilled to share the news that two of our scholarship recipients, Hauwa and Ya Kaka, who were also featured in last year's NYT piece, will be traveling to the U.S. in March for a series of events that will culminate in TYTW's first gala, celebrating their courage in speaking out about their experiences and their dedication to creating better lives for themselves. Prior to the gala, the girls will meet in Washington, D.C., with all 22 women of the U.S. Senate to share their stories, and then, while in New York City, they will participate in several panels at the United Nations Commission on the Status of Women. We are so excited for them to see part of the United States and to bravely use their voices on behalf of the thousands of other girls like themselves, many of whom remain trapped in marriages they cannot escape.
We cannot stress it enough: TYTW's wildly successful year, and the exciting events that we have planned for this year, would not be possible without your support. We deeply appreciate your efforts to help us empower these brave young women and the thousands of girls just like them around the world.
If you are looking for charitable giving options in this new year, please consider keeping Too Young to Wed in your plans to help us protect girls' rights and end child marriage.
Wishing you a happy and healthy 2018!