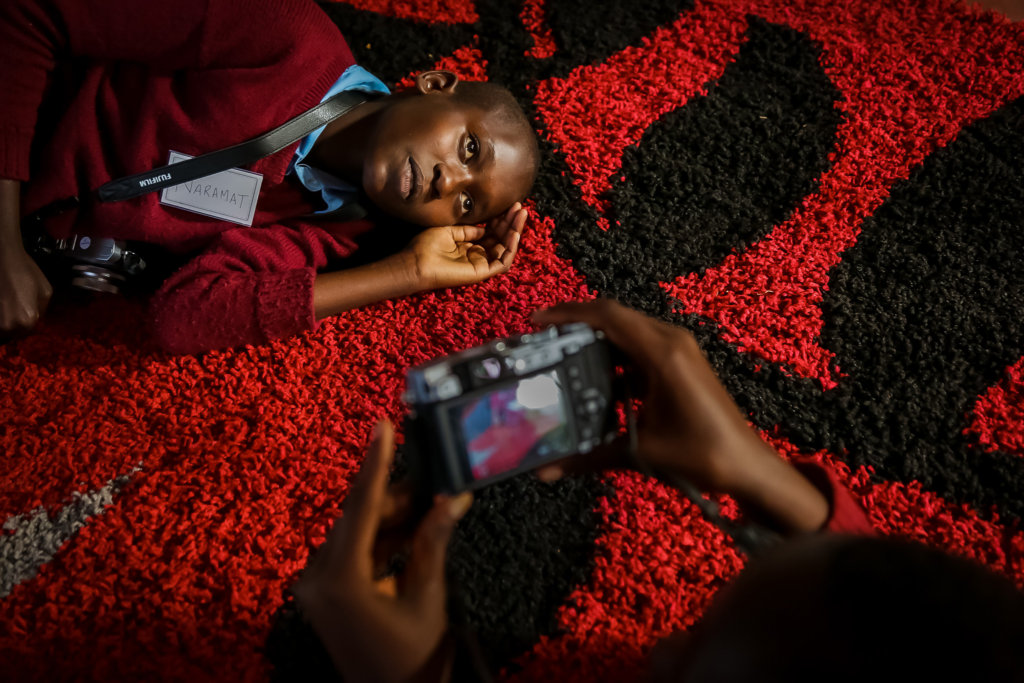 (Photo Caption: Angela, 12, learns about light while taking a photo of Naramat, 12, her partner for the workshop. 'During this week, I came to realize that education can help us build our family and our future,' says Naramat. Photograph by Nicole Chan)
Dear Friends,
We'd like to send you a warm note of thanks for your continued and generous support. You are helping us to bring former child brides and at-risk girls together to help them process their trauma, gain confidence, and communicate their stories using the power of photography.
We'd also like to take a moment to share with you an intimate look into this year's inaugural Adolescent Girls Photography Workshop as told by TYTW's Founder, Stephanie Sinclair:
Duriung TYTW's inaugural Adolescent Girls Photography Workshop in early 2016, I initially steered away from sharing with our young students my photographs of child marriage because I feared it may prove too traumatic for them; that it would hit too close to home based on their experiences. However, at the encouragement of our local partner, I ultimately did. And I'm forever grateful because it opened a door to a dialogue that changed all of our lives.
After the retrospective, I asked the attendees about their familiarity with child marriage. A girl named Angela raised her hand, spurred on by the slideshow and eager to tell me her story. Upon overhearing she was to be married off, she ran away from home. I asked the group if they had experienced a situation like Angela's. To my dismay, all nine girls raised their hands— each had escaped their marriage.
There are many pieces to the puzzle of ending child marriage, but empowering the individual girl is one of the most important. It removes them from a lifetime of being taught that their lives, feelings, and opinions mean nothing, and resets their relationship to the world. TYTW's workshops are designed to empower girls to discover their individuality, autonomy, and voice. We approach this through the lens (pun intended!) of teaching them basic photography concepts and skills. For many, it's the first time that they feel worthy of being looked at and listened to; and for all, it's the first time they've had a chance to tell their stories to the world. The workshops, in this way, affirm the value of the girls' voices and their stories.
During our first workshop- for the first time ever- every attendee spoke aloud the circumstances under which they'd escaped their arranged marriages. By the time the session ended and the girls paired off for intimate portrait sessions, you could practically reach out and touch the bond this catharsis created among the group. And, naturally, the result was unlike anything I've ever seen. The portraits that students took of each other on the heels of that meeting were remarkably powerful -- especially for girls who had picked up a camera for the first time only a day before! There's no doubt that they found photography to be a way to communicate what they'd been through and to communicate with each other.
Later, at the workshop's final- a public show of the girls' work, I left it up to the girls to determine the photographs they chose to show and what to say about them. To my surprise, most opted to share their personal stories. All of them talked about what they wanted to be when they were older. And every one of them talked about how they wanted to help the community and prevent girls from going through what they had gone through.
I mean, they got up there, in front of 70 of their elders -- including village chiefs, some of their parents and local police -- and yelled into the microphone, so much that it was cracking: "My name is Jane. I am 12 years old. I have been circumcised, and my parents tried to marry me off."
By the end, the girls, the staff, the audience -- everyone was in tears. We were all in this moment together, crying. I feel it's as though we witnessed them taking their power back and expressing all these things that they wanted to say for the first time to the public, to their community. For me it was pure magic; for the workshop: a huge success! Most importantly, for the girls, it was an experience that will never be forgotten.
I want to thank you for standing with child marriage survivors and supporting TYTW's Adolescent Girls Photography Workshop- together, we can create a generation of empowered advocates and community leaders in the fight to protect girls' rights and end child marriage.
This #GivingTuesday, November 29, your gift will be generously matched 50% by a donation from a Global Giving supporter! Consider sharing your support for this initiative or making an end of the year gift!
With gratitude,Anchor House
Stephanie and the TYTW Team
Links: