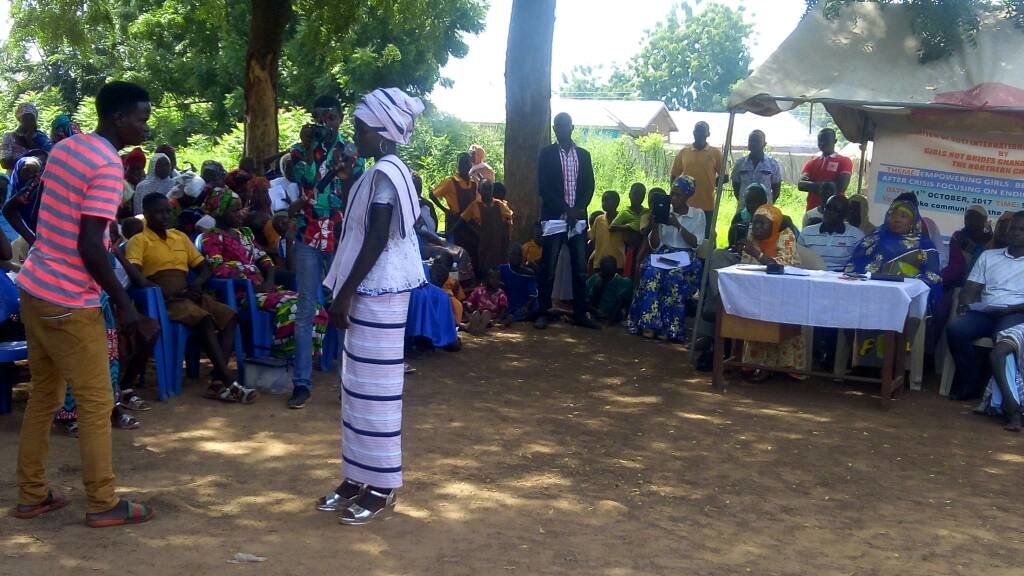 12, Husband, 65 – The Dire Story Of Child Brides
'I'm Just a Child': This 3 Child Bride Shares Her Heartbreaking Story to Put an End to Early Marriage
Ali grimaces as he recalls the day he sent his 12-year-old daughter, Fatima, away to live with a 65-year-old man.
Although the practice is common in Northern Ghana, remote villages has the worse records of child marriage, Ali did not feel entirely comfortable with the idea of giving away his little girl's hand in marriage – to a man old enough to be her grandfather.
"I was sad because he was too old. I wanted her to marry someone younger, say 55 or 50 because he could take care of her for a longer time before he dies. But he was a successful farmer in the village and he paid a good dowry," says Ali
The dowry consisted of some kola nuts (native to the African tropics), a cow, a bag of salt and a sewing machine. To protect his daughter from the negative glares of society, Ali accepted the generous offer and sent Fatima on her way to her new life as a wife.
"This is what happens when a girl reaches puberty. It is our culture and that is the right thing for a woman to do. She will grow up quickly and learn how to take care of a man and the home and bring honor to her family," says Ali.
For Fatima and many other young girls in Northern Ghana, their demise into forced marriages is puzzling.
Fatima's marriage is prohibited under the Ghanaian law, which bans marriage before the age of 18. But in remote and hard to reach rural areas, they are at loggerheads with age-old customs, and hide behind it to commit these atrocities to the lives of girls in those areas.
"As a father you have to do what is best for your family. If your daughter is ready for marriage, you do what you must to make sure she finds a good man," says Ali.
Northern region of Ghana is home to the largest number of child brides in the country, the practice has continued to gain prominence in northern Nigeria due to prevailing attitudes in an area with gender disparity. The grim situation is particularly pronounced in this region due mainly to strong resistance to the rights of children with opponents stating that some aspects of the Act are against religion and therefore cannot be followed.
"According to current figures, more than 10,000 girls worldwide are married while still children, often before they may be physically and emotionally ready to become wives and mothers and this endangers the life trajectories of these girls in numerous ways," Such was the case for Memuna. At the age of 14, she is already a divorcee.
"When I was 13, one of my father's friends came to the house and asked for a bride. My father chose me because I was the oldest out of my three siblings. I did not want to go with him. I wanted to go to school and be an air hostess but I could not disobey my father so I accepted," says Memuna.
Her husband, a 38-year-old trader, took her away to the remote dust-blown state of Borno in north eastern part of the northern Ghana. Immediately after the marriage, Memuna's problems began.
"I wanted to continue my education but he said no. One day he came home and I was reading a storybook and he got really angry and beat me. He said a wife's place is in the house not at school. He was abusive and demanded sex every evening. It was painful," says Memuna.
To escape the traumatic ordeal, she ran home to her mother and begged not to be returned. Her angry husband divorced her immediately under, which requires a man to say out loud "I divorce you" three times for a marriage to be over.
"My father was very angry and embarrassed. He threatened to kill me but HACEP-Ghana with the support of the community leaders and the chief Imam pleaded with him. He stopped talking to me because I brought shame to the family. He disowned me," says Memuna.
Now Memuna stays in Tamale at one of of Safe Houses (Host families who agree to provide temporal shelter for child brides rescued by HACEP-Ghana) and has started school as well as benefiting from our economic empowerment programme that gives small capital to girls to start their own businesses to care for themselves.
therefore, imperative in alleviating poverty and subsequently, promoting economic development.
"Child marriages have an adverse impact on the economy by limiting opportunities for career and vocational advancement for young girls. It therefore disempowers women and stifles the prosperity of a country because when a significant number of the Organizations like the World Bank, the United Nations Population Fund (UNFPA) and UNICEF continue to support efforts in many countries but according to Rewane, much more must be done.
"The notion that sending girls off to marry much older men is a better option is also partly attributable to poverty. For instance, a very poor family is likely to reason that marrying their daughter off early will provide her basic needs and in addition, the gains gotten from her marriage may be part of the survival strategy of the family. So moving on, "Protect 5,000 Girls from Child Marriage in Ghana will need to tackle the root of the issue, which is poverty and that means efforts to abolish this practice needs to be a multi-sectoral and comprehensive intervention,
This is the reason why we need you, your families and friends to support us in the "Decayed for Action" for the SDGs.
With your continue support, we can achieve the SDG 5, specifically 5b (End all forms of violence against girls including "Child Marriage"
Thank you for been an important part of the solution to end child marriage in Ghana and empowering girls to achieve their full potentials and make this world better than we met it so that one day when we look back at this amazing time we can all say we did it, we can all say we were part of history and God's willing our grandchildren's children will reap the benefits of the seeds of a better world.