Project Report

| Sep 25, 2023
Stunting Prevention through Home Visits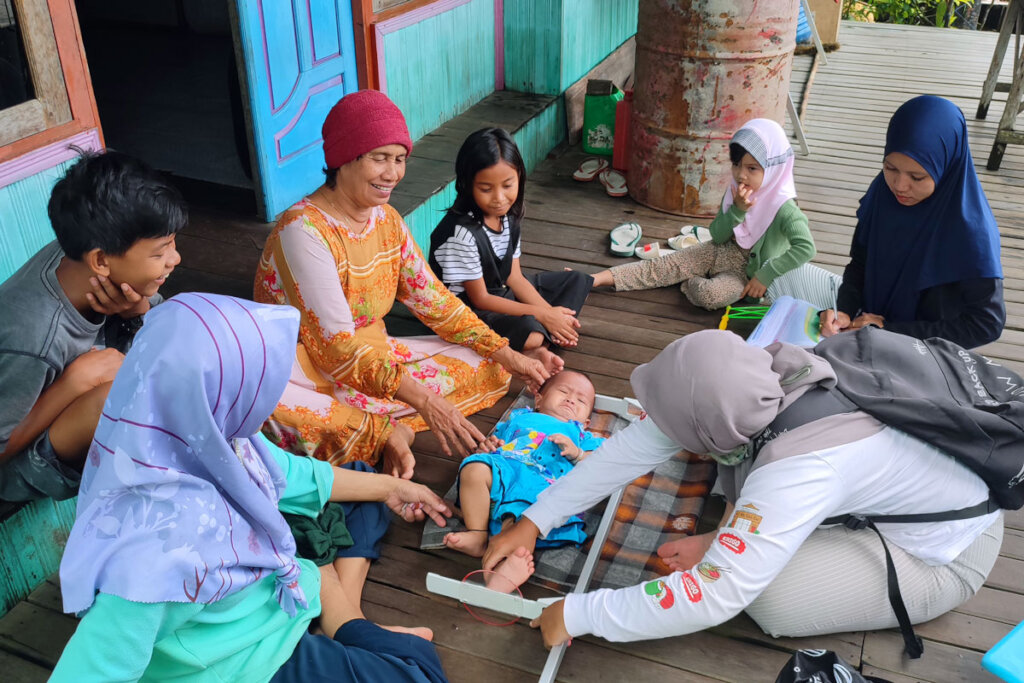 Dear friends,
The community-run Integrated Health Post (Posyandu) is the cornerstone of our stunting prevention program, a place where pregnant mothers and babies are nurtured, monitored, and fortified with the support and care that they need. However, life's complexities often intervene, leaving some mothers and their children unable to attend.
This is the case in Central Kalimantan, where distance becomes a challenge, public transportation is non-existent, the caregiving responsibilities for multiple children overwhelm parents, or the very act of weighing their babies raises fear that their child's small stature can cause embarrassment. Some parents even dread the prospect of their child falling ill after immunization.
However, in the face of these challenges, hope and resilience shine through. When a child is absent, we can always depend on committed volunteer health workers (kader): they make home visits and conduct the monitoring for pregnant mothers and babies at home. Trained Posyandukader, accompanied by our project officers, go door-to-door within their respective neighborhood. They bring warmth and empathy to every doorstep, where they are met with anticipation and curiosity. Remarkably, about half of the participants miss the monthly Posyandu sessions, highlighting the importance of these home visits.
During these visits, pregnant mothers and parents eagerly await the results of their progress. The kader provides the precious updates on their child's growth – height, weight, and whether it aligns with age-based expectations. These moments are significant, as they offer insight into the child's development and provide reassurance that their little ones are on the right track.
For children whose measurements fall into the normal below standard category, the kader then delivers and emphasizes health information and gives parents tips for nurturing healthy eating habits in order to prevent stunting.
As the kader inspires mothers to exert that extra effort to ensure their child's growth and development reach their full potential, they also encourage pregnant mothers and parents of little ones to return to the Posyandu every month, ensuring their child's growth stays on course.
A sense of community and togetherness emerges as parents actively participate in the measurement process, lending a comforting touch to children who might be apprehensive or tearful when facing new faces or the daunting scales. The visits also become an avenue for mothers to share their experiences and express concerns about their child's development—it's a space where stories emerge, like that of a 15-month-old with a full set of teeth or a child struggling with eating and weight gain issues. It's a reminder that we are all in this journey of preventing stunting together.
These home visits are a testament to the unwavering commitment of the kader in our community to nurture the health and well-being of the children. It is essential to bridge the gap when life's hurdles stand in the way, ensuring that no child is left behind in their journey to a healthy and thriving future.
Thanks to you, many pregnant mothers and parents of little ones are receiving the support that they need to ensure the healthy growth of their children.
We want to thank everyone who has donated during the Little by Little campaign. If you missed the campaign, we have another great opportunity through GlobalGiving which is the monthly donations. New monthly donations (up to $200 per unique donor) will have their first donation matched at 100% after four (4) total payments. XXXX as this provides us with a sustainable source of funds.