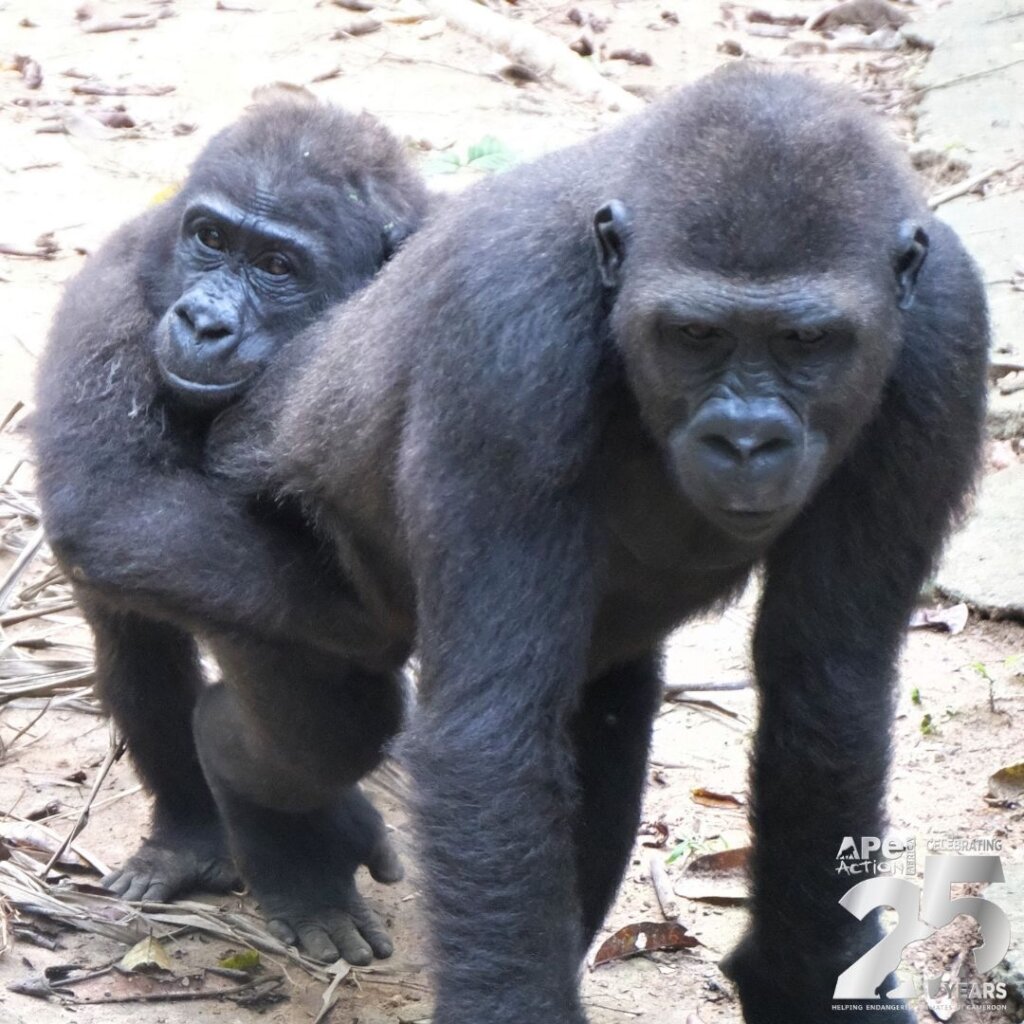 I want to take this chance to remind you what an amazing impact your support has on the lives of rescued chimps, gorillas, bonobos, and monkeys. With your help, PASA member sanctuaries have been able to save countless orphaned baby apes and monkeys and give them a second chance in life. Thanks to you, an orphaned baby gorilla now has a brand new family!
Mbailassem is a young gorilla who was rescued from the illegal wildlife trade by PASA member Ape Action Africa. After his parents were killed for bushmeat, Mbailassem was sold to a zoo, where he languished in a cage all alone. While he had a terrible start in life, his story is one of hope.
Happily, he was rescued and brought to Ape Action Africa in Cameroon. Two dedicated human caregivers gave him the expert care and round-the-clock attention he needed to start to recover from his trauma.
Once Mbailassem was strong enough, it was time for him to learn how to play and interact with others – skills that he would have learned from his mother and siblings in the wild. However, he was still too small to meet the older gorillas, whose boisterous play wrestling might have accidentally injured him. Since many more chimpanzee orphans arrive at the sanctuary each year than gorillas, and there were no other young gorillas for Mbailassem to play with, he was introduced to several young chimp orphans. Though these species wouldn't naturally play together in the wild, this temporary phase of Mbailassem's rehabilitation plan was the best way to ensure that he developed important social interaction skills that he would need in later life.
Recently however, Mbailassem took a big step in his rehabilitation and was introduced to his new gorilla family! Social bonds are incredibly important to gorillas and staff at the sanctuary were delighted with how quickly he bonded with his new brothers. Mbailassem now spends his days racing around his spacious forest enclosure, wrestling with new big brothers Bobga and Chris and feeding his seemingly endless appetite!
Like many other PASA sanctuaries, Ape Action Africa was hit hard by the pandemic, but your generous donations mean they are able to keep providing a safe home for all the orphans who need them. Thanks to your support, Mbailassem will receive all the care he needs to live a full and happy life with his new gorilla family. You are giving him the safe future that he deserves!