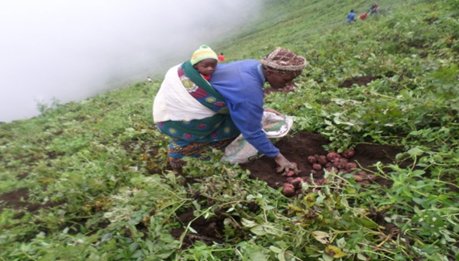 This project was launched by IHUDAF in October 2014 to accompany 100 female heads of households in agricultural activities on an area of 10 hectares. The beneficiaries have been grouped in women's solidarity associations of 25 by group to strengthen the synergy and community assistance. As a community, men were not excluded in this project. They were called by times to support and accompany women in such community activities. This report concerns the harvest of the 2nd phase of Kibabi potatoes project launched in February 2015.
All women were mobilized for the harvest accompanied family members. We have also noticed the presence of the provincial Minister of agriculture during that ceremony. The provincial Minister of Agriculture took the opportunity to send peaceful message of cohabitation between communities and call for the involvement of the entire population in agricultural activities.
The major challenge is the funding of different projects to support and accompany the communities as grouped under different associations. Men and women are ready and dedicated to share their experiences with others. Unfortunately financial resources are very limited. Also all areas in the region are not yet secure; therefore there are internally displaced persons in host families and in camps. Also due to early rain, the harvest was 40 tons instead of 50 tons.
The empowerment of women and single mothers grouped in associations is allowing community members to work together, a source of peace in the area. Women has been able to stand up and to get involve in major activities of the daily life, and to claim loudly their rights in all aspects: political, social and economic.
IHUDAF is willing to intensify advocacy from the funders to effectively accompany more beneficiaries in auto support activities that can generate more resources.