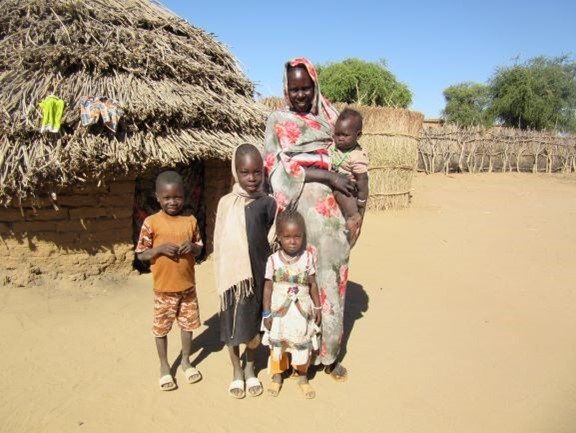 As 2020 draws to an end we reflect back on what an awful year it has been.
In Darfur, it has been a particularly hard year, not only with Covid-19 arriving in the villages but the people have suffered from droughts and fires and in August there was flooding. Not only did this wash away people homes and livelihoods but it brought with it a rise in malaria. And in the midst of all the natural disasters, Sudan as a country is suffering through an economic crisis - inflation has reached an astonishing 230%, meaning that basic essentials have skyrocketed in price, too high a price for the majority of families in Darfur to pay.
However, there is a flicker of hope and good news - in the villages that Kids for Kids adopted in 2019, the goats that were promised to the families most in need have arrived at their new homes.
Tahani is a 30-year-old mother of 5 - and has been left to raise her children on her own after separating from her husband. In her own words, she was 'facing the toughest and most difficult days of her life'.
However, Tahani was chosen by her village to receive a goat loan from Kids for Kids and received her animals last month and already 2 of the goats are pregnant! This means that Tahani can give milk for her children and earn a living from selling any extra milk and yoghurt that her goats provide.
Tahani is currently preparing to plant some winter crops to sell at the weekly market. The future is looking a little more bright for Tahani and her family. ' After I separated from my husband, I was afraid for my children's future.'
'After Kids for Kids entered our life, I began to feel a sense of empowerment and I felt confident, I began to change and feel stable and I am hopeful in improving my family's future'.
Tahani is just one of the women that Kids for Kids has been able to help because of the support of people like you!
If this year has taught us anything it is to keep on going when times are toughest and to stop and take a moment to appreciate the positive things that we are able to achieve when we all come together.
Because of your support, Tahani and many more families are feeling hopeful for the future, despite the worsening conditions in Sudan.